In today's times, online video storage solutions are becoming increasingly important for enterprises as well as businesses. With the growing popularity of video content, businesses are turning to online video storage solutions to store, manage, and share their videos with viewers, partners, and employees. Online video storage solutions offer a secure, scalable, and cost-effective storage solution to meet the businesses' video content demand. These solutions make it easier for businesses to store and access video content from any device, in any location. They also provide features such as content protection, analytics, and collaboration tools, which can help businesses make the most out of their video content.
What is Online Video Storage
Online video storage is a virtual approach that allows users to store videos in a remote location. By remote location we mean the videos are stored on servers in off-site locations. These servers are maintained by their-party service providers who are then responsible for the hosting, management and securing the videos stored on their servers. The video data stored on these servers is accessible via public or private internet connection.
Online video storage helps organizations and individuals to store videos in an organized and safe manner, so that they don't have to worry about the enormous video storage space and other operational costs. It's scalable which means you can increase or reduce the storage usage as per need.
Online Video Storage System
Using remote servers, online video storage providers save data files like videos, images etc. Users upload their videos to servers via an internet connection, which is then saved on virtual machines on a physical server. The storage providers store these video files in various data centers across the world to ease availability and provide redundancy. In times of increase in the demand of storage space, the provider will spin up more virtual storage machines to handle the increasing load. To access the videos stored online, users need a internet connection and a browser, mobile app, web portal or application programming interface (API).
Types of video storage to store video online
Public Cloud Video Storage
Public clouds are large scale cloud storage services and not owned by any end user. Examples include Amazon Web Services, Google cloud and Microsoft Azure. Nowadays, many public online video storage solutions have even started offering their services on the client's in-premises. These are mostly big corporate organizations and firms. The pricing structure is also variable and often they offer free services upon some limitations after which you have to opt for a paid model.
Private Cloud Video Storage
Private clouds store videos in a private server dedicated to a business or end user. The server can be configured, deployed and managed within the premises (Dedicated cloud) or built by a third-party cloud service provider (Managed Private Video Cloud). In this case, the data servers of the vendor are located off-premises but run behind the business firewall.
Hybrid Cloud Video Storage
In hybrid cloud video storage, the videos are stored in a combination of public and private environments. The common example includes environments like an on-premise data center and public cloud infrastructure like Google Cloud. This video storage model is gaining popularity as it combines using on-premise servers and at the same time, takes advantage of public cloud.
Multi Cloud Video Storage
This multi cloud approach involves more than one cloud vendor, be it public or private. All hybrid clouds fall under multi clouds but not all multi clouds are hybrid. In this storage, multiple clouds are integrated in some form. The included clouds can be all private, all public or a mix of both.
On-Premise Vs. Online Video Storage
| | | |
| --- | --- | --- |
| | On-Premise Video Storage | Online Video Storage |
| Deployment | Within organization or in-house | Hosted on online hosting providers |
| Cost | High Infrasture, software, and hardware costs borne by the organization | Cost of only video storage and bandwidth usage. No additional costs |
| Security | High on-site security costs | Security is provided by the hosting provider |
| Backup | Local backup | Enterprise-level secure and encrypted storage provided by platforms like Vdocipher |
| Accessibility | No remote accessibility | Remote accessibility |
| Scalability | High scalability costs due to additional upgrades | Highly scalable and you pay only for the service |
Online video storage benefits for businesses
Collaboration – Hosting your video online gives the flexibility of access to the files remotely. Multiple authorized members of your team can simultaneously access, edit and improvise the video content. Any person with requisite permissions can work remotely on these files.
Online Backup – Another advantage of using an online video storage platform is the online backup of your video files. In case your system crashes or you accidentally delete some files, you can easily retrieve them from the online storage platform.
Scalability – Scalability means handling increased workload without disrupting your current working model. As your business or video demand increases, you may run short of storage space with your current paid or free plan. An online video storage solution like VdoCipher offers scalable plans where you can anytime upgrade to the higher storage and bandwidth plan in a hassle-free way.
Security – Security of your videos is a major concern while choosing a video hosting platform. Every year, at least $29.8 billion is lost because of video piracy and illegal downloads. According to the U.S. Chamber of Commerce, streaming contributes to nearly 80% of the piracy and affects upto 2.6 million workers in the U.S. Coupled with legal options like copyright infringement, advanced technologies like DRM security as provided by VdoCipher secure your videos from illegal downloads and piracy.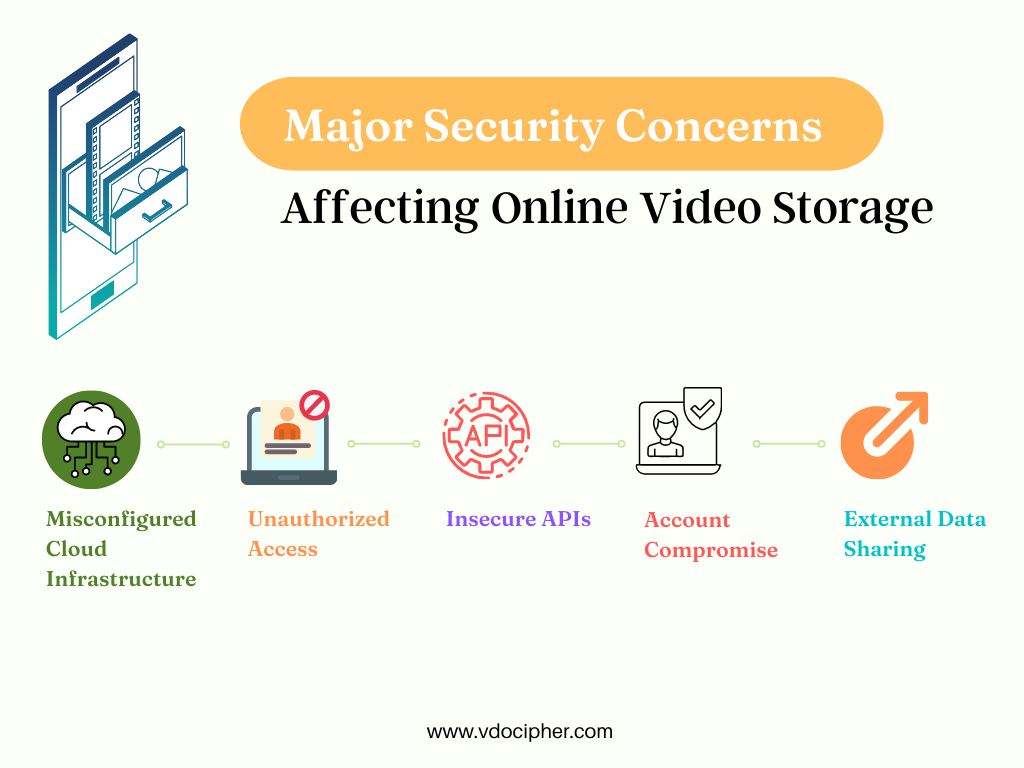 Considerations while choosing a online video storage platform
Pricing – Most businesses consider this as the major factor in making a selection. The pricing varies depending on the service provider and offered features. From free trials to paid plans, there is a range depending on your videos and business requirements.
Security – To maximize security, it is best to opt for a video storage provider offering the highest level of security like video DRM. At no point you are ready to lose revenue and brand reputation because of illegal downloads or unauthorized access. Securing your videos with DRM is the utmost requirement for businesses like elearning and media companies and individual creators looking for video protection.
Storage Limits – Make a consideration of how much storage space you need. Opt for a smaller plan if you have few videos or in the initial requirements of video storage. As the number of videos increases, upgrade to a higher plan with ample storage limits. Hence, choose a video storage solution providing flexibility as you scale and pricing as per the video storage needs.
Video Analytics – Generally, all video hosting websites give basic analytics to monitor your content. The parameters include no of visitors, conversion rates, traffic source, bounce rate, average view time and other engagement metrics. This information helps you better understand the video performance and tailor the content based on demographics.
Ease to Use – Apart from all the required features, the basic UI and functionalities of the video storage platform must be easy to understand and use. The videos should be properly organized and easily accessible from anywhere on the dashboard. The platform must not lag and give a smooth user experience.
Best Way To Store Videos Long Term
Cloud Storage – This is by far the best way to store, access and distribute your videos in a few seconds. The files are stored on the internet using a video hosting provider and accessible via the public internet or a dedicated private network connection.
Cloud storage and backup
Remote update and file synchronization
Files can be encrypted
Unlimited scalability
Cost-effective
Local Storage – Local storage includes a variety of physical hardwares to store videos. Examples are external hard drives, flash drives and even local computers. Easy accessibility is the main reason to opt for local storage. But this holds good only to store a few videos locally or when security of your videos is not a concern.
Quick access to videos
Complete control over your videos
No remote backup
Only locally accessible
Not useful when working in team
Limited storage space. As the need for storage increases, so does the cost and number of devices.
Network-Accessed Storage (NAS) – An NAS device is a storage device connected to the internet that allows storage and retrieval of data from a central location for authorized network users and varied clients. As long as the NAS is connected to WiFi, videos are accessible from anywhere in the world.
Centralized storage
Accessible by multiple users
Scalable
No video security
High bandwidth usage to store large video files
Maintenance cost
Best Online Video Storage and Sharing Sites and Apps
Google Drive
Google Drive is one of the most used cloud storage and syncing services. It offers a good amount of storage space, integration with Google Workspace and other collaboration functionalities.
Pros
Easy access to video files saved on the cloud
Easy access from multiple devices
Excellent user interface
Better video organization and management
Cons
You can store videos only up to 5 TB if you have purchased at least that much storage
The maximum playback resolution is 1920 x 1080
Individual users can only upload 750 GB each day between My Drive and all shared drives
Security concerns
iDrive
iDrive is a cloud storage software to backup, save and retrieve your video data. Available for PCs, Macs and Mobile devices, iDrive offers an affordable and easy solution to store videos.
Pros
Unlimited devices per account
Real-time sync and share feature
Cross-platform backup process
Affordable backup system
Cons
Slow upload and download speeds
Slow and hard to reach customer support reported
No unlimited plans
No proper security measure in place
Dropbox
Dropbox is a file hosting service offering personal cloud, cloud storage and file synchronization. Designed to easily collaborate on projects, it works on Mac, Linux, iOS, Windows and Android devices.
Pros
Offline capabilities
Offers Dropbox Files API, and Paper API
Seamlessly integrates with Google Suite, Microsoft Office, Slack, Adobe, Zoom, Autodesk, Canva and AWS
Fast upload speeds
Cons
Offers less amount of free storage (2GB)
Costly pricing
Interface isn't very intuitive
pCloud
pCloud offers easy-to-use cloud storage solutions for individuals, families and businesses. You can backup videos from your device or play your personal playlists.
Pros
Transport Layer Security (TLS) and Secure Sockets Layer (SSL) encryption
Up to 10 GB free storage
Easily store files from other online platforms
Automatic file upload
User-friendly interface
Cons
EFH and pCloud crypto come with independent subscription
No dedicated customer support system
No client-side encryption in the free plan
Microsoft OneDrive
Microsoft's OneDrive offers free and paid online storage with availability from your Android device, computer (PC or Mac), and any other devices you use. With OneDrive for Business, you also get storage for your work files so you can share and collaborate on them with other people at your work.
Pros
Close collaboration with Office
Easy file sharing
Files on Demand
Secure access controls
Cons
Synchronization limits
Limited backup functionality
400 character limit on the size of file paths
Apple iCloud Drive
Apple's online storage service, iCloud Drive is a place to keep all your files and access them from all your Apple devices, including iPhone, iPad, and Mac.
Pros
File access across multiple devices.
Ease integration into the whole Apple ecosystem
Capable Windows client and web access
Automatic sync and update across devices
Cons
It gets harder to sync across multiple devices if you have multiple Apple IDs
A little more pricey than the competition
Web Interface is below par
VdoCipher – Secure Online Video Storage
VdoCipher, a secure video hosting provider with Hollywood Grade DRM Encryption protects your premium videos from video piracy and illegal downloads. Our highest level of security DRM Encryption offers Multi DRM protection to the videos, so you don't have to worry about any unauthorized access or video sharing.
We offer multiple ways to embed videos (API, iFrame, and Script) on a website where you can monetize your video content. VdoCipher WordPress Plugin makes the whole video embedding process easy and fast and supports the most popular WordPress LMS. Apart from embedding video, there are other key security features to look for while choosing our services to secure and monetize your videos.
Features
Google Widevine and Apple FairPlay DRM Encryption
Dynamic Watermarking
Domain Restrictions
Secure offline downloads in apps
Screen capture block in Android and iOS Native App
Smart HTML5 Video Player with adaptive bitrate streaming, multi-lingual subtitle support, chapter segmentation via API, customizable controls, theme, and layout
Global AWS Cloud Infrastructure
Easy to use Dashboard to upload and edit videos, generate embed code and view the usage of bandwidth consumption
WordPress and Moodle Plugin for quick integrations
VdoCipher Android SDK to integrate Play Integrity to added video protection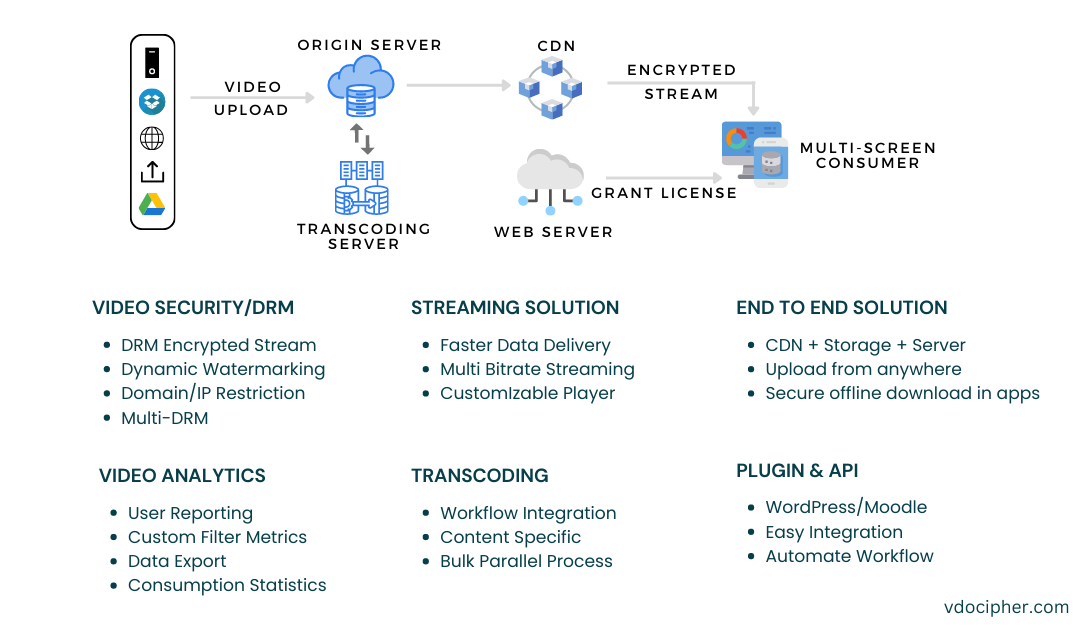 Online Video Storage Statistics
The global cloud video storage market size is expected to grow at 16.1% during 2021-2028, valued at USD 20.93 billion in 2028.
The growing demand for meeting platforms like Teams, Zoom has likely increased the demand for cloud video storage solutions owing to high storage demands.
In 2020, North America was the leading region in the global cloud services market.
In 2020, the global cloud storage market size was valued at $6.2 billion.
According to Flexera State of the Cloud Report 2021, nearly 82% of the large enterprises have already deployed hybrid cloud infrastructure.
FAQs
What is the best storage for large video files?
Cloud storage is the best way to store videos of any size. It is a secure, remote, and scalable storage solution and accessible from anywhere with an active internet connection. Additionally, there is always scope to upgrade to higher storage and bandwidth plans, making it an ideal storage solution for large video files.
How much storage does 4k video take?
A 4K video approximately takes 300-400 MB of storage per minute of footage.
How to roughly estimate bandwidth usage instead of using a video storage calculator?
For example, a 1 hour long video lecture has 400 MB size. If it is watched by one user, the bandwidth utilized is 1*400 – 400 MB. For 50 users, it will be 50*400 – 20 GB bandwidth. If 20 users, each watching 10 times, then the bandwidth used is 20*10*400 – 80 GB. Hence, bandwidth usage depends proportionally on the number of viewers and their viewing time.
Supercharge Your Business with Videos
At VdoCipher we maintain the strongest content protection for videos. We also work extremely hard to deliver the best viewer experience. We'd love to hear from you, and help boost your video streaming business.
Free 30-day trial →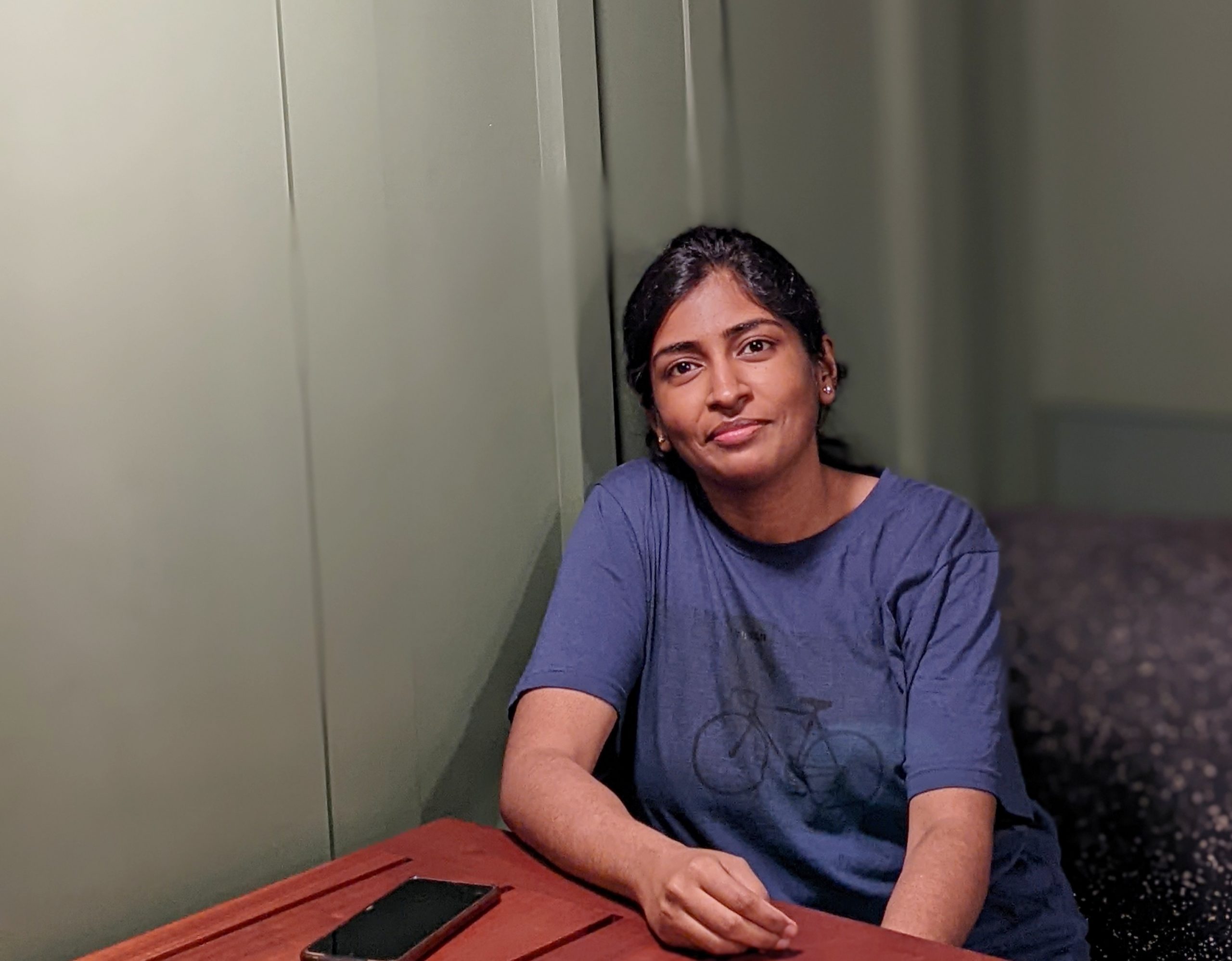 Jyoti began her career as a software engineer in HCL with UNHCR as a client. She started evolving her technical and documentation writing skills to become a full-time Content Marketer at VdoCipher.