Individuals and businesses have different needs for online video services. Based on whether the content is paid or free, the technologies and tools required for video hosting are further different.  
In this article, We have taken a list of the most popular online video hosting services, which have been widely used by OTT platforms, e-learning platforms, and more to host their videos online.
Finding the best option from the numerous free, as well as subscription-based video hosting services can be a challenging task as it can get confusing with so many options available. I have tried to address the industry segment which these tools suit the most, Pros and Cons associated with the platform. 
We have tried to take a deep dive into each of these professional video hosting services extensively, to figure out their major features and drawbacks helping you to choose the best as per your requirement.
Online Video Services
Vdocipher
If you are a business owner who is looking to sell premium videos on websites or apps, say online courses or at a subscription or pay-per-view price, then VdoCipher is the ideal video hosting solution.
Vdocipher Dashboard
1.After logging in users can upload videos or import videos via Drive/Dropbox/Server/FTP/Video URL/Vimeo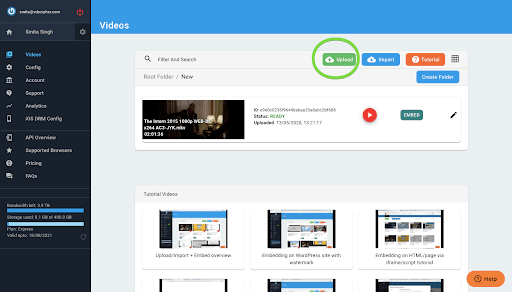 2. Embed options are available to integrate videos on the website. Various options are available.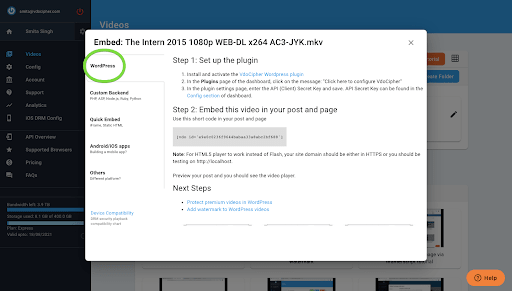 3. Video analytics provide information about Bandwidth, Storage consumed on a daily basis, Number of views, watch % of any video, device/countries distribution.
The main features are Hollywood-grade DRM encryption security and user-specific dynamic watermarking feature to prevent video download and screen capture.
These all features in tandem work for video protection, ensuring that video can not be pirated in any manner. Plans are affordable for all sizes of businesses, whether it is a small business or a large enterprise.
Wistia
Wistia has made a name in the field of marketing and product videos owing to its detailed in-video analytics and CTA features. Though other providers are doing the same, Wistia has been the longest in this field and provides good aesthetics. Videos can be used as an option to convert customers to the site.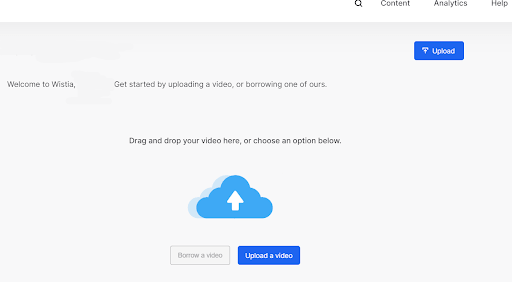 But a user should keep in mind that Wistia videos are non-secure as they are not DRM encrypted. So it is not a good solution for the course and movie businesses who are looking to sell videos online;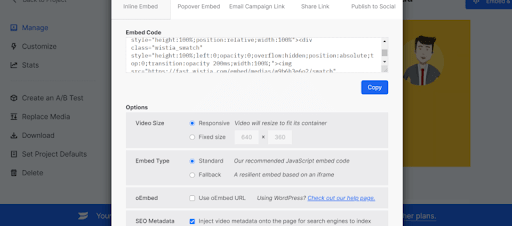 The embedding process is simple. It generates an embed code, which you can just copy and paste easily on your page. 
Options available to adjust the video size for different devices. You can also choose the embed type from various options.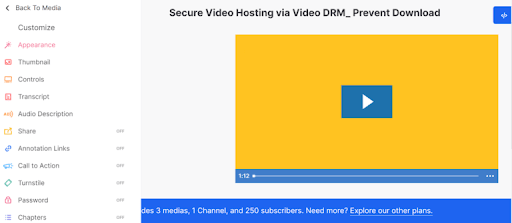 Video player comes with different features such as speed change, forward/rewind 15 sec, multilingual subtitles. Integration support to add buttons/forms/CTA with player API.
Vidyard
Vidyard is similar to Wistia in features but more catered in solution and pricing to enterprises. If you are looking to engage your clients with sales and marketing videos; you can have a look at Vidyard.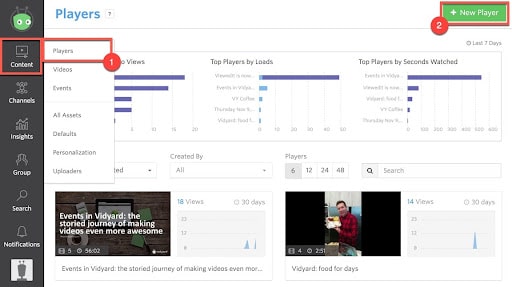 The UI Experience is cumbersome at the beginning for new users. Players' options should be selected from the content section to upload the video.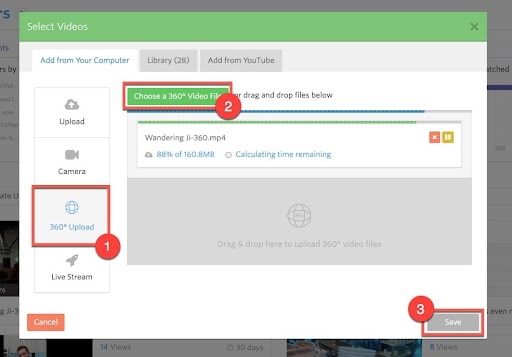 After clicking on the players' tab below screen will be displayed. Video can be uploaded via different options.
Vidyard's security features include IP Whitelisting, Single Sign On (SSO) for Hubs, Domain Restriction, and Access code features. Its pricing is slightly higher compared to competitors.
Kaltura
Kaltura is the heavily funded VC video hosting startup providing a multitude of solutions to enterprises. It is not small-medium business-friendly but offers an array of solutions for media, marketing, and education businesses looking to monetize online videos. 
Kaltura Player offers a seamless experience. It automatically detects the device and optimizes load time and responsiveness using adaptive bitrate delivery.
Various Customization options are present like audio tracks, captions, playback speed, full screen, social share, download. The player offers toolkits for plugin development.
Player analytics provide details like track views, play to impression ratios, drop-off rates, geolocation, devices, join times.
Kaltura provides important security and privacy measures in compliance with industry regulations and standards. Features such as Support for DRM, secure embed codes, password protection, Email gate, or paygate have been offered to users. This platform allows businesses to add a personal touch to internal messages and external campaigns.
Brightcove
The Company is a video platform that offers various services like uploading and encoding, content management, players and styling, delivery, and live streaming.
Brightcove helps medium to larger enterprises support analytics, viewership, advertisements, and content management.
Three options are available to publish videos to the web, email landing page, and social media. Embed code is present in the form of an iframe as well as javascript embed code. 
Support for content protection and advanced security features like watermarking, domain and IP restrictions, and geo-restriction.
The Analytics report shows video views and impressions, daily unique viewers, video bandwidth, play rate, and engagement score. Their key features are CRM integration, Live events streaming, Server-side ad insertion, Video Playback.
Best Free Online Video Hosting Services
YouTube
YouTube is the most popular free video hosting website. Widely used for promotional videos and entertainment content, it is the foremost choice for new content creators. If piracy and earning direct revenues is not a major goal, YouTube is a free video-hosting option for websites.
YouTube offers several advantages such as uploading and watching videos is free, however, youtube's premium option allows users to watch videos without ads, and play videos in the background. It offers easy navigation to share videos within quick time and allows users to earn money through AdSense.
There could be issues with privacy, copyright as the platform is public. Youtube has many rules and community guidelines that one has to follow while publishing content
Dailymotion
Dailymotion started as a video hosting platform parallel to YouTube but eventually lagged owing to the massive google's scale and innovation in the video infrastructure.
It is one of the best free video hosting websites to promote any video content. Some of the content producers might find youtube content policies and restrictions too harsh, Dailymotion is a good alternative for such video producers. 
Uploading a video is not as easy compared to other platforms as you have to explore more in the settings.
The dashboard provides a high-level view of content performance with user metrics like Total time watched, View-through rate, Views.
It offers video management solutions with compatibility across devices. The video player offers publication status control and geo-blocking tools. It comes with customizable widgets, powerful technology. It also helps the developers to use the API for customizing the video platform.
Dailymotion has few limitations in terms of video duration; it cannot be more than 60 min and a basic embed option is present. In terms of security, Dailymotion does not have DRM encryption and a user-based watermark which is an important feature in security.
Vimeo
Whether you are a business looking to host videos on the site or an individual looking to promote content on a global platform, Vimeo provides an option for both.
The basic plan offers storage of 500MB per week of upload space, up to 5GB total account storage. It provides basic embedding features and analytics. 
It comes with many features you'd find on premium video hosts but there are some constraints. 
Vimeo Plus offers customization to change the visual aspect of the player. Vimeo Business provides an option to set up lead generation campaigns such as email capture and custom call to action. It also offers a highly versatile video embedding option.
A dashboard that gives you an aggregated total of the analytics information like Most views by city/device/source URL, Total time watched, Average time per view. 
Vimeo serves video at a higher bit rate compared to YouTube. Once the video is uploaded to the platform it is recompressed to save space. It offers privacy controls where users can set up a custom password, create a private link to the video.
Vimeo has few limitations in terms of uploads and storage capacity. Users cannot upload more than 20GB of video per week or 1TB a year. Users can expand that to 3TB by paying more. the internal content delivery network has been used instead of reliable CDN like Akamai.
In this blog, we've covered some of the best free and paid online video services. Videos are more preferred by the visitors and it's important to engage and improve the user experience of the website.
If you're looking to host videos or having trouble embedding a video on your website, please reach out to us at support@vdocipher.com
Supercharge Your Business with Videos
At VdoCipher we maintain the strongest content protection for videos. We also work extremely hard to deliver the best viewer experience. We'd love to hear from you, and help boost your video streaming business.
Free 30-day trial →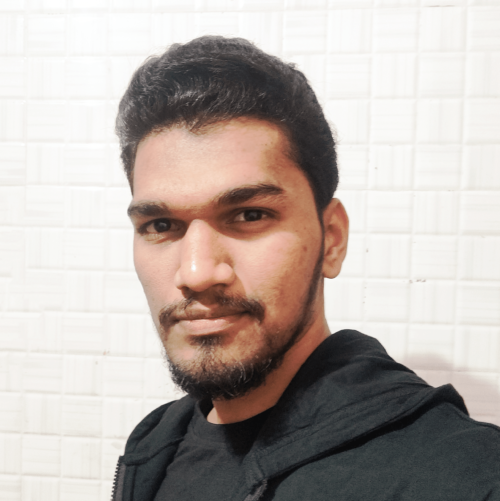 A Digital Marketing pioneer who loves to innovate strategies to effectively market a product through consumer research and data analysis. In addition to this I'm a sports and fitness enthusiast with love for travelling and photography.