In today's digital world when everything is available online, cloud streaming and cloud video platforms have truly revolutionized how we consume media content in our comfort. Have you ever given a second thought to how you are able to binge-watch your favorite TV shows and web series on Netflix, stream live broadcasts on YouTube, or participate in a Zoom meeting? It's all thanks to these two tech innovations, cloud streaming, and cloud video platform.
What is Cloud Streaming?
Cloud streaming, in the simplest terms, is a way to access and use data—like music, videos, or games—straight from the internet, or "the cloud," without having to download the data onto your device first. Imagine watching television: you switch it on, pick a channel, and your chosen show or movie begins instantly. There's no need to download the entire program before you start watching; it streams live. Cloud video streaming operates on the same principle and uses the internet for streaming, instead of a cable or antenna signal.
Music streaming: When you listen to songs and music on apps like Spotify or YouTube Music, you're utilizing cloud streaming. You select a song and it begins playing immediately, as it streams directly from the cloud. The complete song doesn't need to be downloaded before the music begins.
Video streaming: Services like Netflix, Prime Video, and YouTube all rely on video streaming. You click a movie or video and it begins instantly, thanks to streaming from the internet.
Game streaming: Cloud streaming isn't just for music and video. Some gaming services, like Google Stadia, use cloud streaming. The game is hosted on a high-powered computer in the cloud, and your gameplay is streamed to your device. This means even less powerful devices can handle high-end games.
History of cloud video streaming
The late 1990s – Early 2000s: Initial years of video streaming – In the late 90s, video streaming began with the launch of platforms such as Windows Media Player and RealPlayer. At that time, the video quality was pretty low and viewers had to download the content before watching, resulting in a poor user experience.
2005 – 2007: Birth of video streaming platforms – The viewing experience somewhat changed with the launch of YouTube in 2005. YouTube was able to stream videos directly in the web browser using Adobe Flash Player, which significantly improved the streaming experience.
In 2007, Netflix launched its online streaming service and made a big move towards cloud video streaming. Interestingly, it originally started as a DVD-by-mail service. Now, the content was stored and processed in the cloud and streamed to users via the internet.
The 2010s: Rise of cloud computing and video streaming services – Around 2010, there was rapid advancement in internet speeds and cloud computing, making the way towards cloud streaming narrow. At this time, Netflix migrated to Amazon Web Services (AWS), which nearly took 7 years. This allowed rapid growth and scaling, offering a seamless viewing experience to a large number of subscribers.
"As per Pew Research, the total video streams saw significant year-over-year growth, up 31.5% to 14.5 billion streams in 2010 compared to 2009. Similarly, Wall Street Journal reported Netflix as the top paid streaming video service in the last quarter of 2010."
2015 – Present: Global adoption and innovation – Today cloud streaming is a dominating force in the media landscape. High-speed internet, technological advancement, and the availability of smart devices had made HD cloud streaming available to a larger global audience.
"Streaming accounts for 80% of the global music market, compared to 7% in 2010. The video streaming market size is expected to grow at a CAGR of 21% from 2021 to 2028. – 'Recording Industry Association of America.'"
How does cloud video streaming work?
Video Production and Upload – The video is first captured or recorded. It is then uploaded to a video hosting platform like VdoCipher to be prepared for streaming.
Video Encoding (Transcoding) – The next step is to encode the video into a format that is suitable for streaming. In this process known as transcoding, the video is compressed in size while maintaining quality. Most cloud streaming platforms use H.264 or H.265 video codec for transcoding while the audio is encoded using the AAC codec.
Adaptive Bitrate Streaming – The encoded video is divided into small segments, typically 2-10 seconds long. These segments are encoded at different bitrates to create different quality levels. This process is known as Adaptive Bitrate Streaming which ensures dynamic adjusting of the video quality as per the viewer's network connectivity.
CDN Delivery – The video segments are stored on a Content Delivery Network (CDN), a global network of servers. When a user makes a playback request, it is streamed from the nearest CDN server, reducing latency and ensuring fast delivery.
Video Playback – The viewer's device makes a video playback request from the CDN to watch a video. The device's video player downloads the video segments and decodes them to assemble as a continuous stream.
Digital Rights Management (DRM) – To protect copyrighted content and prevent piracy, cloud video streaming platforms like VdoCipher use Digital Rights Management (DRM) encryption. The content is encrypted via a private key mechanism and only authorized devices receive the decryption key via a secure license server.
Benefits of cloud streaming
Scalability: One of the standout advantages of cloud video streaming is its scalability. Traditional broadcasting methods often struggle with peak traffic times, but cloud streaming effortlessly adjusts to the number of viewers. This means you can reach an audience of any size, from a small group meeting to a global event.
Cost-Effective: Cloud video streaming eliminates the need for substantial investment in infrastructure. You pay for what you use, allowing for better cost management. Furthermore, the cloud provider handles maintenance and updates, saving you time and resources.
Global Reach: With cloud streaming, geographical boundaries cease to exist. Your content can be accessed from anywhere in the world, broadening your audience and enhancing user experience with the ability to stream from any device.
High-Quality Streaming: Advanced cloud streaming services offer adaptive bitrate streaming. This technology adjusts the quality of the video in real time based on the viewer's network conditions, ensuring a buffer-free viewing experience.
Security: Cloud video streaming also offers robust security features to protect your content. This includes secure delivery of streams to prevent unauthorized access, as well as digital rights management (DRM) capabilities to protect against piracy.
Types of cloud video streaming services
Video hosting services – Video hosting services offer a platform to upload, store and distribute videos online. Examples include YouTube and VdoCipher. You can manage your videos and avail plenty of features from the service provider. Hosting platforms like VdoCipher offer DRM encryption to provide Hollywood-grade video security along with several interesting features for businesses of all sizes. These platforms are suited for individuals and e-learning and media businesses looking for sharing videos online.
Video-on-demand (VOD) platforms – VOD platforms allow viewers to stream their favorite content at the click of a button at their own convenience and timing. Examples include Netflix, Amazon Prime, and Hulu. They usually have a large content library of movies, shows, and podcasts to choose from.
Live streaming platforms – Twitch and Facebook Live like platforms focus on streaming live video content. These platforms are ideal for streaming real-life content such as live sports, concerts, and webinars. The features of a live streaming platform are Live chat, reactions, interactions, and the ability to save content for later viewing.
User-Generated Content Platforms – UGC platforms like Instagram and TikTok are built around creators i.e., the content is created by users. They are usually used to share short content and have social interactive features like comment, like, and share.
Educational Video Platforms – Platforms like Udemy and Coursera are built around educational content. The purpose of such platforms is to host courses, lectures, and learning resources. Some educational video platforms are free while some have subscriptions or pay-per-course models.
Features to look for in a cloud video platform
Easy upload and management – Look for a platform that has an easy and fast process to upload and manage videos. You should be able to easily organize, categorize and tag videos, making it easier to locate them.
Video encoding and transcoding – The cloud platform should automatically convert the uploaded videos into various formats and resolutions. It ensures content playback across different devices, browsers, and internet speeds.
Scalability – As your business demand grows, the platform must accommodate the growing requirements. It should seamlessly expand and handle the increased bandwidth and storage needs.
Live streaming support – If you have webinars or broadcast live events, look for platforms that support live streaming. For pre-recorded videos, VdoCipher is a good choice with a custom video player and Hollywood Grade Multi-DRM Encryption.
Video analytics – Strong video analytics is a must. It should give an insight as to how viewers interact with your videos, what device they use, and their demographics. These parameters help guide your content strategy.
Monetization options – There are cloud platforms that have revenue generation options like pay-per-view, subscriptions, or ad integration.
Video Player features – To provide your audience with the best possible video experience, you need a video player with multiple capabilities. For example, the VdoCipher HTML5 video player is compatible with nearly all devices and browsers. It has features like adaptive streaming, chapters, dynamic watermarking, offline downloads, and secure DRM protection.
Cloud security – The security of your videos is crucial when it comes to protecting confidential data as there are risks of video piracy and unauthorized access. Some of the features you require for secure streaming are encryption, watermarks, DRM support, time restrictions, and geo-restrictions.
VdoCipher DRM security in cloud video streaming
As more and more content is hosted and streamed via the cloud, the security of video content has become paramount. This is where DRM comes into play.
DRM or Digital Rights Management is a set of techniques for copyright protection of digital assets. When we talk of videos, DRM ensures only authorized access and distribution of video content and restricts how the users' access and copy the purchased content. DRM protects video content from piracy and protects the revenue stream for creators and businesses.
Consider this: You are a content creator or streaming platform and have invested much of your resources and time in creating or acquiring video content. Without secure DRM measures in place, your videos can be easily downloaded or shared, leading to substantial revenue loss. This is not something any business or creator wants. The ease with which video content is copied and illegally distributed with the widespread availability of the internet, DRM has become a necessity for cloud video streaming.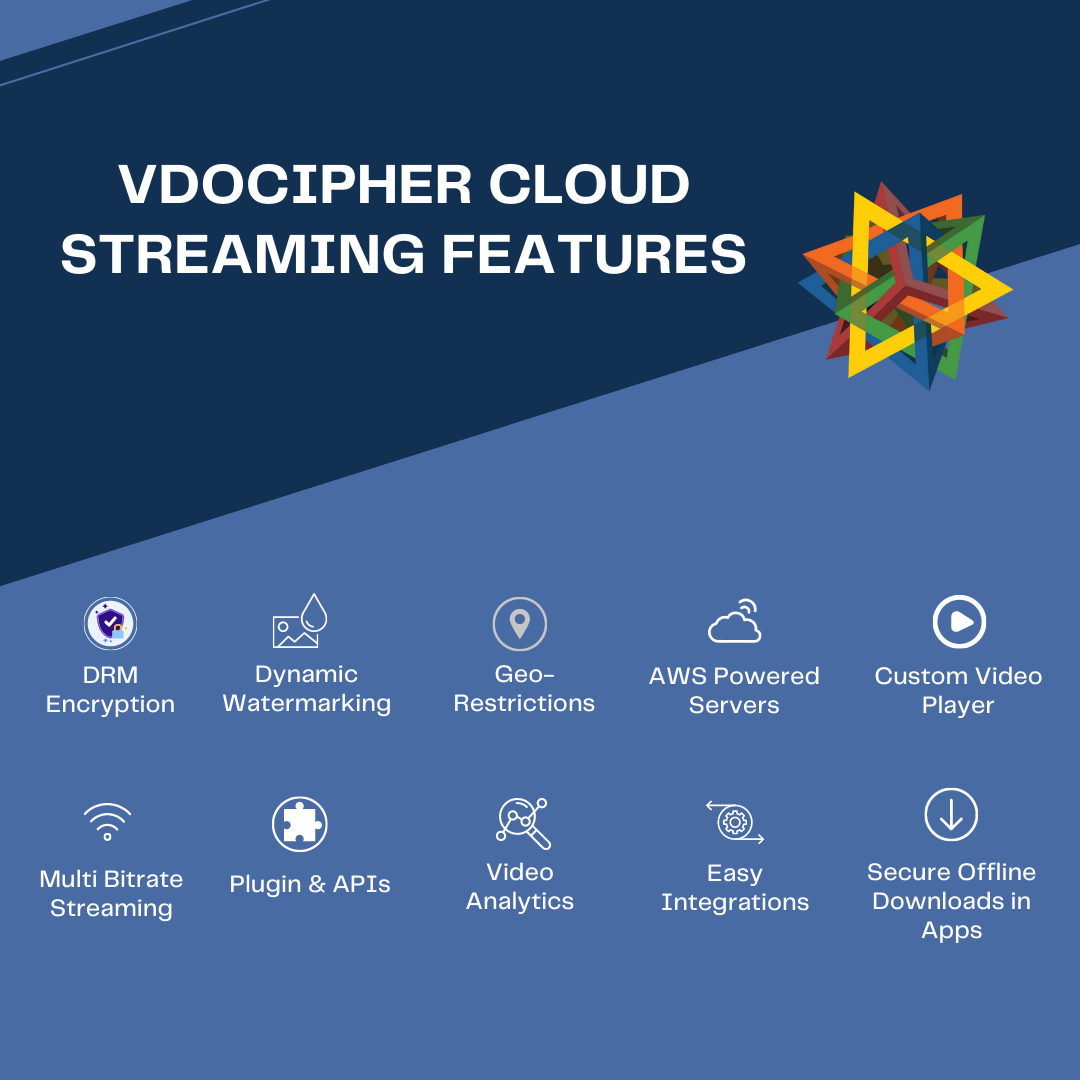 "Vdocipher, a secure video hosting and streaming service offers Multi-DRM Encryption using Google Widevine and Apple FairPlay DRM's. Videos streamed via VdoCipher cannot be illegally downloaded or shared using any internet plugin or software. Along with DRM, Dynamic Watermarking, secure offline downloads in apps, custom video player, APIs, SDKs, and geo-restrictions are some of the features VdoCipher offers. More than 3000 e-learning and media businesses from over 120 countries rely on VdoCipher for hosting and securing their premium content."
Choosing the right Codec and Format for cloud video streaming
When it comes to cloud video streaming, one of the crucial decisions is selecting the appropriate codec and format. This choice can significantly influence the quality of your streams, the compatibility with various devices, and even the cost of your operations. Let's simplify these technical aspects and understand what they mean.
It encodes (compresses) your videos for streaming and then decodes (decompresses) them on the viewer's device. The codec's work is crucial as it determines how well your video streams over the internet and how good it looks when it arrives at its destination.
H.264 (AVC) and H.265 (HEVC) are the most popular used in cloud video streaming because of their efficiency and broad compatibility.
H.264 offers a balance of compression and quality, making it a safe choice for most streaming scenarios. Compared to H.264, H.265 offers superior compression. It further reduces the bandwidth usage and costs, but requires more processing power and isn't as widely supported as H.264.
While the codec handles the compression and decompression of your video, the format (or container) is like the video's suitcase. It packages your video, audio, and other related data (like subtitles and metadata) together for transportation.
The most common formats for cloud video streaming are MP4 and HLS. MP4 is widely compatible and supports a variety of codecs, making it a flexible and reliable choice. HLS (HTTP Live Streaming) is a streaming protocol developed by Apple that is excellent for live streaming because it divides the video into small segments and allows for adaptive bitrate streaming, enhancing the viewer's experience.
Ultimately, the best combination of codec and format for cloud video streaming will depend on your specific needs. If you're targeting a broad audience with diverse devices and internet connections, H.264 with MP4 or HLS might be your best bet due to its wide compatibility and balance between quality and compression.
If you're focusing on viewers with high-speed internet and modern devices, or if minimizing bandwidth usage is a priority, using H.265 with HLS could be the more beneficial option.
Role of CDN in cloud video streaming
When discussing cloud video streaming, one term that you're likely to encounter frequently is CDN or Content Delivery Network. It has a significant role in delivering a smooth streaming experience to viewers worldwide. CDN is a geographically distributed network of servers. When a viewer clicks on a video, the CDN delivers the video data from the server that is closest to the viewer.
There are reasons why CDNs are vital in the realm of cloud video streaming.
1. Reduced Latency: When your viewers are spread across different regions, the distance between your video data and the viewers can lead to delays, known as latency, in video loading and playback. A CDN drastically reduces this latency by storing copies of your videos on multiple servers worldwide and delivering content from the server nearest to each viewer.
2. Improved Load Balancing: Imagine a new episode of a popular show being released on a streaming platform. The sudden surge in viewers can put a lot of strain on a single server, leading to slower streaming or even crashes. CDNs can manage this load by distributing the traffic across several servers, ensuring a smooth viewing experience for all viewers, no matter how many there are.
3. Enhanced Viewer Experience: By reducing latency and handling high traffic loads, a CDN ensures your viewers enjoy a buffer-free, high-quality streaming experience. Whether watching live sports or a web series, viewers enjoy the content without interruptions and delays.
4. Protection Against Attacks: CDNs also provide an extra layer of security by mitigating Distributed Denial of Service (DDoS) attacks. By distributing the traffic across multiple servers, a CDN can help prevent an overload on any single point. This makes it harder for such attacks to disrupt your service.
Cloud streaming applications in Education and Media Industry
Cloud streaming technology has had a significant impact on both the education and entertainment sectors. It has truly transformed how we consume video content, making it accessible anytime, anywhere.
Education Sector
Online Learning Platforms: Elearning websites like Coursera and Udemy use cloud streaming to deliver educational videos. Teachers upload their course content to a cloud server, and students can stream these lessons anywhere. This technology has made learning more accessible, breaking down geographical barriers.
Virtual Classrooms: Through cloud-based video conferencing tools like Zoom or Microsoft Teams, teachers and students can engage in real-time, interactive learning experiences. Cloud streaming facilitates screen sharing, live chats, and whiteboard presentations, replicating a traditional classroom environment digitally.
Simulations and Lab Experiments: Some educational institutions use cloud streaming to provide students with virtual labs. For instance, Labster offers a virtual biology lab where students can conduct experiments in a risk-free, virtual environment. This is made possible through the cloud's high processing power and the ability to stream complex simulations.
Media Sector
On-Demand Streaming Services: Platforms like Netflix, Amazon Prime, and Disney+ are classic examples of cloud streaming applications in entertainment. These services host a vast library of movies and TV shows on their cloud servers, which users can stream in high definition.
Live Streaming Platforms: Platforms such as Twitch and YouTube Live use cloud streaming to broadcast real-time video content. This technology allows for instantaneous data transfer, enabling users to live stream their gaming sessions or live events to audiences worldwide.
Music Streaming Services: Applications like Spotify and Apple Music leverage cloud streaming to deliver millions of songs to their users. These platforms use advanced algorithms to analyze users' listening habits and suggest new music – a process made possible by the cloud's ability to handle large amounts of data.
Virtual Reality (VR) and Augmented Reality (AR): Cloud streaming also powers VR and AR experiences in entertainment. For example, Google's Stadia platform uses cloud streaming to deliver high-quality gaming experiences without the need for expensive hardware. Similarly, AR applications like Snapchat filters use cloud processing to overlay digital content on real-world images.
FAQs
What is CDN in relation to cloud streaming?
Content Delivery Network (CDN) is a geographically distributed network of servers spread across the globe. CDNs ensure reliable, fast content delivery to viewers by serving the content from the server which is nearest to the viewer's location.
How is video quality level maintained in cloud streaming?
Cloud video streaming platforms like VdoCipher use Adaptive Bitrate Streaming (ABR). To ensure a smooth, buffer-free viewing, the technology auto-adjusts the video quality in real-time to match the viewer's device capabilities and network connectivity.
What are the benefits of cloud video streaming for enterprises?
Cloud video streaming provides benefits like global reach, scalability, and cost-effectiveness. Businesses can manage and distribute content efficiently, get insights into audience behavior, and support features like video monetization and live streaming.
Supercharge Your Business with Videos
At VdoCipher we maintain the strongest content protection for videos. We also work extremely hard to deliver the best viewer experience. We'd love to hear from you, and help boost your video streaming business.
Free 30-day trial →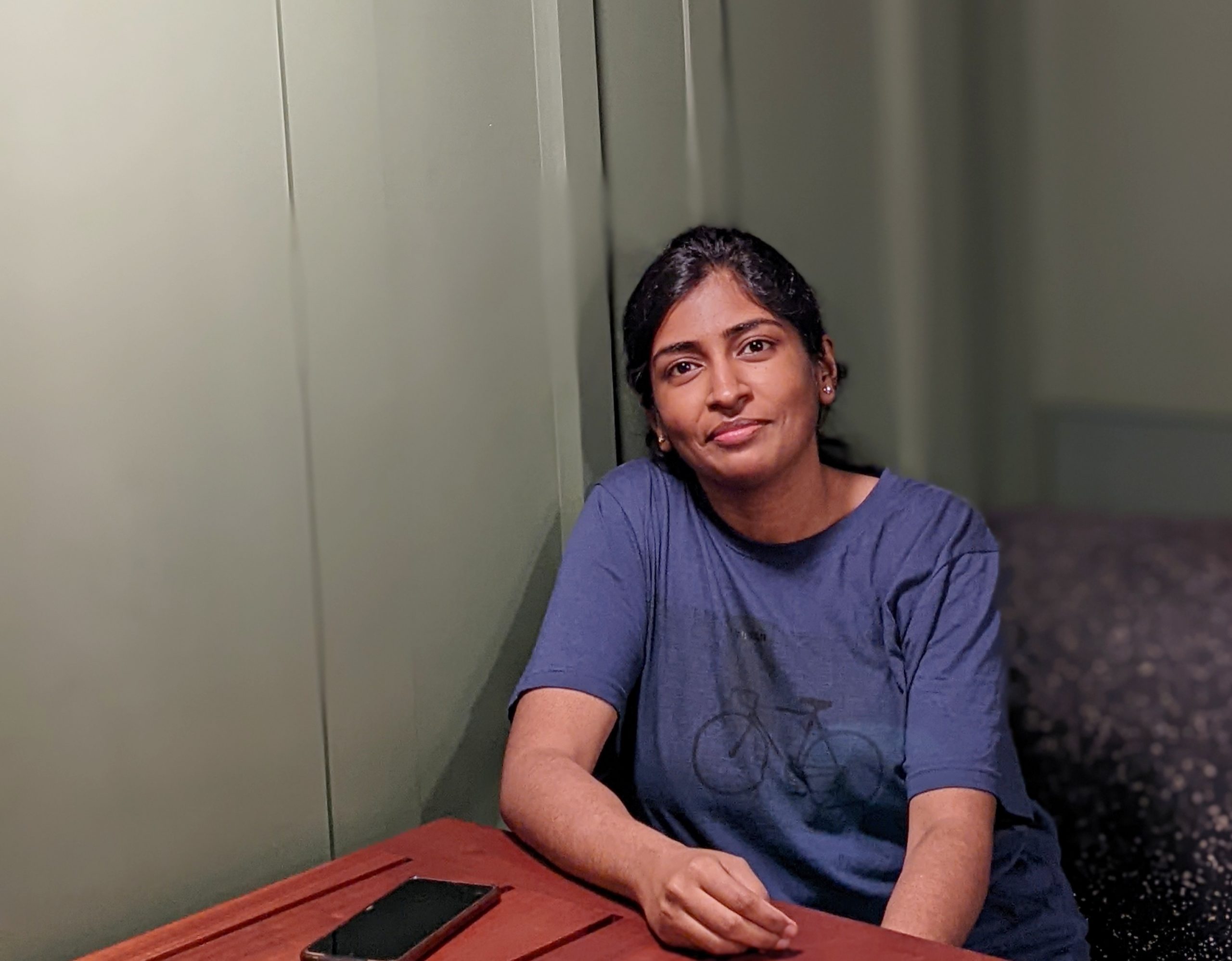 Jyoti began her career as a software engineer in HCL with UNHCR as a client. She started evolving her technical and documentation writing skills to become a full-time Content Marketer at VdoCipher.