India is a country of over 1.2 billion people, with a literacy rate of about 80%. Becoming a civil servant means being in the top 500 people for that year and it is really a one in a million possibility. With each passing year, UPSC can be considered as the most difficult entrance exam, first owing to the diverse subjective nature of paper and second the tough selection ratios.So, though "Hard work is key to success" is a common term, just hard work for such a competitive (probably the most in the world) does not guarantee selection. Here is where the UPSC coaching institutes come into the pictures, they add smart work to the aspirants' hard work and increase chances for selection. Of course, they come at quite a cost. The current article explores online medium for imparting this UPSC test prep education.
How effective it can be?
What can be cost savings for the aspirant?
What can be the new revenue opportunities for institutes?
How can online video learning add more value to existing offline students?
Covid-19 Impact and Beyond Covid-19
List of top 31 online IAS coaching app
So let us dig in deep with the following points –
The potential for a wider audience
With the growth of digital India, most of the population has access to smartphone and an affordable internet connection. That's all you need for an IAS online coaching. A larger population resides in tier 2-3 cities of India, they spend money to travel to metro cities for a better learning experience. Such an audience can be easily catered through online video classes.
As the number of aspirants preparing for the exam is increasing, the number of institutes providing coaching, the quantity of study material & test series is also increasing. If you are in business for a long time, though it increases your brand it also increases pressure to deliver consistent results on year on year basis. And if it is a new venture, you need to earn the trust of parents and teachers, to be able to garner the initial audience.
IAS coaching institutes can gain trust of students by preparing a series of free short video lectures and students can enroll for paid long-term course base don that.
Cost-Efficient
Needless to say, online video lectures save a lot by eliminating the costs of classrooms, extra teachers for students. Video recording tools are becoming more and more accessible, small business owners are even seen to be starting from their laptops with video recording and screen recording tools.
Increased Revenue
Since online video coaching for IAS classes opens access to students across the country and even students from other institutes just targetting some specific course, It surely adds to revenues. If the cost economics of what has to be spent to set up a website, lecture recording system, and video streaming is seen and compared to say addition of 500 to 10,000 new online students, per unit economics, comes out to be quite profitable.
Interactive Learning, Personalisation through videos for IAS coaching
Interactive video players are available to help students engage through a lecture at a slower or faster pace; revisit concepts and submit feedback on the content. Detailed analytics on student interaction is available to content creators to help them continuously improve their content.
Covid-19 Effect
The only method to currently study in pandemic is via online videos or live classes. All existing platforms have seen tremendous growth during current time.
Beyond Covid effect – Classroom for queries, Online for theoretical lectures
It is not just that online video lectures for IAS coaching will help only in the COVID era or new distant students. A flipped classroom model can be implemented where the class lectures are used for question-solving while lectures can be used for theoretical content.  It will lead to better utilization of time.
Top 27 IAS Coaching Apps & Websites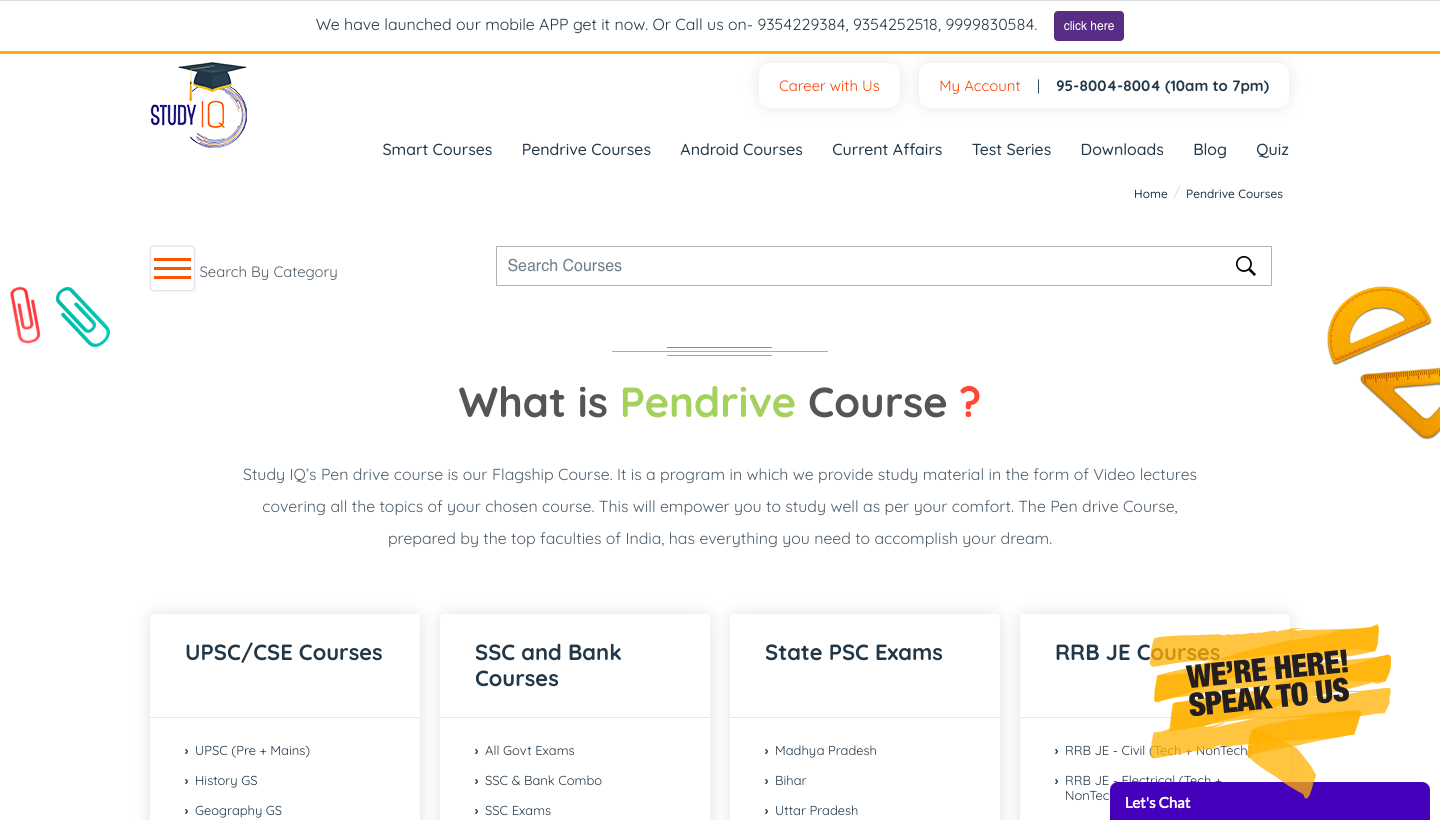 Study IQ is a great platform for your Online IAS coaching. They have a wide range of online courses for your preparation in the form of video lectures. These courses are available on their online platform or you can also have your study material in pen drives as well. They have a wide range of test series as well so that you can prepare for your exam properly.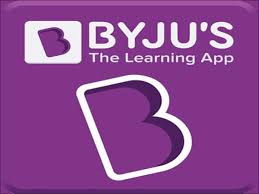 Byjus is one of the most loved platforms for online IAS coaching. They provide a well-planned route map to crack the upcoming UPSC Exam. Candidates get clarity on the approach, topics to cover, focus on the individual strengths and weaknesses. This helps them to improve their success rate and reduce the number of attempts. Therefore, we can say that BYJU'S is one of the best UPSC online coaching preparation platforms in India.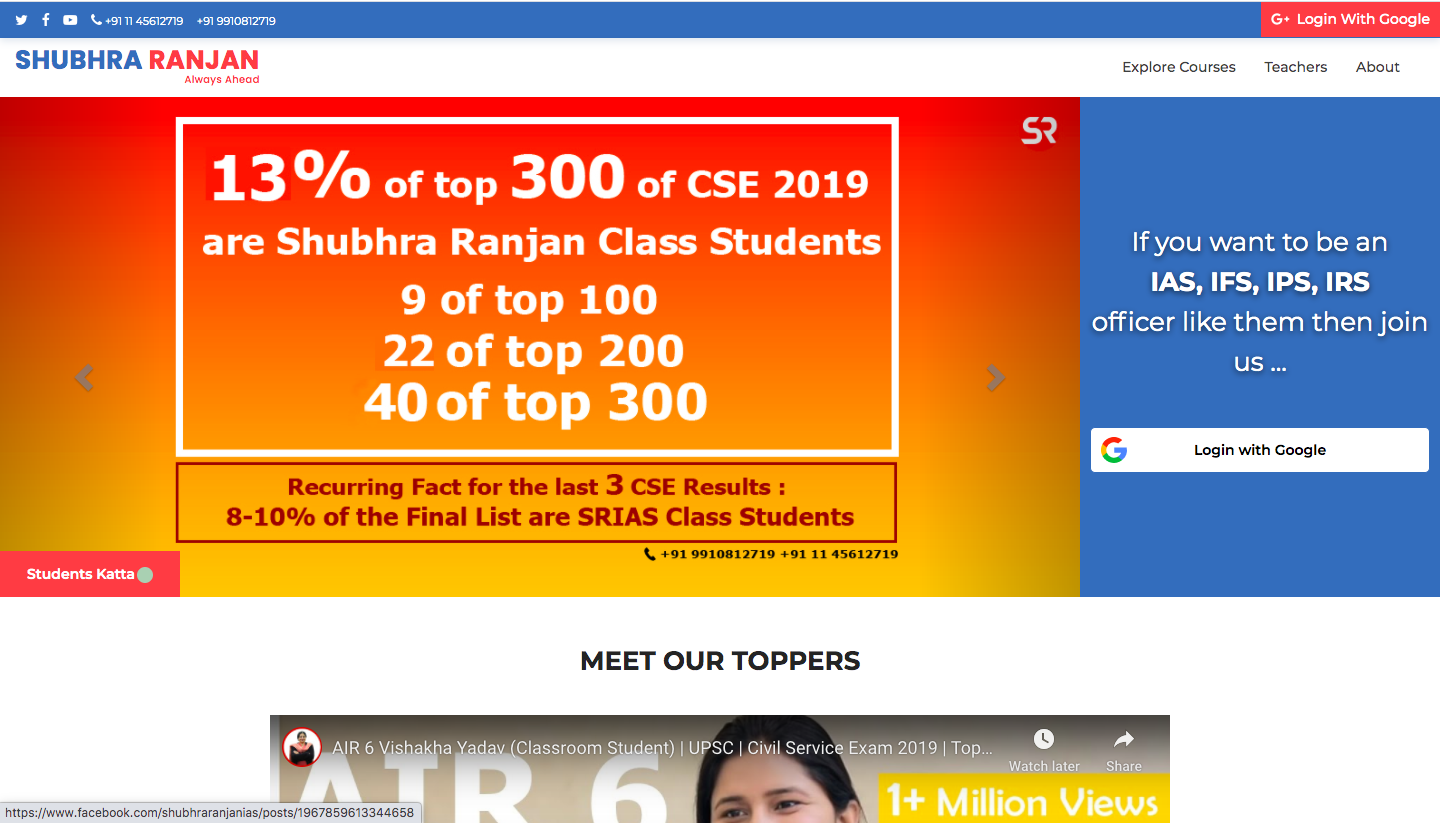 Shubhra Ranjan IAS study is an online IAS coaching platform with a variety of courses with a great team of experienced teachers. You can join the course according to your requirement. Once you enroll in a course the coaching institute will provide you with a tablet on which you will be getting your lectures. The tablets fee is included in your course fee and once the course is completed you can use the tablet for your personal use.
Unacademy is one of the best online IAS coaching platforms in the matter of free content. Many platforms provide pretty good paid content but not a lot of free content is available for those students who can't pay the fee for coaching. Unacademy can be a pretty helpful UPSC online coaching platform for them. They have a very nice variety and well managed paid and free content on their platform.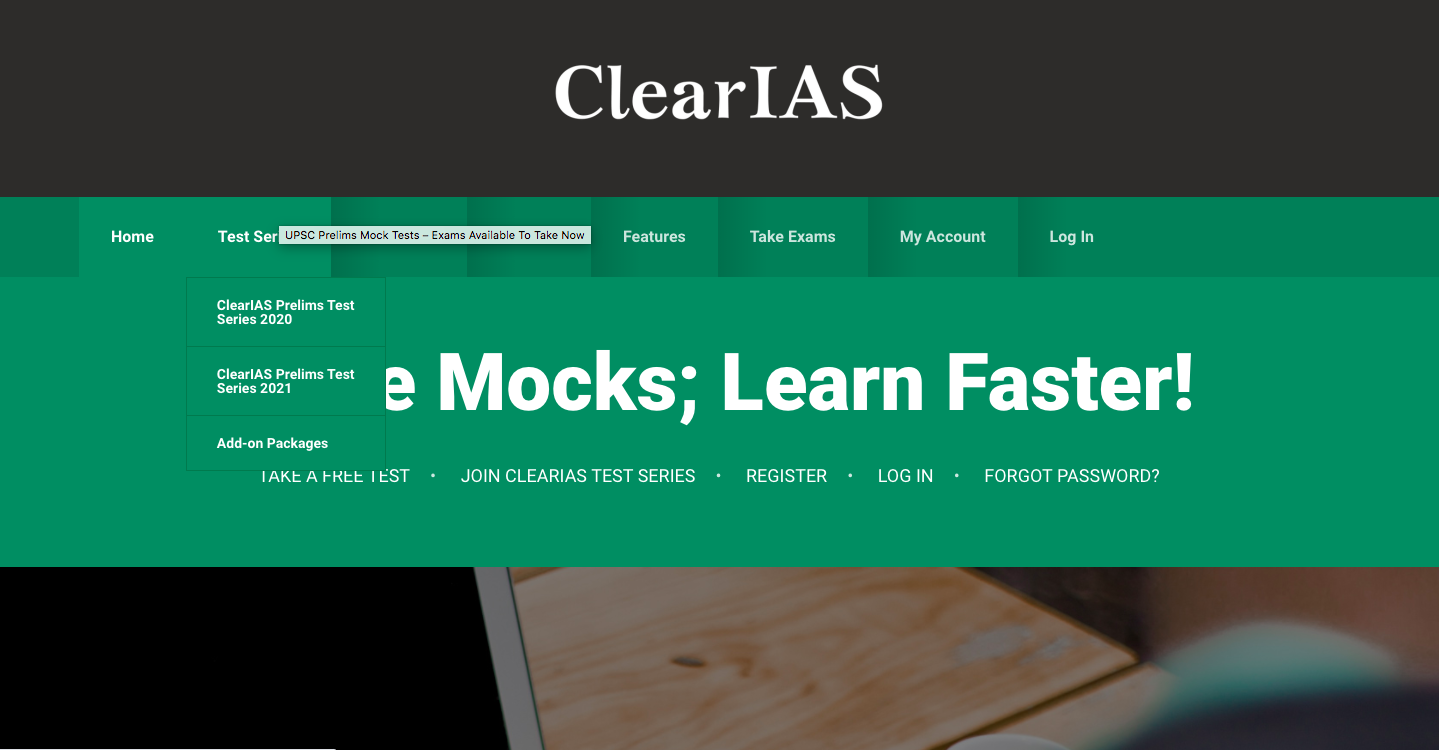 Clear IAS Exam is one of the most popular  UPSC online coaching platform designed to help aspirants clear the IAS exam by self-study. ClearIAS provides almost everything an aspirant needs to clear UPSC Civil Services Exam including guidance, study-materials, and mock-exams.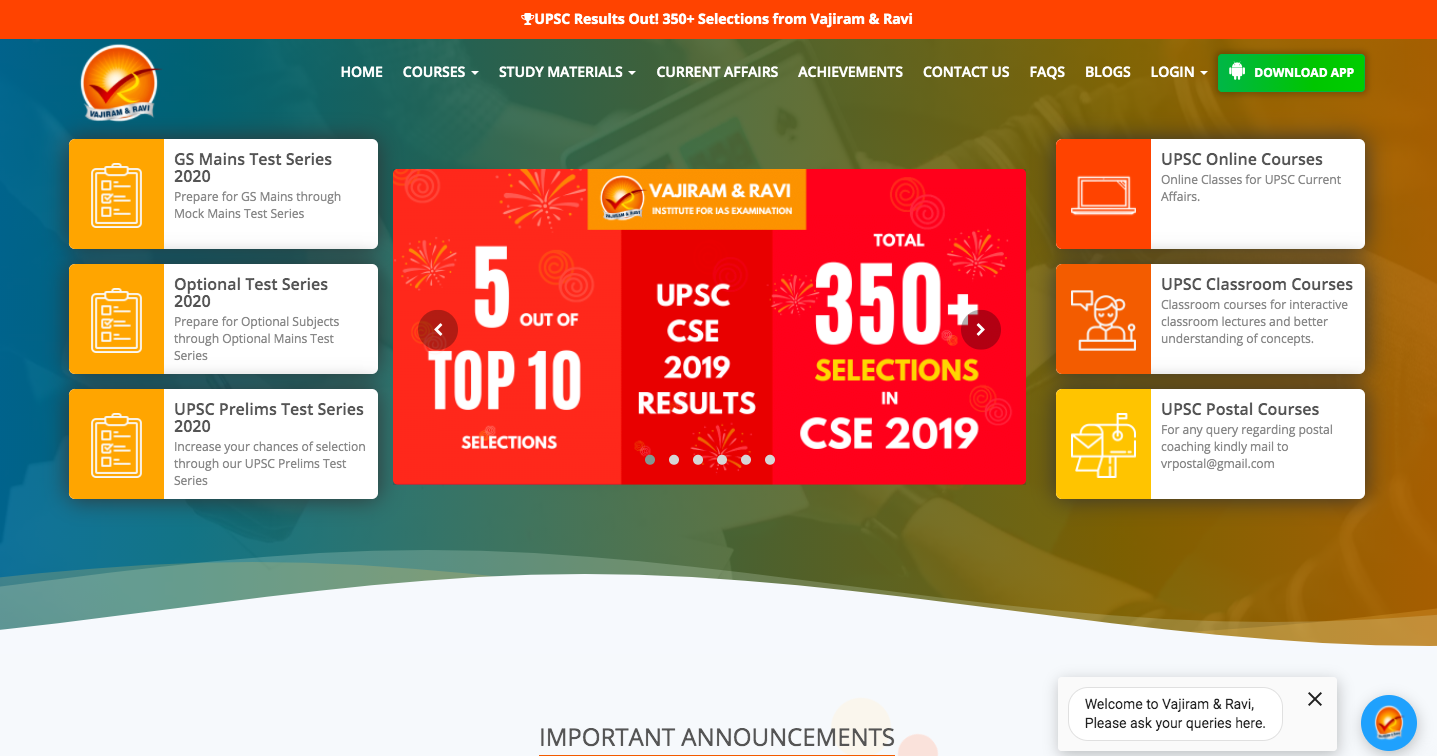 Vajiram & Ravi is one of the most reliable offline coachings in India for a very long time and now they are available online as well. This Online IAS Coaching platform provides you with the whole study material you need for your exam preparation. You will get test series, daily current affairs, study material, etc on their platform. If you want a very updated and up to the point UPSC online coaching platform then this is the right choice for you.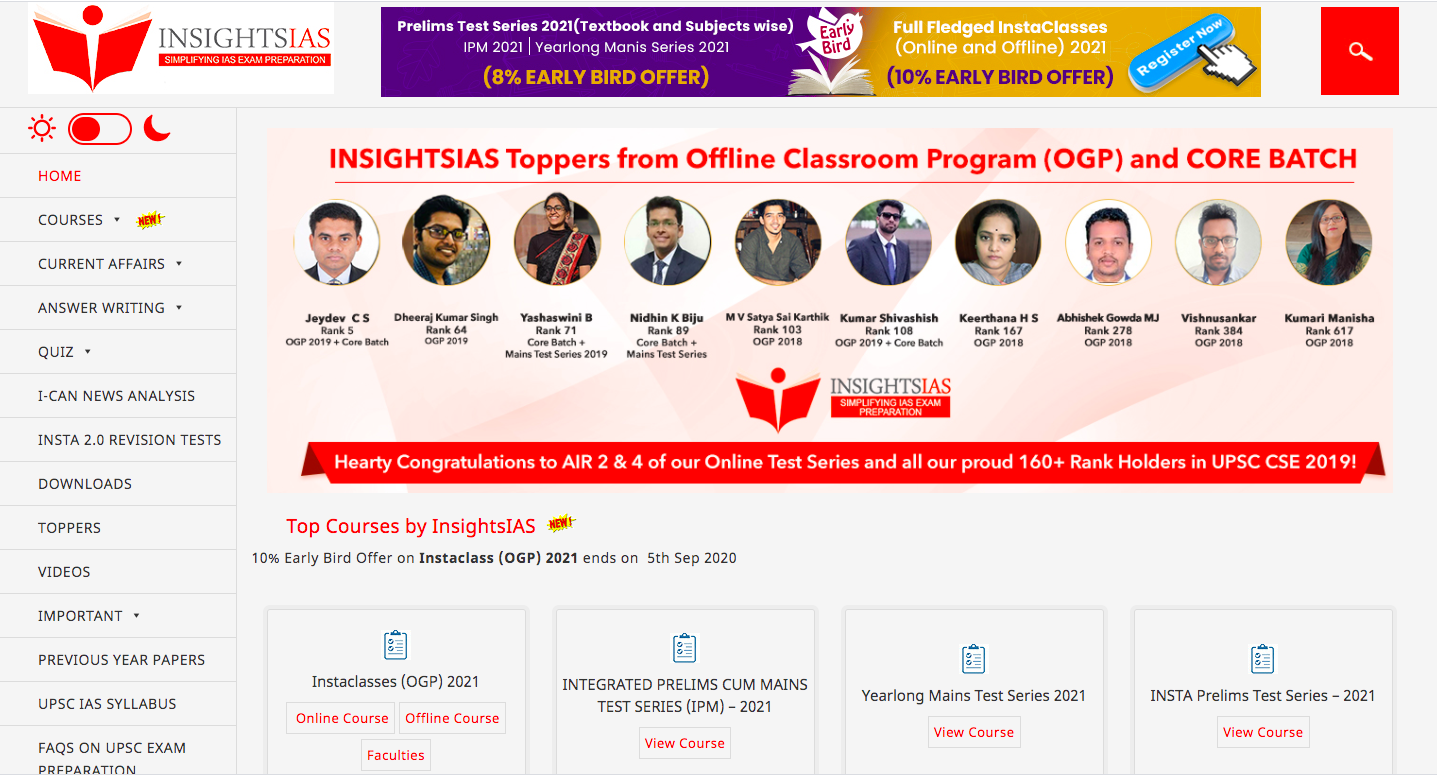 Insight IAS is another Online IAS Coaching platform that can be very helpful to prepare for your IAS exam. They provide you help with your current affairs knowledge and answer writing skills. This UPSC online coaching platform has features like quizzes, revision tests, news affairs which are very helpful to prepare for your exam.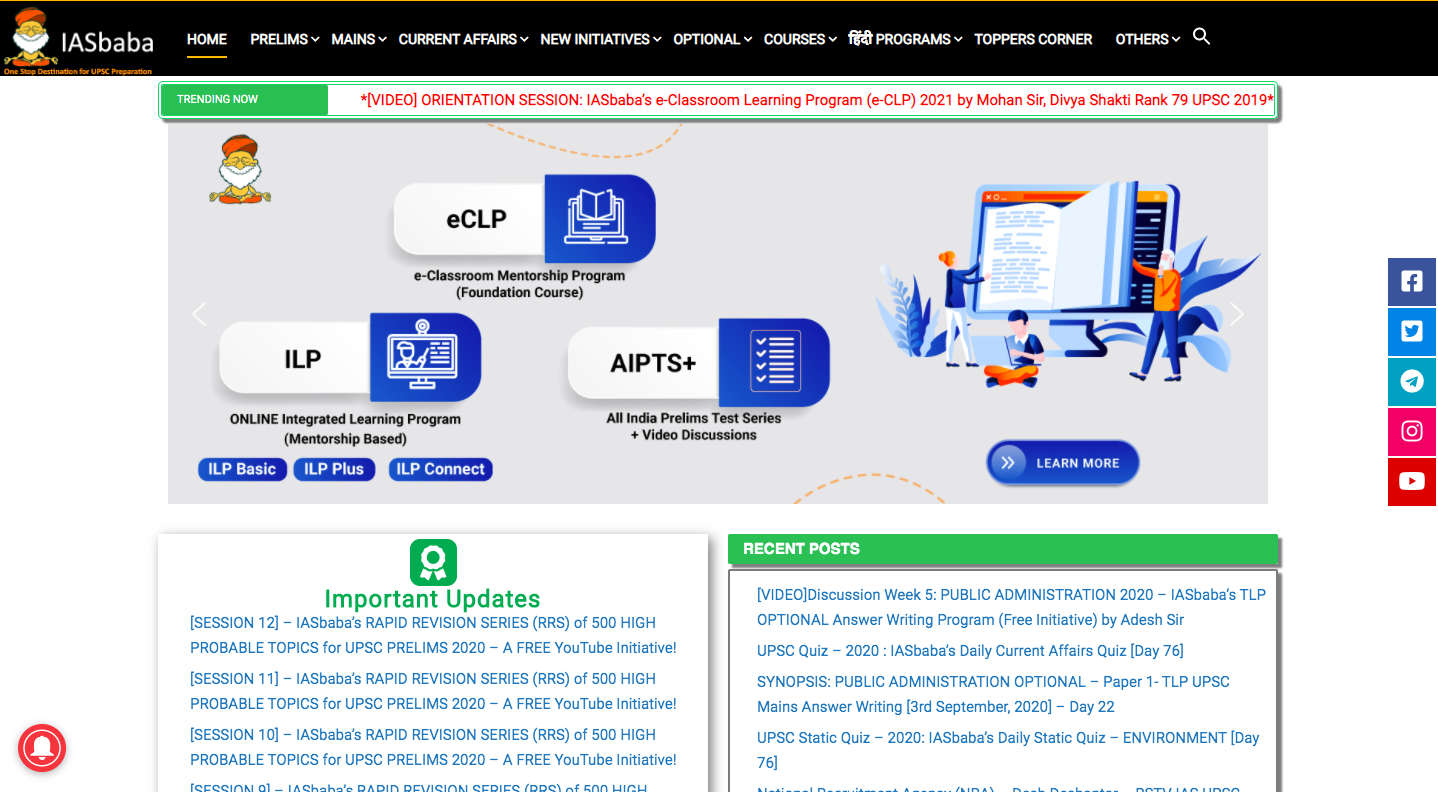 IAS Baba is a very helpful Online IAS Coaching platform for your IAS exam preparation. They have both online and offline presence. For online preparation, if you are new to their website they also provide you a whole idea of how you can take help from them for better preparation and what they offer. They offer help for both prelims and mains exam and they also provide content for Hindi medium students.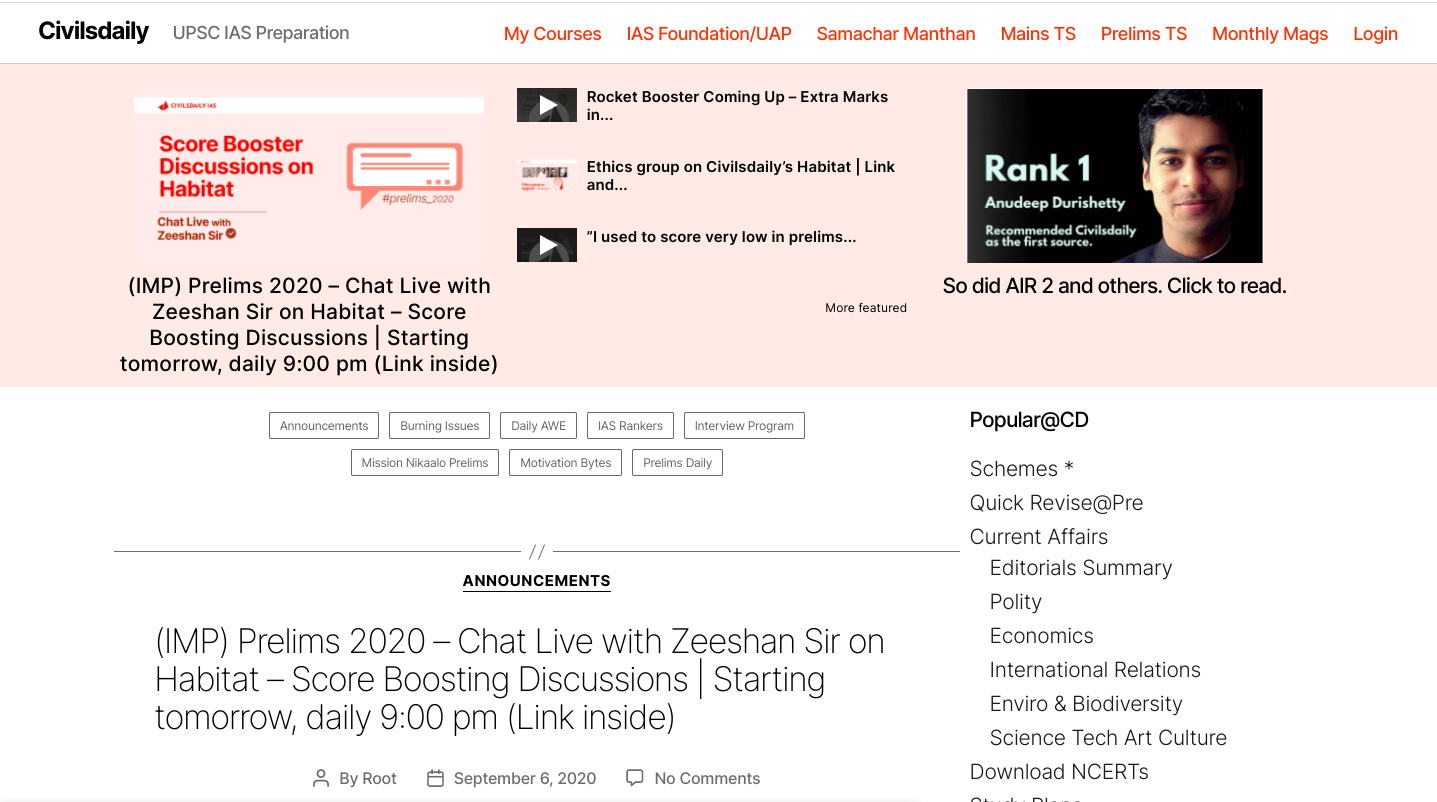 Civils Daily is an Online IAS Coaching platform that believes in strategic planning for your exam preparation. They gave a lot of time to understand the student's requirements and have provided the courses accordingly. If you taking Online IAS Coaching, you should check their website. You will find a lot of useful content to prepare for your exam.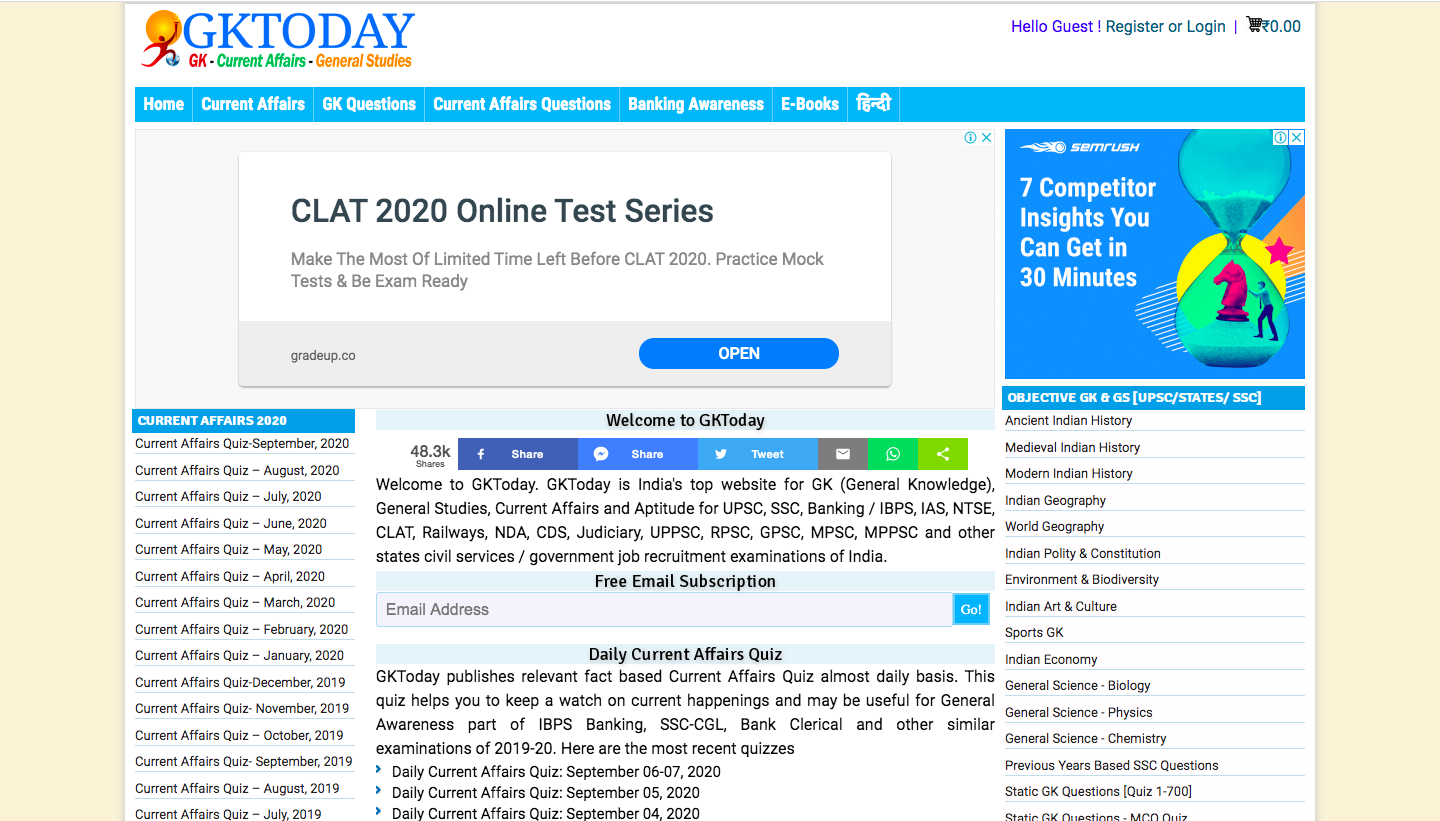 GK today is a website that will help you to update your GK (General Knowledge), General Studies, Current Affairs, and Aptitude for UPSC online coaching. They have a whole section of general knowledge and current affairs and question banks. If you are taking the Online IAS coaching classes, this is a must check platform for you.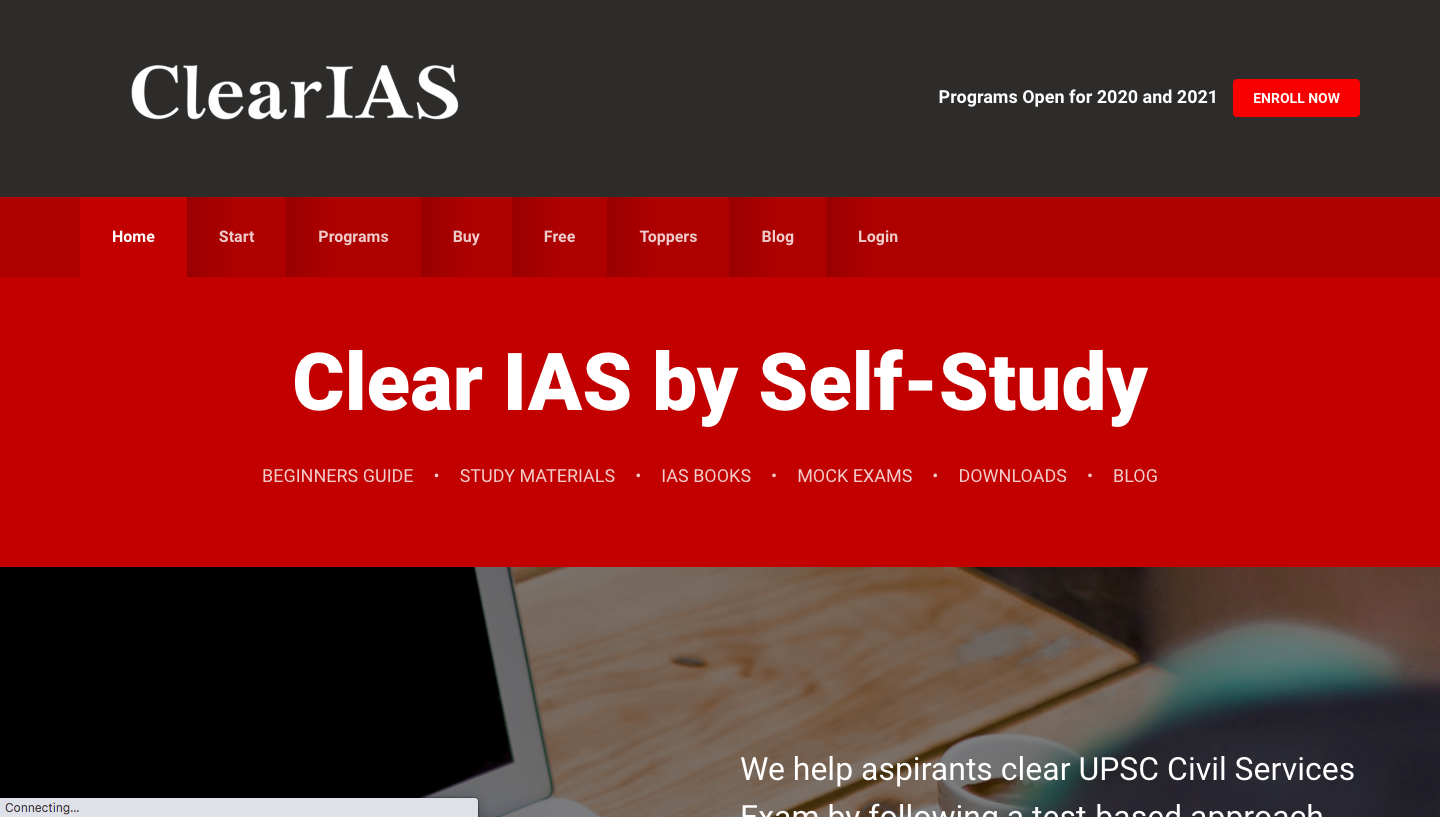 ClearIAS is an education-technology startup, with a vision of educating India. It helped many candidates to successfully clear the UPSC Civil Services Examination. To ensure high-quality education accessible to millions in the country. Provide free study materials, regular articles to guide aspirants, prelims and mains mock exams, toppers interview, etc.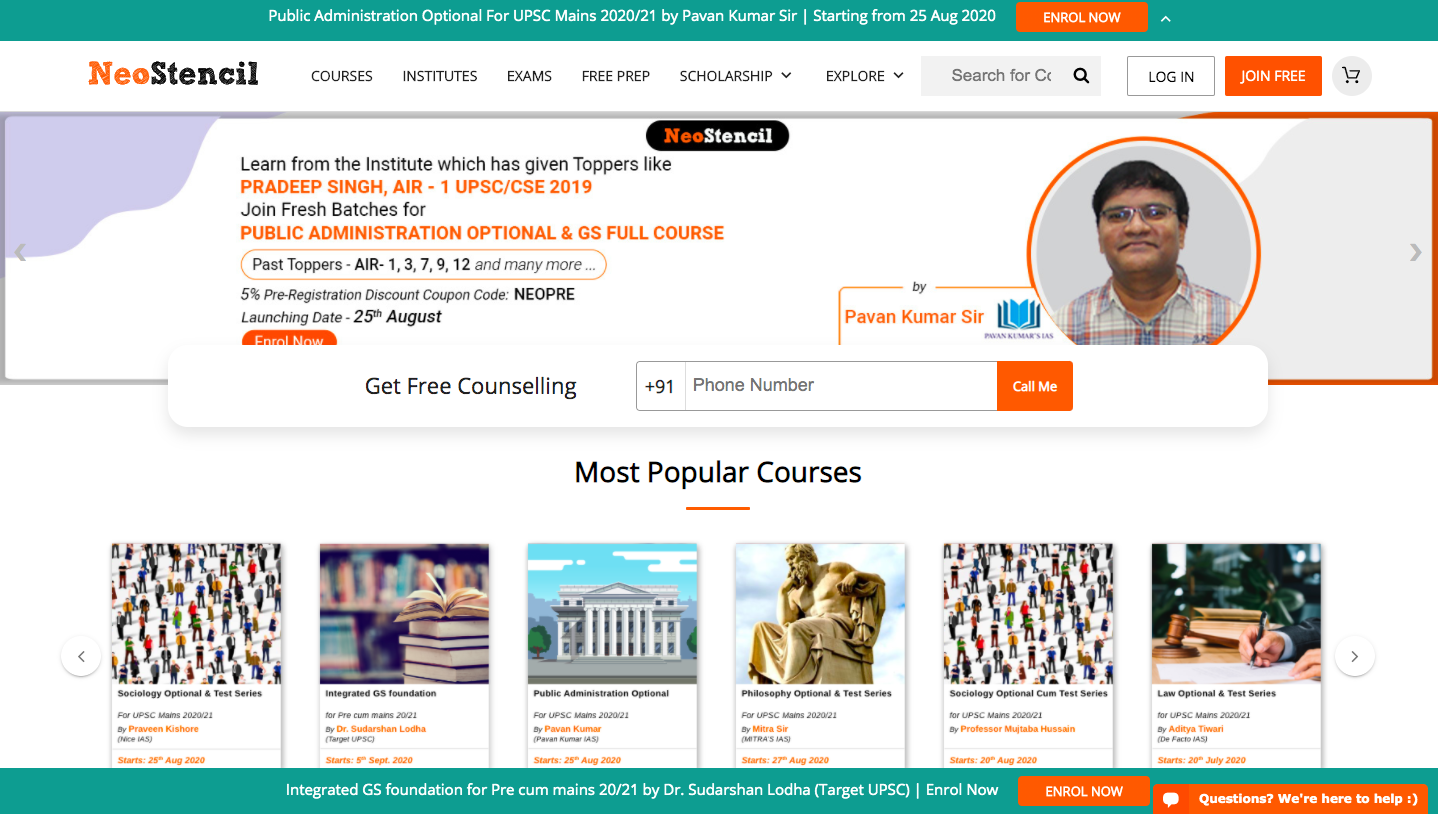 NeoStencil is a UPSC online coaching with the main objective of helping each UPSC aspirant fulfill his dream of becoming an IAS officer. They provide high-quality study material for the Civil Services Exam. This Online IAS Coaching platform offers a wide range of courses in the following domains. It would be better if you go to their official website to check the individual course fee.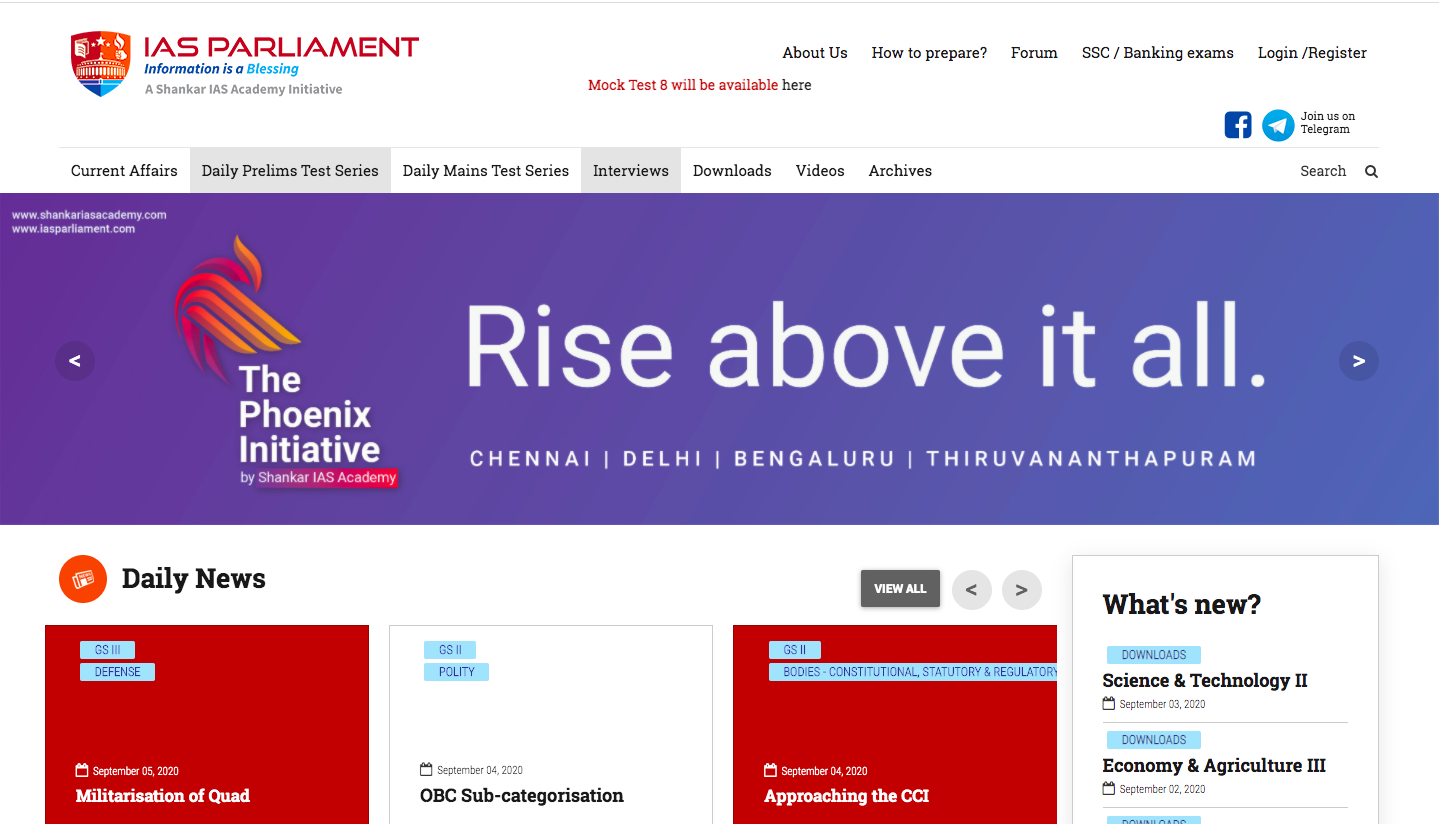 IAS Parliament is an initiative by Shankar IAS Academy. This Online IAS Coaching platform provides you with daily prelims and mains test series, current affairs, and videos. They have Current affairs digital library, daily news, and an editorial section to keep you updated for your UPSC online coaching preparation.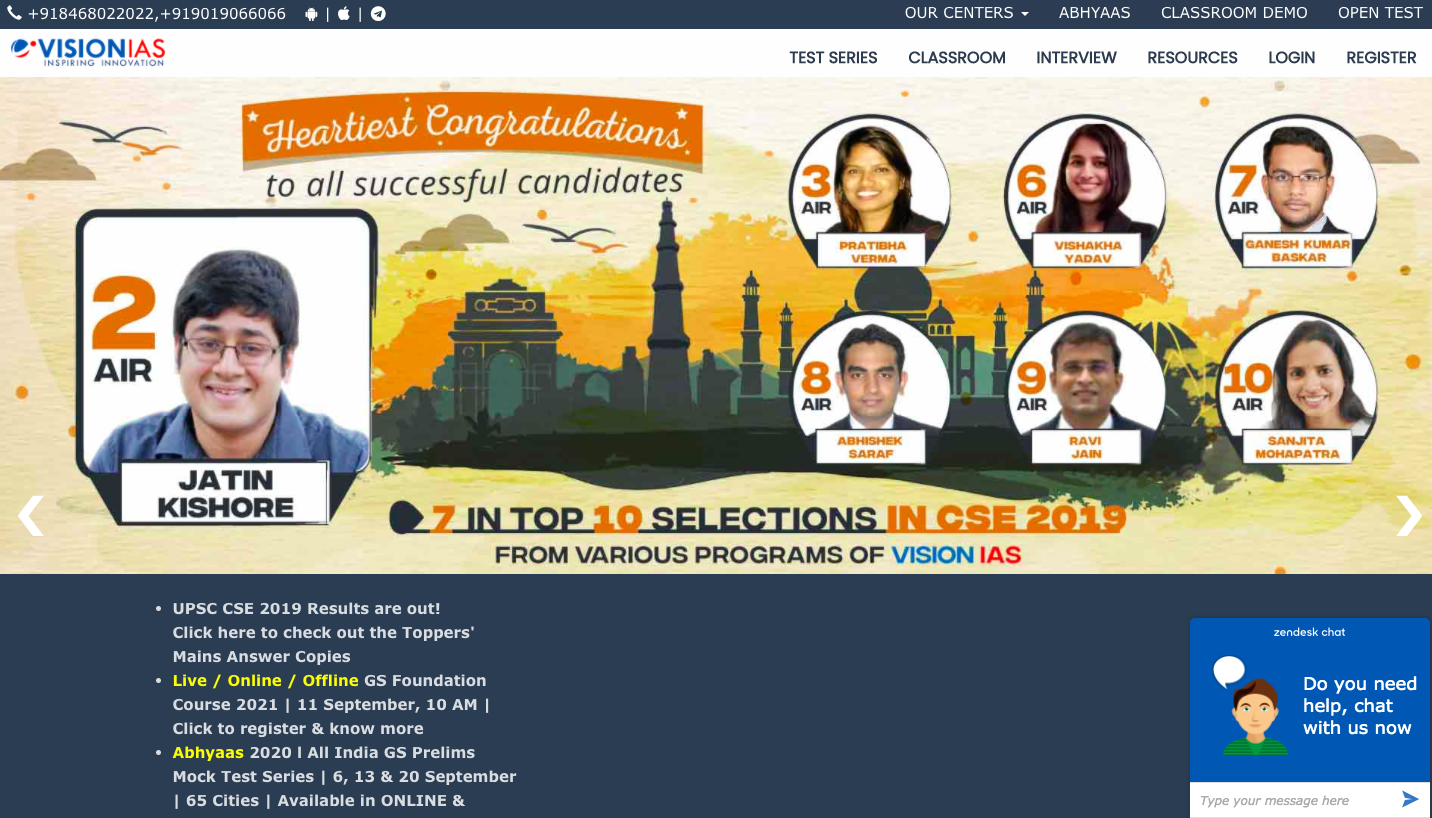 Vision IAS is one of the Online IAS Coaching platforms which can help you to prepare for your IAS exam. They have a whole team of experienced teachers who can guide you throughout your journey. They have live online classes for the students in English and Hindi. You can either choose a whole course or a particular subject and take classes for that. This UPSC online coaching platform also provides teat series and helps you with the interview preparation.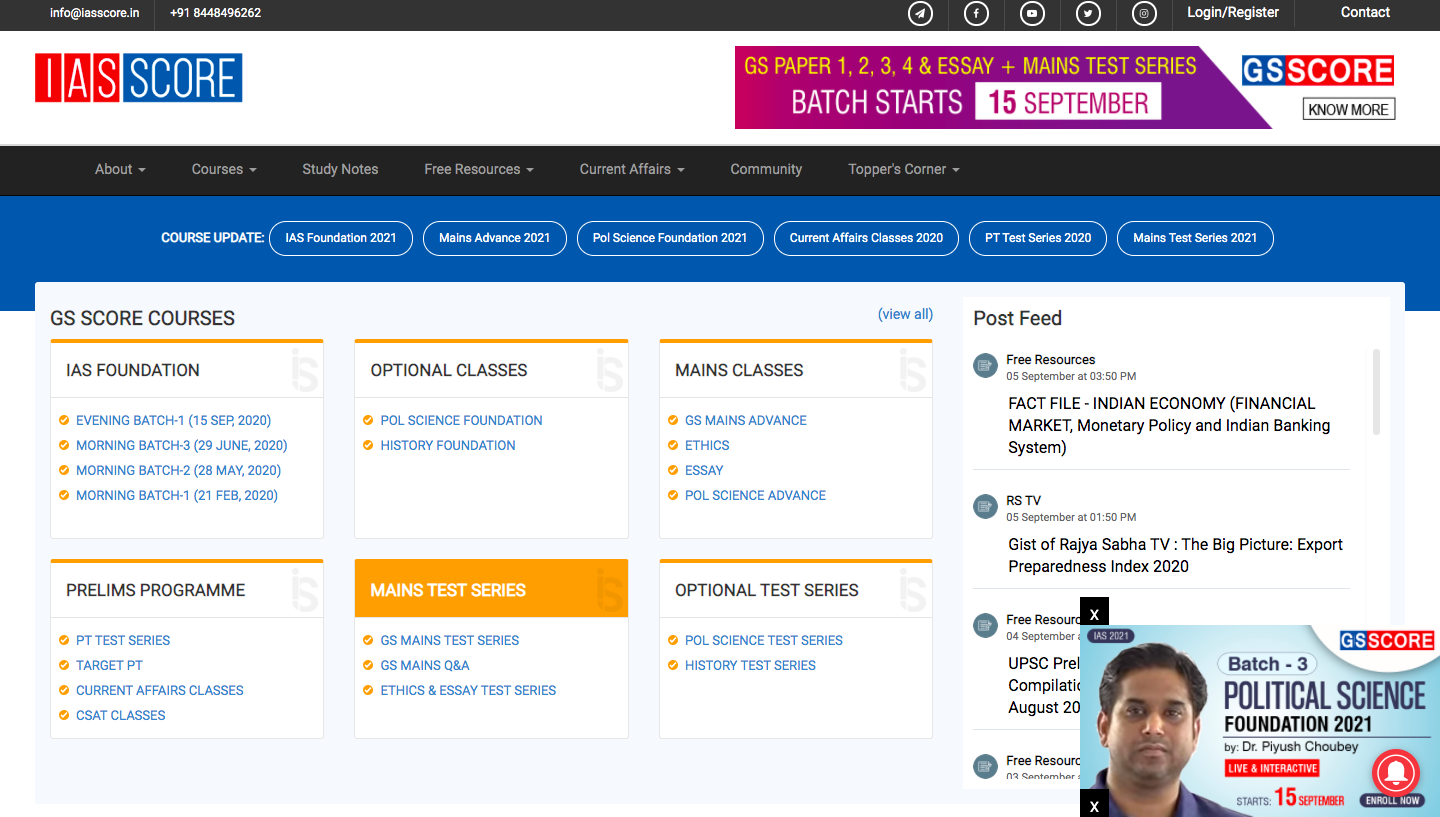 IAS score provides both the online and offline coaching classes for IAS exam preparation.  Their online IAS coaching platform provides you with a lot of free resources to prepare for your exam. They have well-planned courses and also provides study notes, answer writing, and interview preparation related help.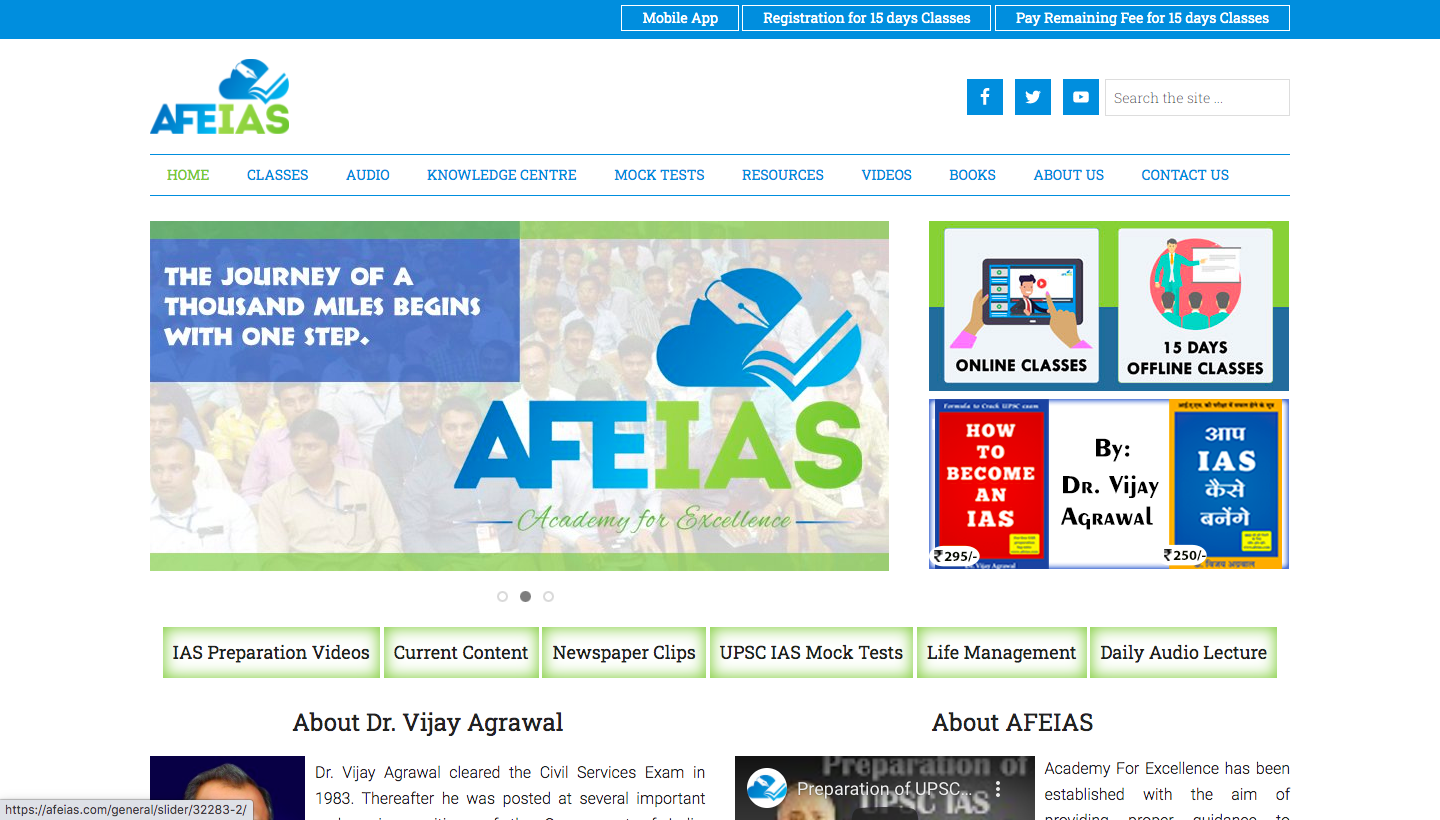 AFEIAS has been established with the aim of providing proper guidance to youths preparing for Indian Civil Services. The classes are conducted by a former civil servant and renowned author Dr.Vijay Agrawal. He himself provides guidance to students preparing for Civil Services Examinations. You will a lot of useful study material in the form of audio, video, and notes.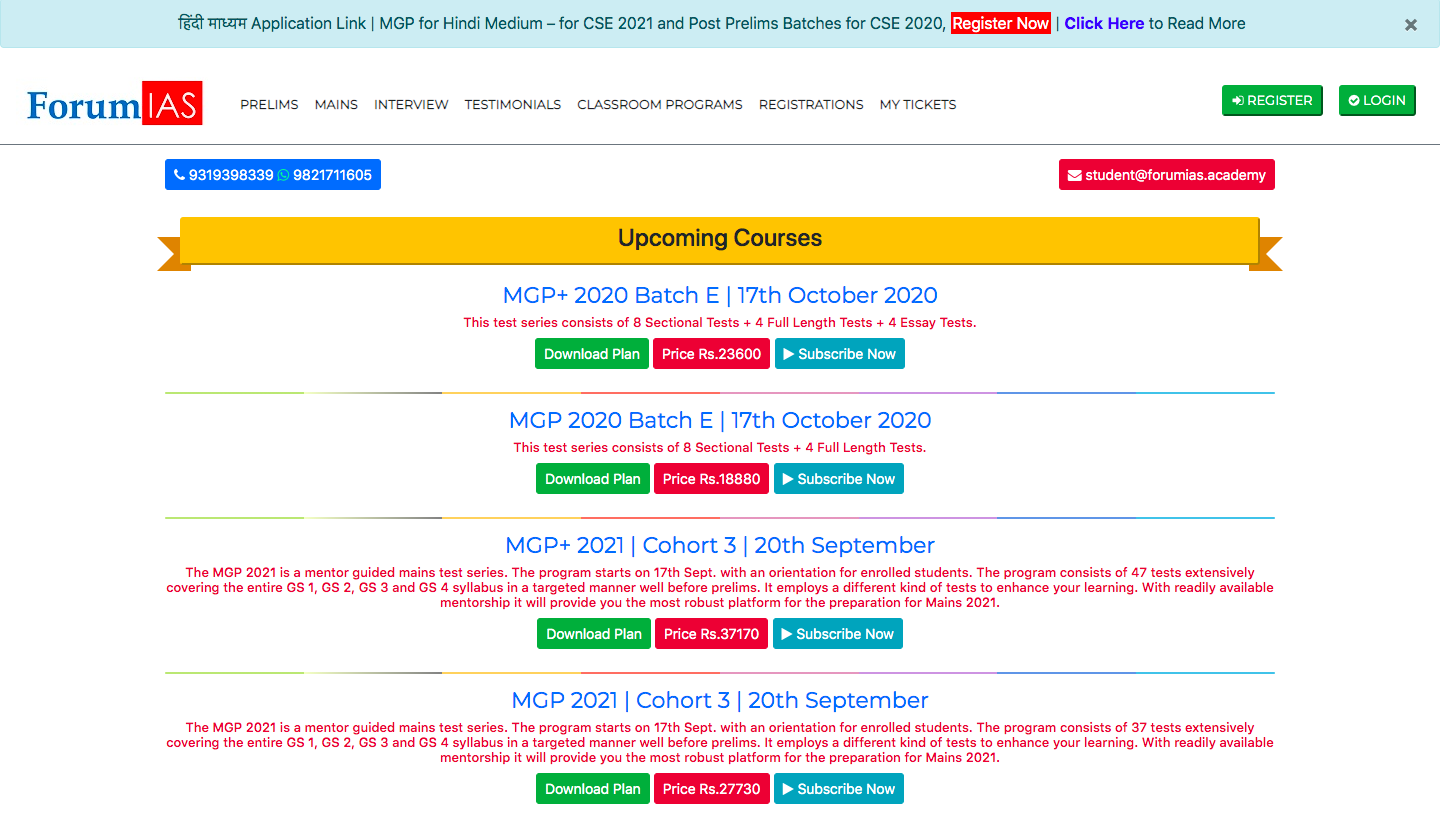 ForumIAS is one of the best Online IAS coaching platforms available in India. If you are looking to do a full-time course then you can try this platform. You can take the free demo classes and see whether the platform is right for you or not. They have planned their course according to your requirement. Whether you are preparing for prelims mains or interview you will find all the relevant courses and test series here.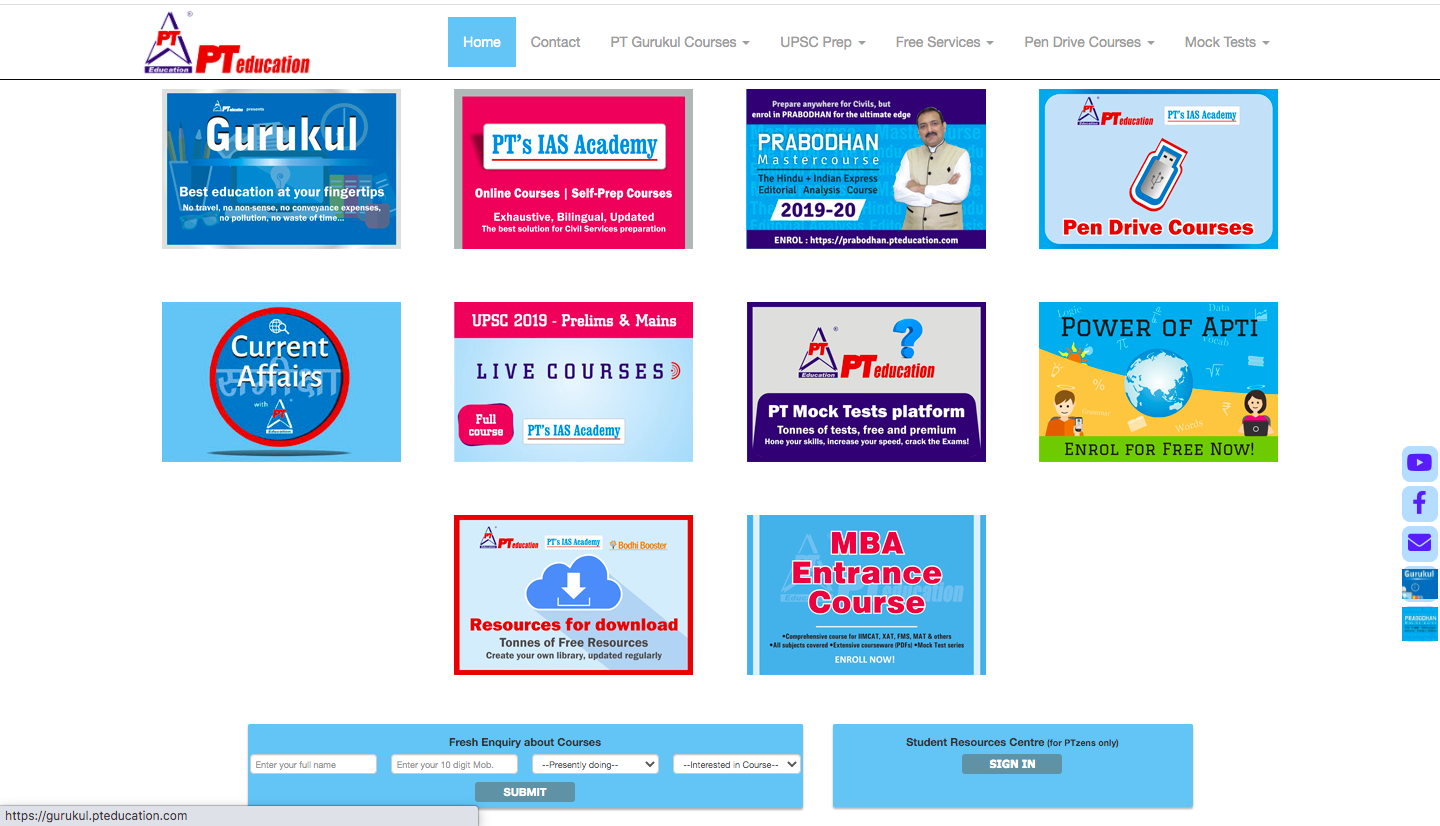 Pt Education is another online IAS coaching that can be very helpful for you. You can choose between online courses and Pendrive courses according to your comfort. You will also find free resources that can be useful for your preparation. The content is available in English and Hindi both languages.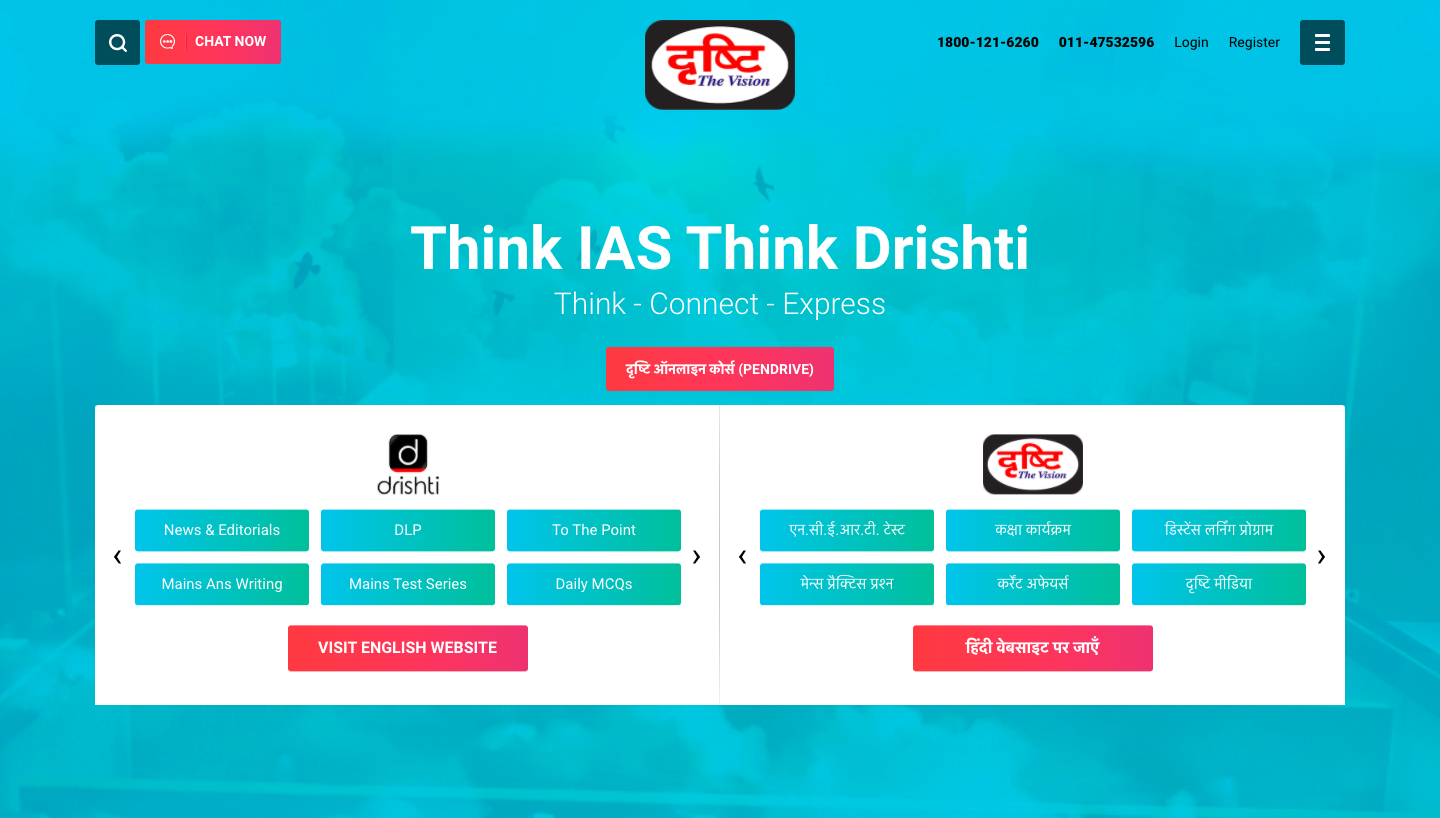 Drishti IAS is an online IAS coaching platform that provides study material in the form of Pendrive and booklets. You can go to their website and subscribe to a course according to your need and content will be provided to you. They also provide one-to-one interaction for doubt clearance that includes guidance and support through e-mail.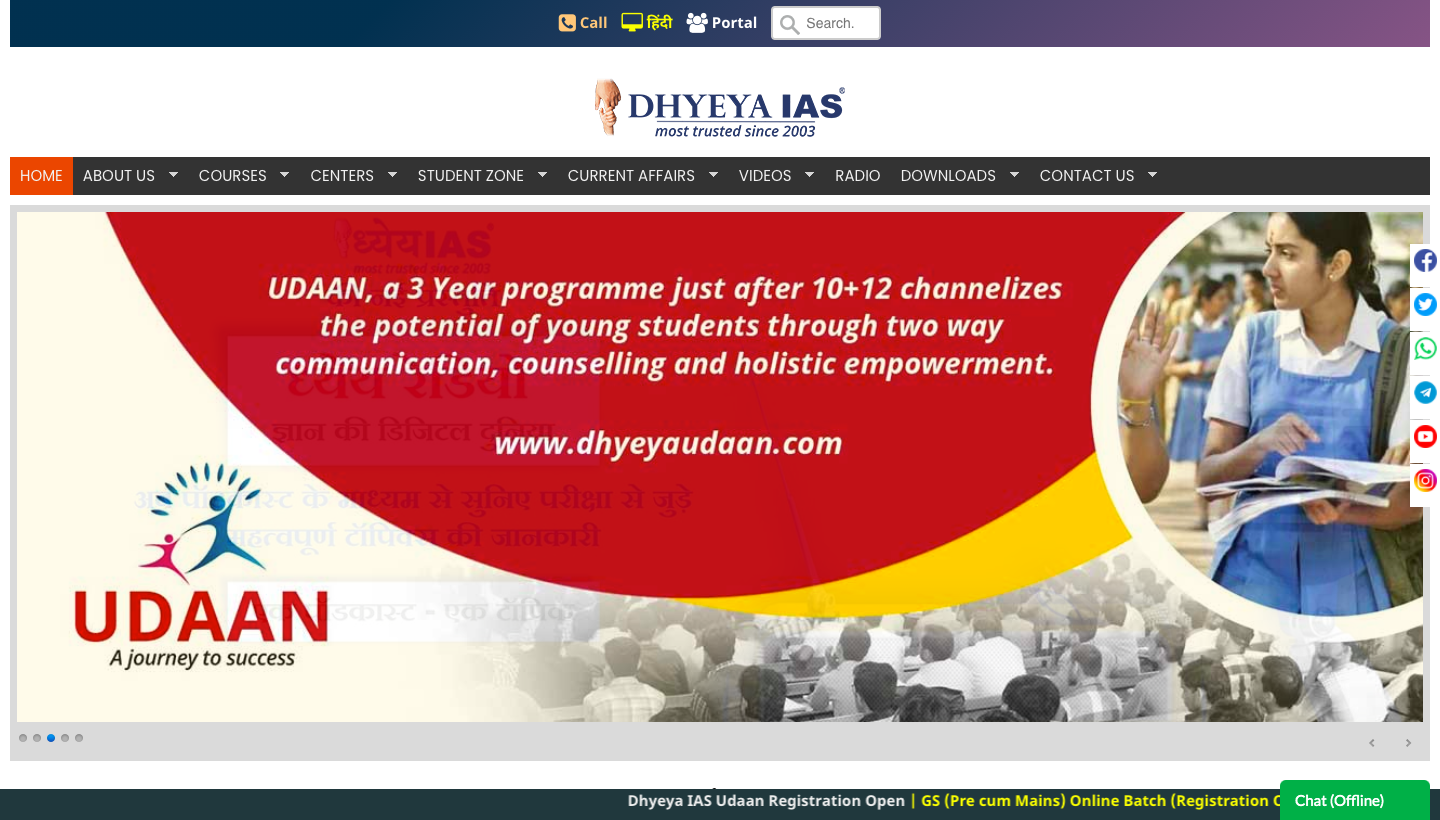 Dhyeya IAS Coaching provides live online IAS coaching classes. On their website, you will find a student zone where you will find UPSC FAQs, discussion groups, etc. They can be very helpful for your exam preparation.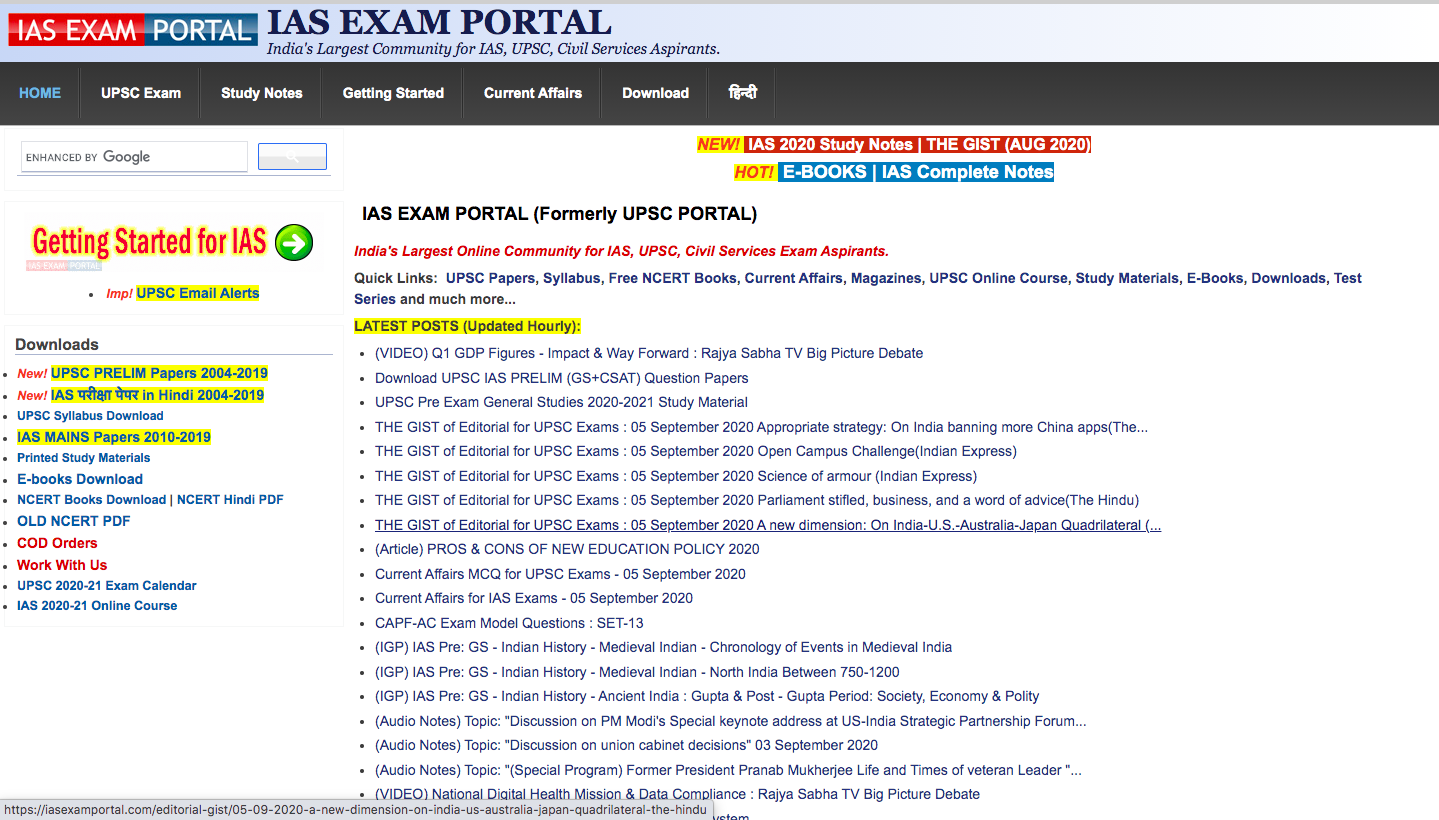 IAS Exam Portal provides a lot of useful study material for your IAS exam. They have a whole collection of test papers and study material. You can download the study notes and test papers. They also help you to prepare for general knowledge and current affairs section.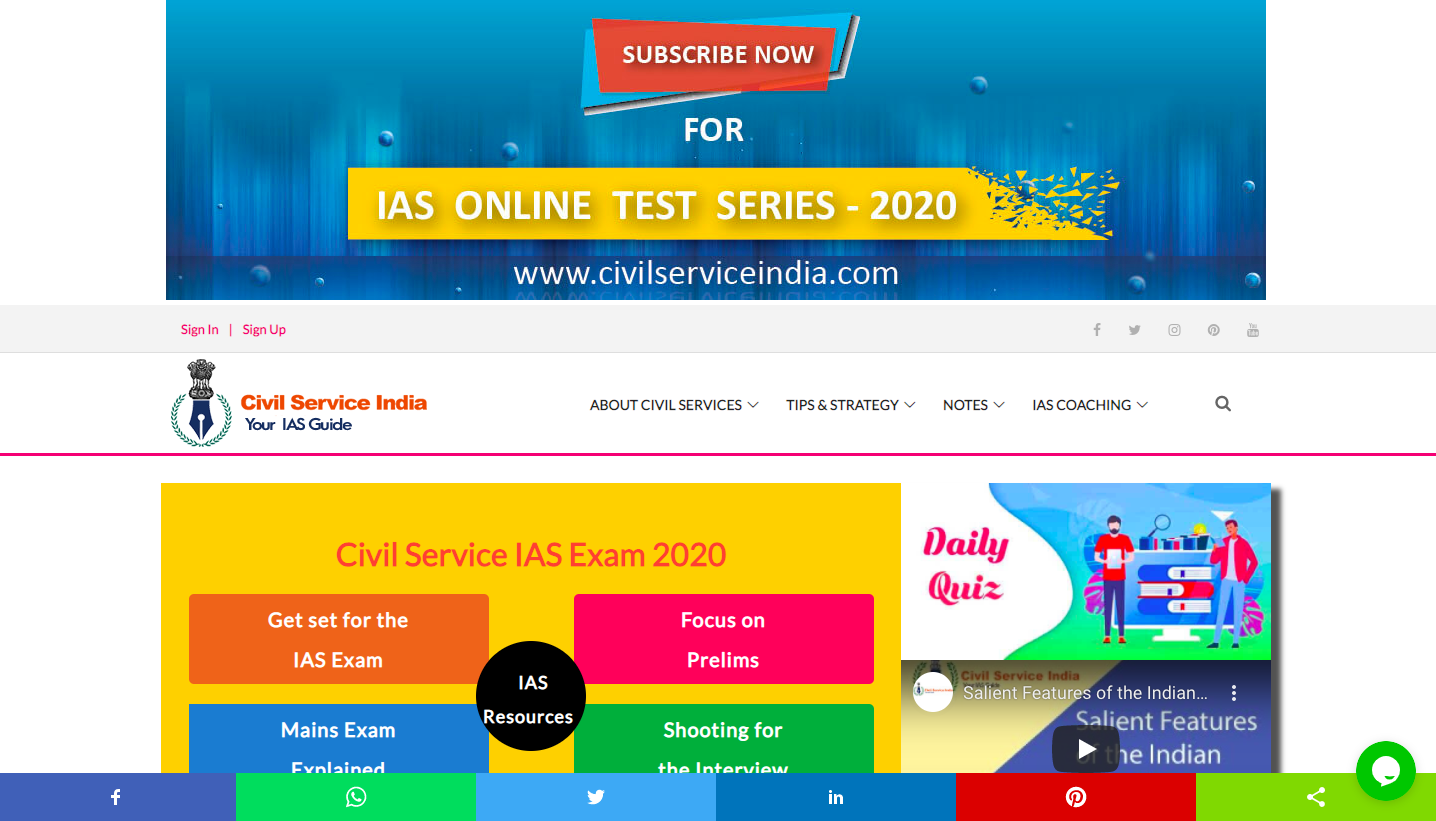 If you are taking online IAS coaching then this platform can be useful for you. Their online test series can be very useful for your preparation. They also have great information on how to prepare for your prelims and mains exam. They also have a lot of useful tips for the interview process as well.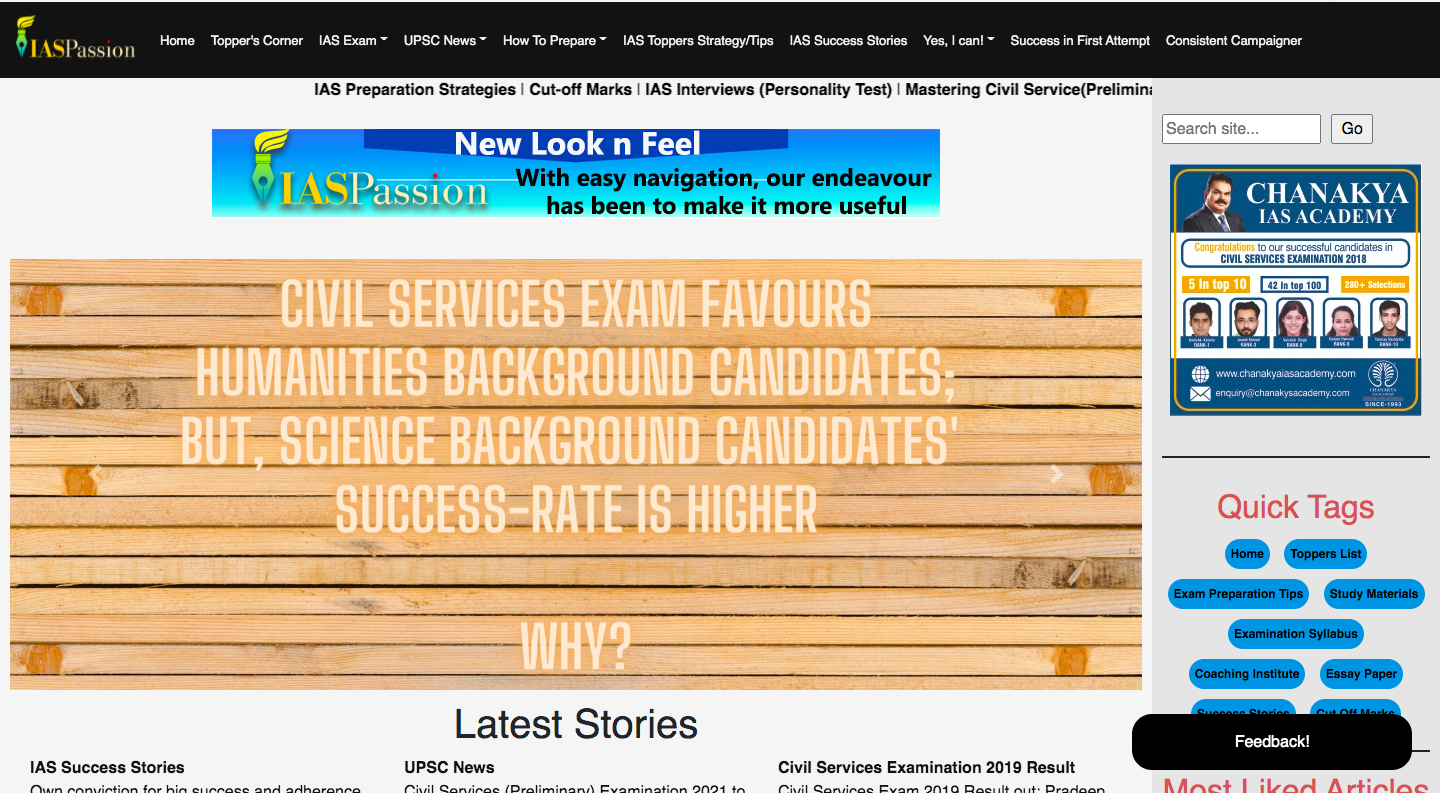 IAS Passion can be a great help for your online IAS coaching. They have a lot of great tips for your exam preparation. You will also find a bunch of success stories that are great for your motivation. They also have great information on interview preparation and strategic planning.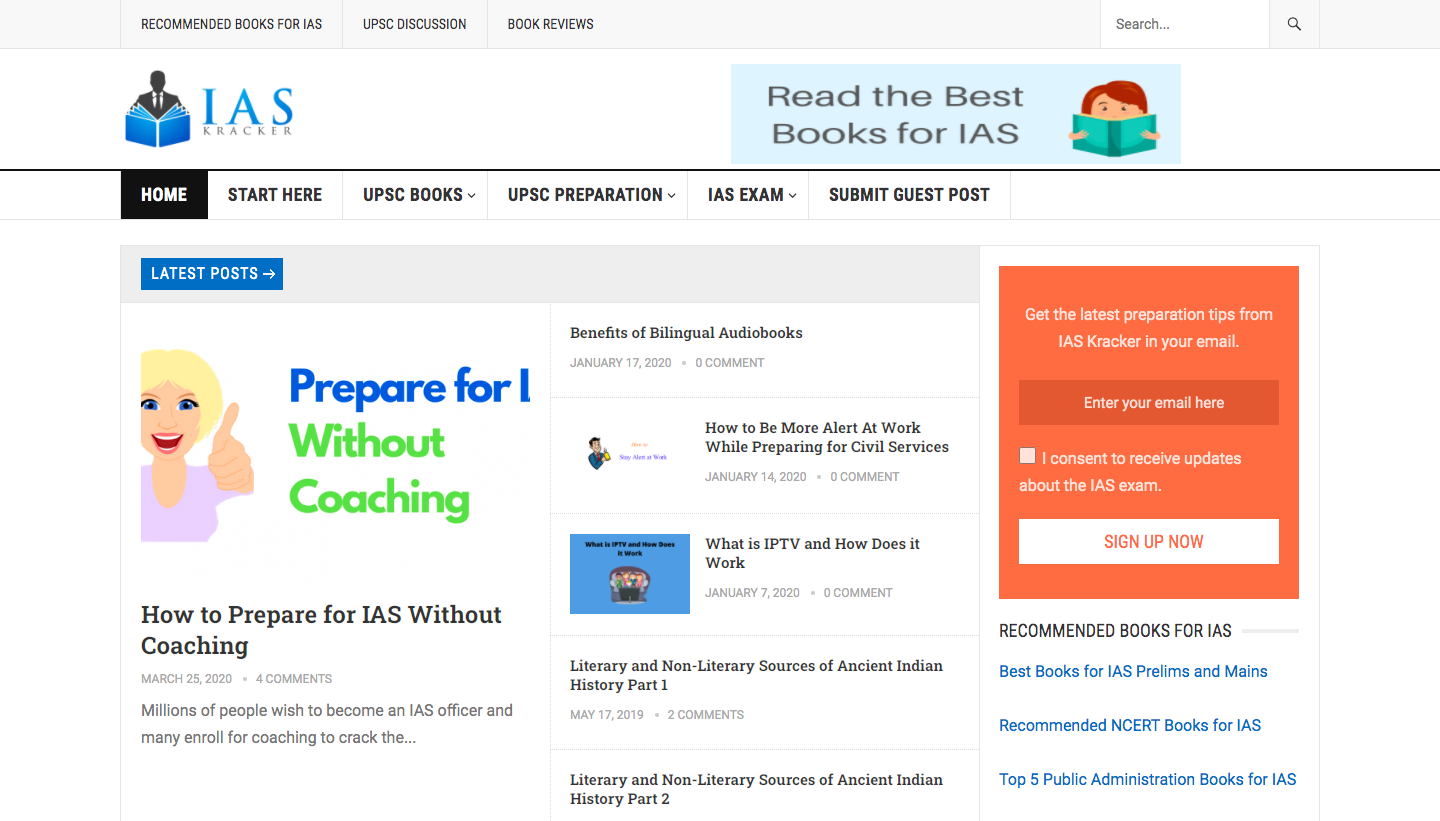 IAS  Kracker is an Online IAS Coaching platform that provides you with a lot of IAS exam-related books that are properly categorized according to your requirement.  They also provide a lot of preparation tips and discussion forums, compilation of old test papers. If you need any study material related to your UPSC online coaching you will definitely find it here.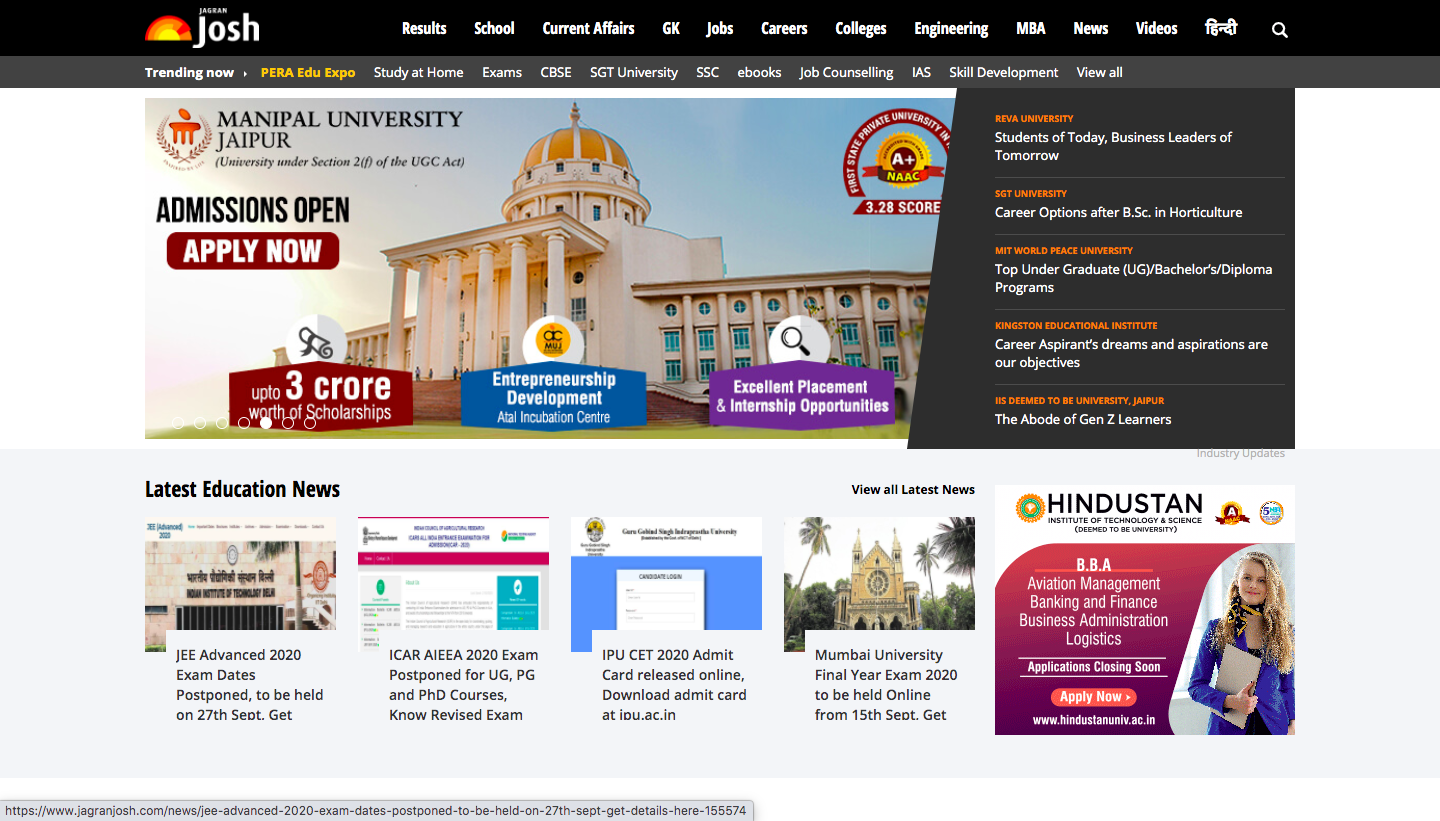 Jagran Josh is a platform where you will find a variety of information related to different courses. If you are taking UPSC online coaching you need to take a look at this platform. You will find a lot of information related to the preparation books for your exam. They also have a great section on the general knowledge category and current affairs.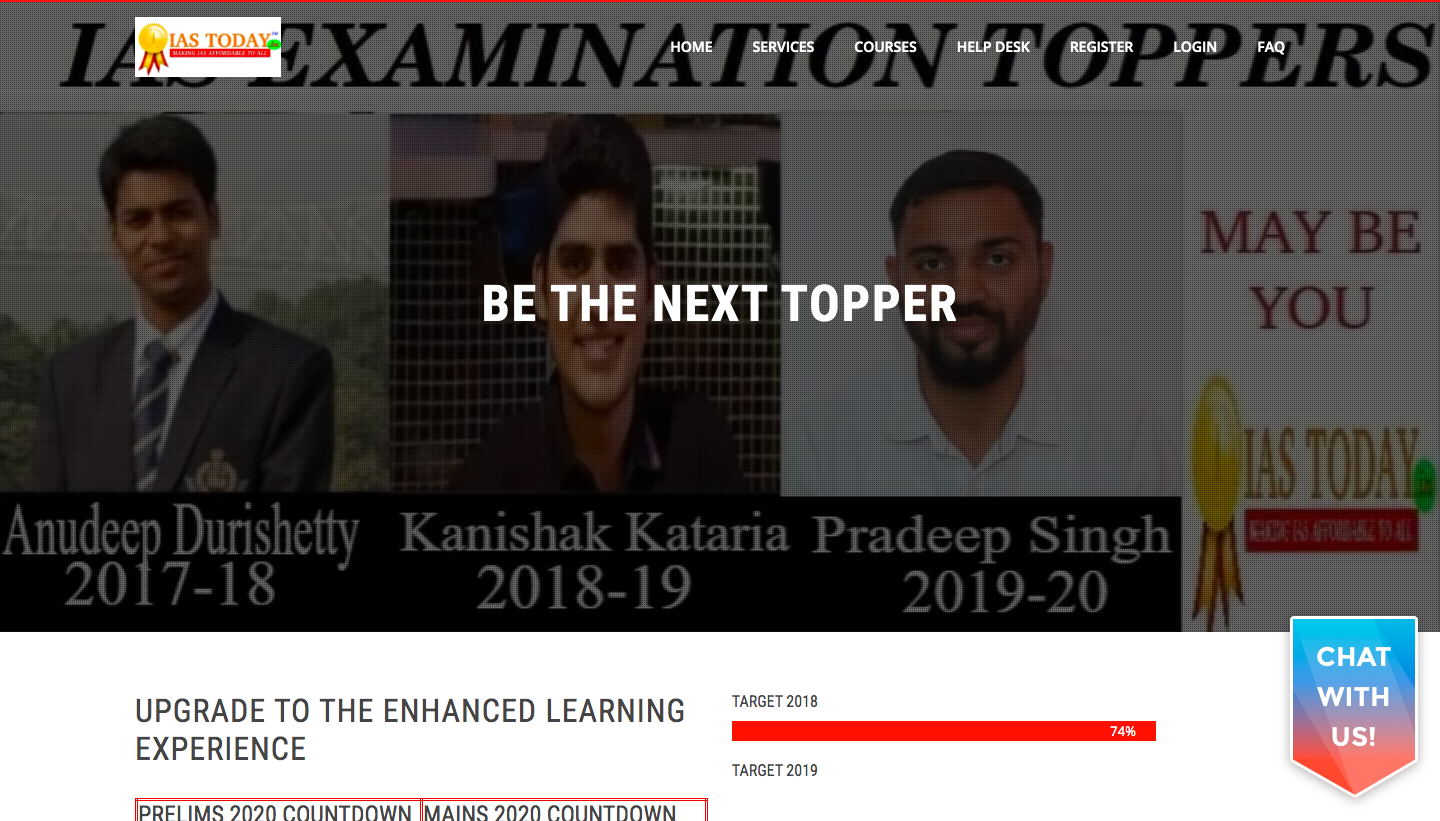 Ias Today is one of the most prominent online available for IAS online coaching. This UPSC online coaching platform provides you complete help throughout your whole journey. They have 24/7 support available to help the students. Features like All India test series, question review in 60 minutes, interview series are very helpful to get ready for the IAS exam.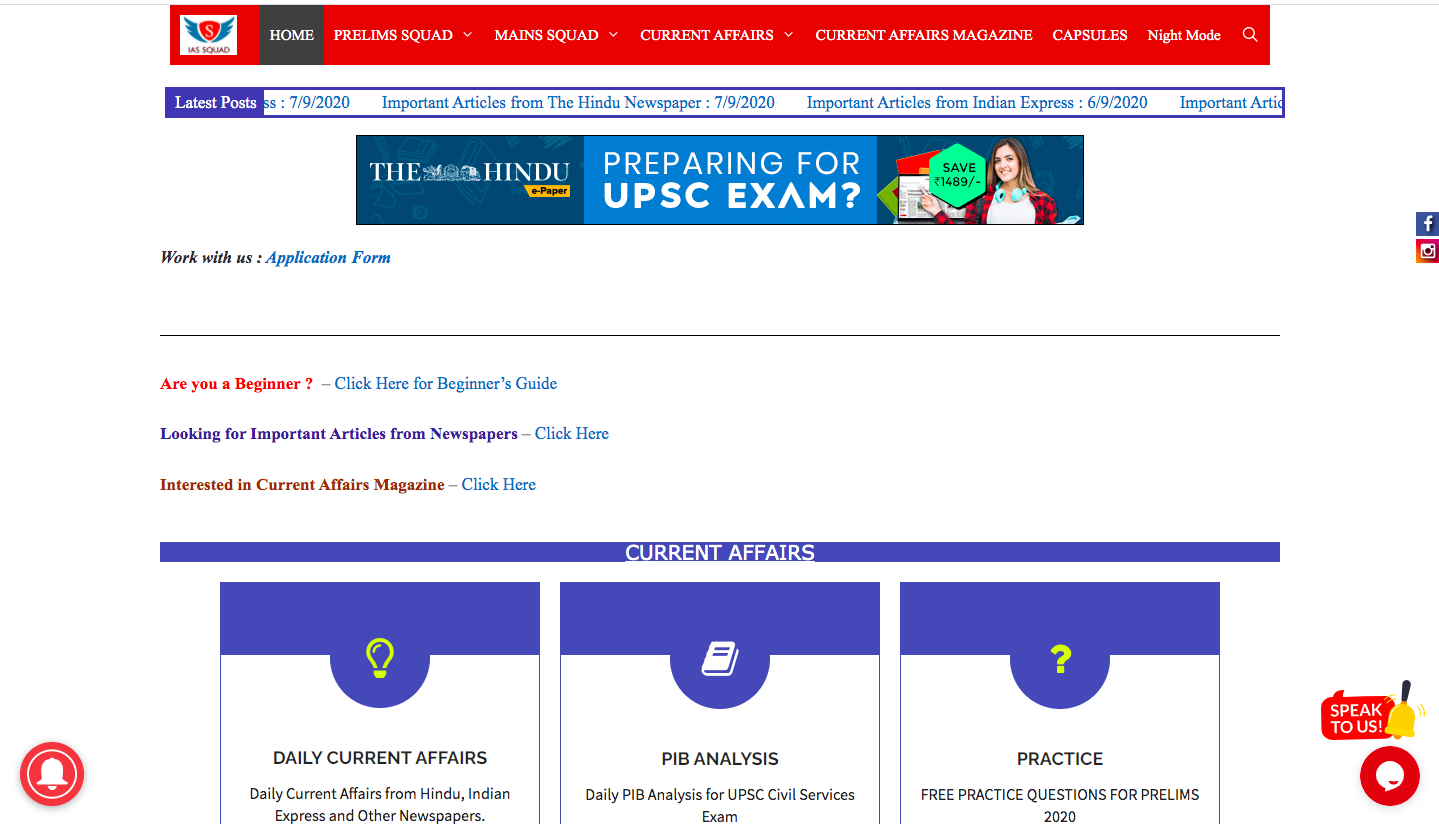 IAS Squad is another very helpful Online IAS Coaching platform. They have different sections for preliminary and mains preparation. You can choose your course according to your requirement whether you want a beginner course or you are already up to the speed. This UPSC online coaching platform has a whole section for current affairs and important newspaper articles.
Protect Your Online Lecture Videos from Download & Screen Capture
VdoCipher helps ed-tech platforms to play videos on their platforms in the most secure and smooth manner. VdoCipher protects revenue loss from video piracy. A combination of Hollywood standard DRM encryption (Digital Rights Management), viewer-specific watermarking & licensing technologies ensures that videos can't be downloaded or shared illegally from a video platform.
Free 30 Day Trial