At a time, the only option to watch videos was on a linear screen, at a scheduled time and fixed place. The viewing experience has rapidly shifted towards multiple screens and content availability in multiple places as per the viewer's timing. The content preference is now personalized, and individuals watch as per their convenience and preference. Today, in a single day, a movie is released on OTT video streaming platforms like Netflix with subtitles to expand its audience reach across the globe. The way content is consumed becomes more and more personalized and demographically targeted. The content on the home screen of an OTT app looks different for every user as per their viewing behavior and taste.
'According to Nielsen, OTT streaming accounts for 34.8 percent of total television consumption in the US, ahead of cable TV and broadcast.'
OTT is more appealing to viewers as it gives them the luxury of watching videos per their schedule. Additionally, they can skip paying a satellite or cable company to watch content that they may not be fully interested in. The availability of the internet and smartphones contributes to the increasing popularity of OTT content.
OTT has undoubtedly emerged as the medium to target a wide audience and generate revenue via various models. Now it is possible to build your own OTT app in your niche and see an increase in engagement and subscribers. One thing to remember is the secure upload of your video content, as you cannot risk videos getting leaked or pirated. To do so, businesses need a secure OTT video streaming solution provider like VdoCipher to manage your videos and protect them from online video piracy.
What is Over-the-top Media Service or OTT
OTT or 'over-the-top' media service refers to the delivery of media content to the viewers using the internet. OTT bypasses the traditional modes of media delivery via satellite or cable connections.
Over-the-top services are directly accessible via websites, apps, or browsers on mobile devices, personal computers, smart TVs, and digital media players, including gaming consoles. All you need is a high-speed internet connection and a connected device. Common examples are Netflix, Hulu, ESPN+, and Amazon Prime Video. Although cable services require a subscription, the OTT content is directly online streamed to the viewer and can be consumed at any time and anywhere in the world on various devices.
Over-the-top content is directly delivered to the viewers from a third-party OTT provider, with the ISP transporting IP packets. Some OTT platforms have a subscription model to access content priced monthly and annually. In contrast, some OTT services don't charge a subscription fee but show advertisements.
"People are more demanding in how they want to consume their content, and what kind of content they want to have, and what they want to see on their home screen." – Guillermo Martinez, Strategic Partner Development Manager for Android TV.
Importance and Benefits of OTT Platform
Cost Effective
Compared to traditional TV connections, subscribing to OTT platforms is more cost-effective. Additionally, you get access to foreign content and a huge HD and 4K content library. Also, there are no monthly fixed bills to be paid, and you can pay monthly or annually.
More personalized
The beauty of OTT platforms is how they tailor and recommend content as per the viewer's interest, viewing history, and more. Viewers can surf the content they wish to watch, choose different genres, browse by languages, and much more. There is no fixed timing to watch your favorite content. You can, anytime, anywhere, watch at your convenience. All you need is an internet connection and a connected device.
Multiple ways to access OTT services
OTT video content can be viewed on multiple devices; some have user profiles for multiple users to watch the videos simultaneously. With just a login, you can watch the content on a smart TV, add-on devices like Chromecast Stick, smartphone, laptop, or tablet. The OTT platforms may be app-based or even accessible via a browser.
Download choice
Most OTT applications have the features of offline content download. You can easily download them for offline viewing, which is unavailable on cable television.
Variety of original content
In 2021, OTT giants Netflix and Amazon Prime invested nearly $500 million in original content in India. There is a vast library of content covering multiple genres and languages. A large collection of video content, shows, movies, and regional content is unavailable with a cable connection.
Best viewing experience
OTT offers the best video quality content experience across all devices based on your subscription. There is 4K content, and based on your internet connectivity, the video quality is automatically adjusted to match your bandwidth (Adaptive Bitrate Streaming). This way, video content is delivered uninterruptedly and seamlessly.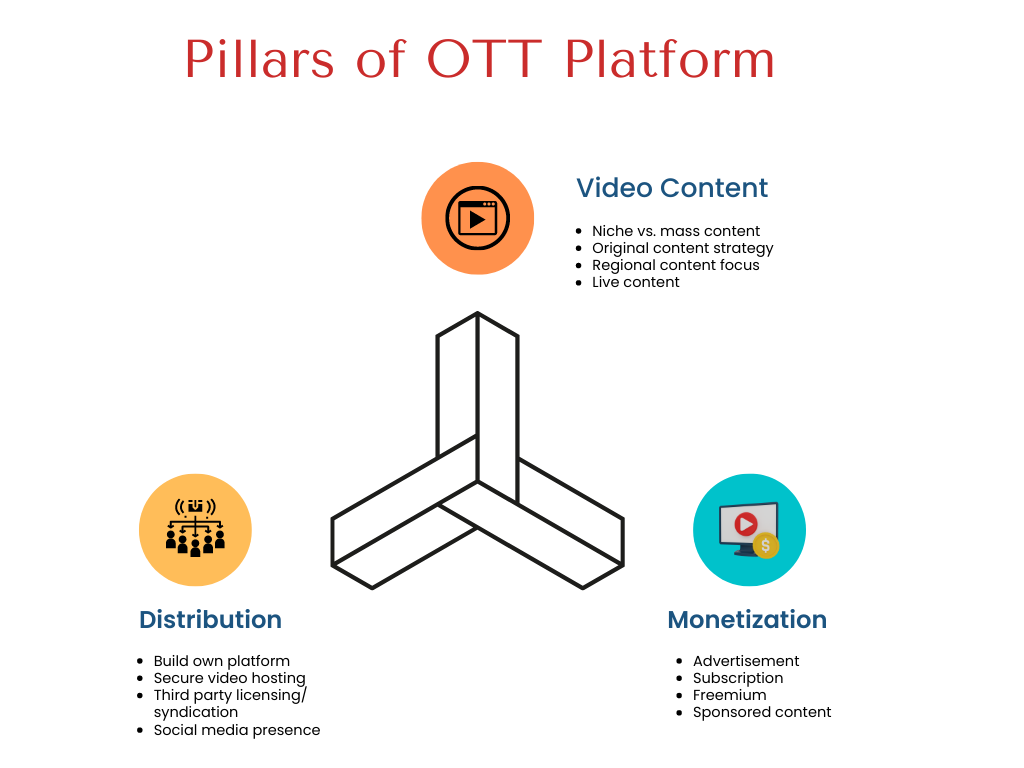 How OTT Solution Provider Works?
There are two sides to an OTT platform working; one is to store the video and audio files over the cloud, and the second is to deliver them for playback. A small or medium OTT provider is busier with content creation and marketing of that content to gain viewership. Also, in-house video storage and playback infrastructure is a capital-intensive project. To handle the capital-intensive start, cloud storage solutions like AWS come in handy. Still, upload, multi-format storage, encryption, CDN, and secure delivery are many such things that are extremely necessary. These challenges are why OTT video streaming solution providers like VdoCipher handle the end-to-end storage and delivery solution. They also provide APIs, SDKs, Player customization, and many other layers of security and features. When using an OTT solution provider, a basic workflow looks like this,
The media broadcasters upload video content to a secure OTT solution provider platform like VdoCipher. At this stage, the media files get encrypted, transcoded, and stored in multiple formats for multi-quality playback and device support.
The video content is cached on geographically located remote servers through Content Delivery Network (CDN)
When the viewer makes a playback request, the video content is delivered via the CDN servers and gets finally decrypted with the DRM dynamic key exchange management system. The DRM protects your video from not only getting illegally downloaded but also prevents screen capture in some devices like Apple.
Further layers of security like "Play Integrity" are also placed to safeguard your media content from playback on unauthorized apps, rooted Android OS, etc.
Challenges in Setting up OTT Streaming Infrastructure
Compatibility across devices
In the case of IPTV (Internet Protocol Television), the content was served to a traditional set-top box installed at the viewer's home. The client media player is embedded in a connected TV or set-top box. One playback device and a single media format. Conversely, with OTT, the video content is made available across multiple devices (smartphones, laptops, connected TV, game consoles, etc.). Each device supports a different media format, video resolutions, and more. The infrastructure should be so designed that every piece of content is available in the best possible resolution and file format on every supported device.
Storage optimization
For every OTT service, content is king. The demand for fresh, high-quality video content keeps rising, and so is the storage space. The OTT video content needs to be in the best possible resolution and storing different file formats requires enormous storage space and hence, increased storage costs. Thanks to video hosting websites like VdoCipher that offer complete video hosting infrastructure with additional security features based on your video bandwidth and storage utilization at affordable pricing.
Video Quality
OTT services must provide seamless and smooth video content delivery with the best viewing experience. This means the video streaming must have reduced buffering and latency. In places with low internet bandwidth and connectivity, the content faces buffering and latency issues, leading to poor user experience. The video delivery must be optimized to deliver interrupted video streaming even during low connectivity. It is possible via Adaptive Bitrate Streaming (ABR).
Content Delivery Speed
The moment you make a playback request on an OTT streaming platform like Netflix, the content is served almost instantly with minimized latency. This is made possible via Content Delivery Network (CDN). The geographically distributed network of servers stores the content copies, and whenever a playback request is made, the content is delivered via the viewer's nearest proxy server. The OTT service infrastructure must employ CDN to serve video content without interruptions, even when the origin server is impacted. The challenge that needs to be addressed by every OTT video streaming platform is the content delivery speed. The faster the content reaches the viewers, the higher the retention rate for that content stream.
Video Piracy
Ever since the videos made an online presence, the cases of video piracy and illegal downloads have skyrocketed. Each year, businesses lose reputation and billions in revenue because of content leaks, piracy, and unauthorized distribution of media content. While setting up an OTT streaming infrastructure, securing the video streams is the utmost priority and comes with huge challenges. The videos must be well encrypted using advanced technologies like DRM, which employs private key exchange mechanisms to secure videos from illegal downloads, hackers, and usage.
Types of OTT Solution Provider Platforms
OTT video or TV solutions – comprises OTT television, streaming television, a broad range of video content. The video distribution is through an app, PC, phone, or smart television. Examples include Netflix, Peacock, ESPN+, and YouTube TV.
OTT Messaging solutions – OTT messaging is an alternative to mobile operators' text messaging services. According to Statista, in 2021, Whatsapp, Facebook Messenger, and WeChat were the most popular OTT messaging apps, accounting for nearly 74% of active users. OTT messaging solutions are more interactive and engaging, use the internet, and have overtaken SMS services.
Voice calling solutions for OTT – Includes VoIP, for instance, Skype, WhatsApp, WeChat, and Zoom, which use open internet communication such as WiFi and 4G.
OTT Audio Applications – Music streaming services like Spotify, Podcast, and SoundCloud.
OTT Video Streaming Statistics
On average, a viewer pays $8 per month per OTT service and spends over 100 minutes daily on an OTT app.
In June 2021, streaming services accounted for only 27% of total TV screen time in the US. Out of the 27%, 7% were from Netflix.
Among all countries, the USA will generate $87.26 billion in 2022, making it the leading OTT revenue generator in the world.
The largest SVOD (subscription video-on-demand) revenue in 2021 was Netflix, with 30.8% of all OTT subscription revenues in the US, followed by Disney
The largest segment is OTT Video Advertising, with a market volume of US$180.40bn in 2022.
The next most significant contributor is video streaming, with an estimated market size of $70.8 billion in 2021.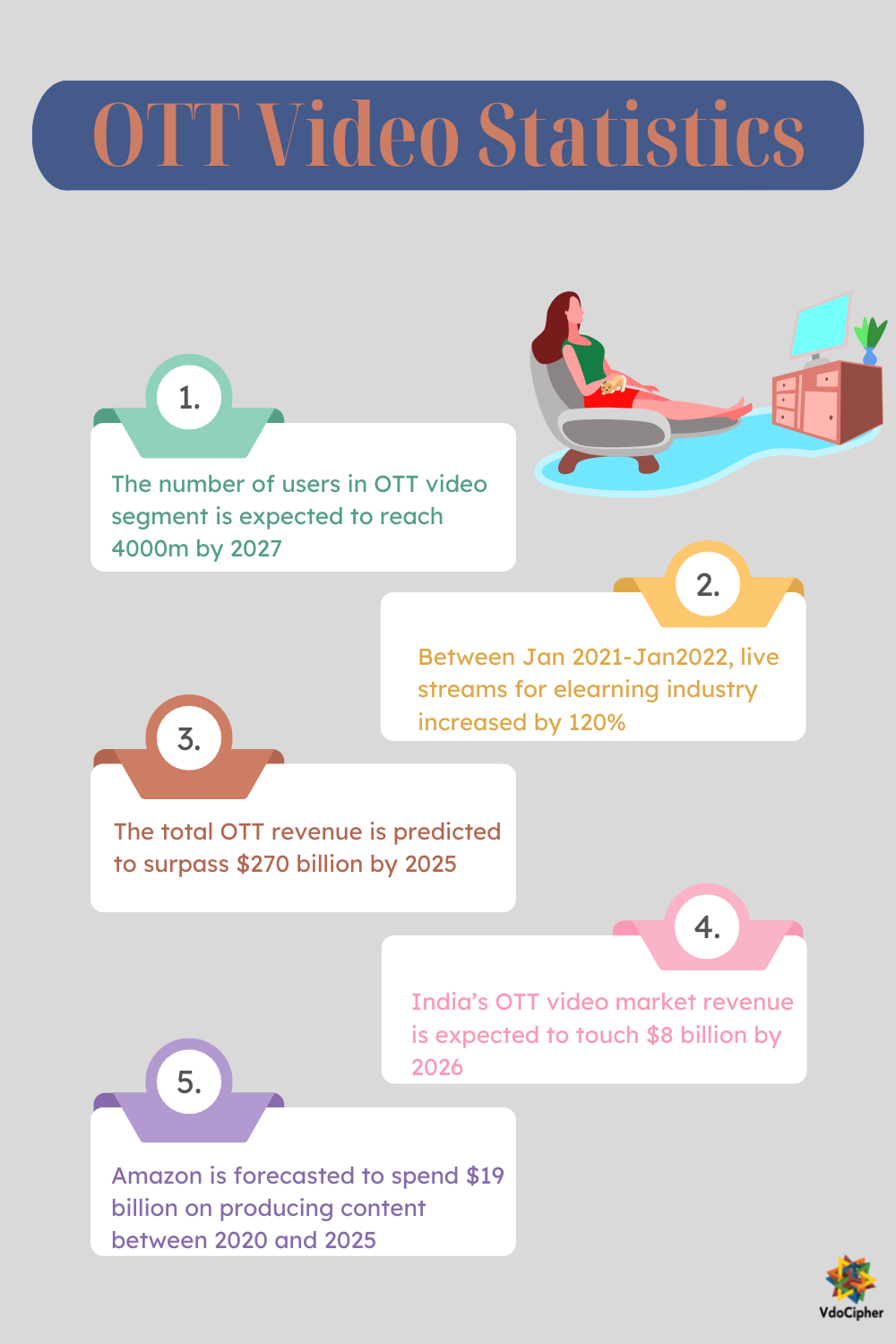 Need for Security as a Solution for OTT
As the OTT platform content is streamed online, there are various ways to compromise security. It includes password compromise, unauthorized access or login, downloading via third-party software, and much more. There are even instances when confidential and sensitive data such as addresses, payment details, and other information is leaked online. The chances of malware attacks are also pretty common nowadays.
Video Piracy has become a serious problem for OTT platforms. Easy access and global internet availability allow for the set up of peer-to-peer sharing networks like Torrent for the mass distribution of pirated content for free. The shutting down of some of these websites has proven ineffective as new sites such as Pirate Bay, and 1337X have emerged.
'Annual global revenue losses from digital piracy in the movie industry count between $50 and $96 billion while the illegal download of copyrighted materials amounts nearly 25% of the global bandwidth.'
Today content distributors and OTT platforms are focusing on implementing the best possible security to authenticate and authorize users to avoid video piracy, financial loss, and brand image tarnishing. Securing video content not only at the source level but at the viewer's device limits the instance of video piracy. Thus, any OTT platform must use technology like DRM, offered by VdoCipher, to not only securely deliver content to authorized users but also prevent it from illegitimate downloads and sharing.
Custom OTT Solution Development with Security
As we discussed in the working of an OTT solution provider, two heads must be developed. The first one is secure and multi-format storage, and the second is secure delivery. This Video Streaming Infrastructure will provide scalable, secure, and faster video delivery for authorized playback or download. It is better to use AWS S3 for storage as it provides a scalable infrastructure for video object storage, but further additions are required to enhance the delivery. These additional features include global distribution via AWS CloudFront CDN, transcoding, and encryption. To list down, here are the following necessary components needed to be set up.
Setting up an S3 bucket
Upload a video to the S3 bucket
Transcoding to support Adaptive Bitrate Streaming
Encrypting the Files before storage
Create a CloudFront origin access identity and CloudFront distribution
Configure your CloudFront distribution for your custom domain name
Dynamic key exchange playback for Encrypted video chunks
All these components are required as basic features to handle different devices and across globe secure delivery. If adaptive bitrate streaming is not set up, it will lead to playback disruption for low-bandwidth network users. Similarly, CDN provides faster delivery across the globe. Finally, setting up a DRM layer of security will protect your videos from illegal downloads and screen capture. Also, setting up all these components requires your familiarity with coding. Using a secure video hosting solution provider with AWS infrastructure is better if that is your weak or capital-intensive area.
Best OTT Solution for Video Delivery – VdoCipher
Encrypting video content makes it into an unreadable format, and every time a playback request is made, an encryption key has to be provided along with the content. Hackers can easily retrieve this key and gain free access to the premium content. Now arises the need to securely deliver the content and protect the key from unauthorized access.
To better manage the key exchange for decryption and how the media content is accessed and consumed, the best available solution to the rescue is DRM (Digital Rights Management). OTT platforms like Netflix and Amazon Prime Video have DRM as an integral part of their ecosystem.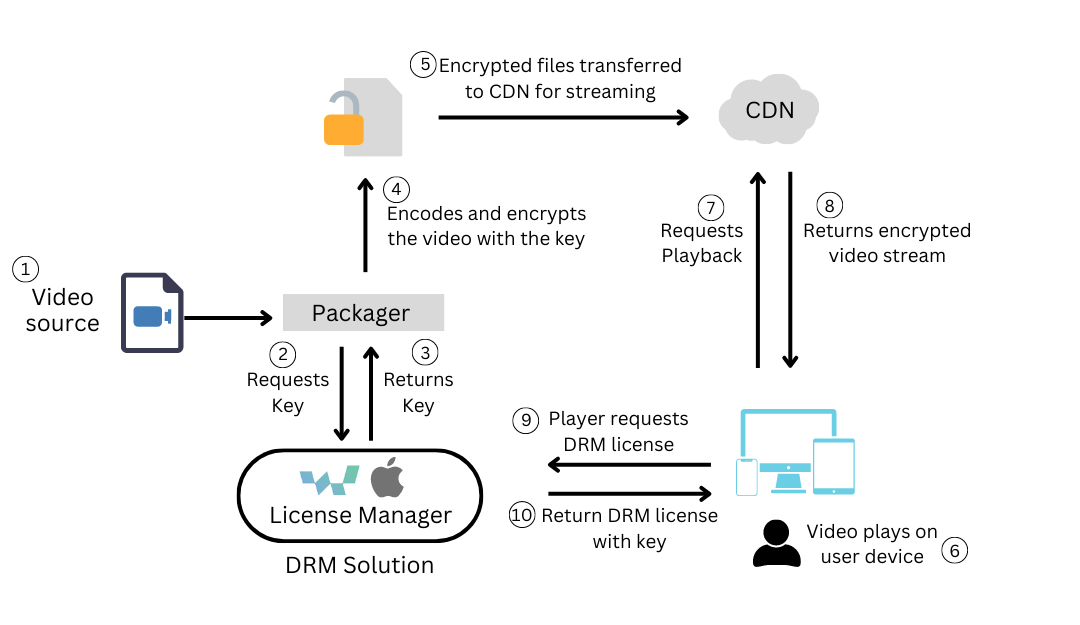 VdoCiper, a secure video hosting platform offering Hollywood Grade DRM Encryption, protects your premium videos from unauthorized access and illegal downloads. 2500+ customers from over 120 countries rely on VdoCipher to secure their video content and revenue against video piracy. Being a direct partner with Google and using Google Widevine and Apple FairPlay DRM, videos streamed via VdoCipher cannot be illegally downloaded using software or internet plugins.
Hollywood Grade DRM Encryption
Secures videos from unauthorized access and downloads using the highest encryption security, Google Widevine, and Apple FairPlay DRM.
Dynamic Watermarking
To discourage screen capture and establish brand identity, user ID and email information are dynamically watermarked over the video. It is customizable for color, transparency, and size.
Secure Offline Downloads in Apps
VdoCipher iOS native SDK enables video download on the device in a secure manner. You get an option to limit the time duration for which an offline video will be available for download. Also, you can download it inside your Android app with time validity for the downloaded video.
Screen Capture block in Android and iOS Native app
Our native SDK integration blocks screen capture at the hardware level and discourages screen capture. This is a very useful feature for securing your videos against piracy.
Play Integrity for App-Based Security
Google's Play Integrity provides additional video security against application tampering and replay attacks. VdoCipher's Android SDK easily integrates it to block playback on duplicate apps.
WordPress and Moodle Plugins
VdoCipher WordPress video plugin seamlessly supports all popular WP membership plugins, including Members, Restrict Content Pro, MemberPress, and WP eMember. The video plugin also supports LMS such as WP CourseWare, LifterLMS, Sensei, and LearnDash.
Geo-Blocking
Blacklisting or whitelisting specific countries is possible with geo-restrictions. You can block a range of IPs, such as a company or college. Add time-based restrictions and set the expiry of URLs.
Smart HTML5 Video Player
Our smart HTML5 video player comes with dynamic controls with multi-lingual subtitle support. There are dynamic controls to change playback speed, choose theme options and Javascript API to add overlay buttons and track viewer interactions with video.
Adaptive Video Quality
There are times when the video quality deteriorates, or the video stops playing due to low internet connectivity. We offer multiple bitrate streaming, meaning the video stream is encoded at different bitrates, and video quality auto switches during playback.
AWS CDN and Server
VdoCipher uses Global AWS Cloud Infrastructure (Storage on AWS S3, Transcoding via VdoCipher algorithms on EC2, Streaming of content via CloudFront CDN). Content delivery via geographically distributed CDN servers ensures minimized latency and uninterrupted delivery of videos.
FAQs
Which OTT platform has the highest subscribers in the world?
Netflix remains the top OTT platform with the highest subscribers despite the recent dip in paid subscribers. It has over 223 million subscribers worldwide in the recent quarter.
What are the major monetization options available for the OTT platforms?
SVOD (Subscription Video on Demand), AVOD (Advertisement Video on Demand), freemium, and sponsored content are the major monetization models.
What are the benefits of OTT advertising?
OTT is an emerging market with increased brand awareness, mostly unskippable ads, and a younger demographic reach.
What is the difference between OTT and VOD?
OTT is related to how the content is delivered via the internet, while VOD is related to how the content is consumed. It can be via a single purchase, subscription, or service.
How do Multi-DRM solutions like VdoCipher secure OTT video content?
Multi-DRM using Google Widevine and Apple FairPlay security ensure that your videos are securely encrypted, transmitted, and accessible to only authorized users.
Supercharge Your Business with Videos
At VdoCipher we maintain the strongest content protection for videos. We also work extremely hard to deliver the best viewer experience. We'd love to hear from you, and help boost your video streaming business.
Free 30-day trial →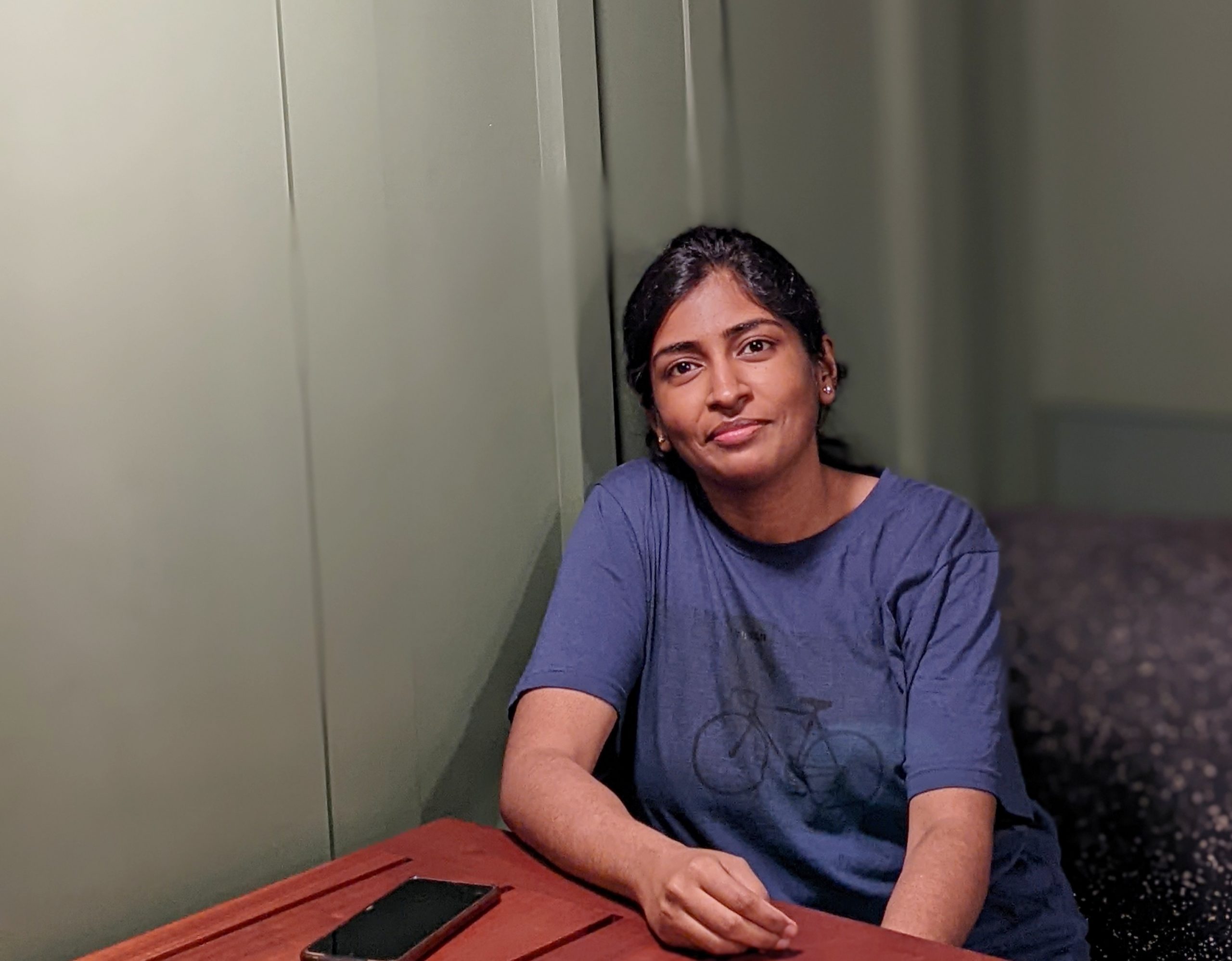 Jyoti began her career as a software engineer in HCL with UNHCR as a client. She started evolving her technical and documentation writing skills to become a full-time Content Marketer at VdoCipher.