Online video portals have emerged as a popular way of watching free videos online. Most people prefer these streaming web portals to watch online movies because they are easy to use and offer high quality video content.
What is a Video Portal?
A video portal is an online website that offers users access to a library of streaming videos. Video portals are often organized into various categories or genres, with some being divided into subcategories, as well. Some of the most popular web video portals are YouTube, Vimeo, and Dailymotion.
A video portal can be a social media platform for sharing various types of videos such as home movies, artistic expressions, informative presentations and tutorials, among others.
But many online video portals also accept corporate and commercial advertisements in exchange for either free use of the service, or some form of revenue-sharing arrangement with the uploading parties. An example is YouTube; it is a free online video platform that allows users to share homemade or commercial contents.
Best Video Portals
This article is aimed at listing down the best web video portals that are currently available for watching videos online.
Some websites allow members to upload videos while others are dedicated to hosting user-generated content. Some of the popular web video portals that you may want to check out include YouTube, Vimeo, Dailymotion, and Metacafe.
1. 
YouTube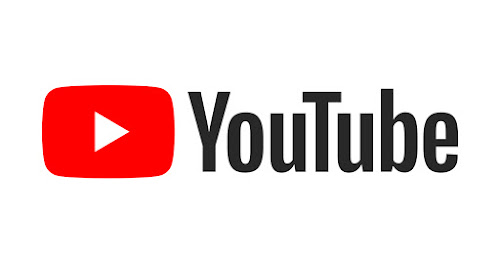 Youtube has grown into the most popular video site on the internet, where users can upload their own videos (about anything they want), share them with friends through social media like Facebook and Twitter, and scroll through various trending topics across the globe.
Key Features
The 360-degree feature lets the user see everything that is taking place at a particular location.

Content creators, whether it be video, apps or games, Users can easily set up and manage their live streams.
So whether you're looking for a funny video to watch, want to learn how to do something new or just want to stay up-to-date on current events, YouTube is the place to be! 
2.
Vdocipher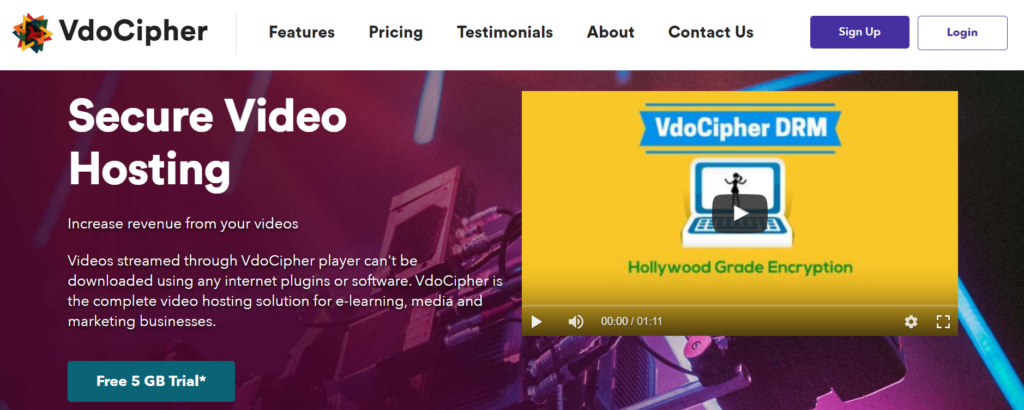 A professional video management system (VMS) is a must for anyone who creates videos. Vdocipher offers a video solution where users can upload and embed the videos privately or publicly. You can host all your video content on websites with key features like Smart HTML5 Player, DRM encryption security (helps to protect your content and other sensitive information) and in-depth video analytics.
3. Vimeo

Vimeo is a video portal that was created in 2004. Vimeo is a video sharing portal that allows users to upload, watch, and share videos with other registered members of the site. 
Key Features
Vimeo also offers users the ability to join groups organized around common interests and subscribe to user channels through which they can view recommended videos.

One unique thing about Vimeo is that it doesn't have any advertisements on its site.

Another great feature about Vimeo is that you can set up an RSS feed for every one of your video channels, making it easier for viewers to keep track of your latest videos.
However, Vimeo has been criticized for not offering certain features which are standard on other sites such as the ability to share videos with people who do not have Vimeo accounts.
4. Twitch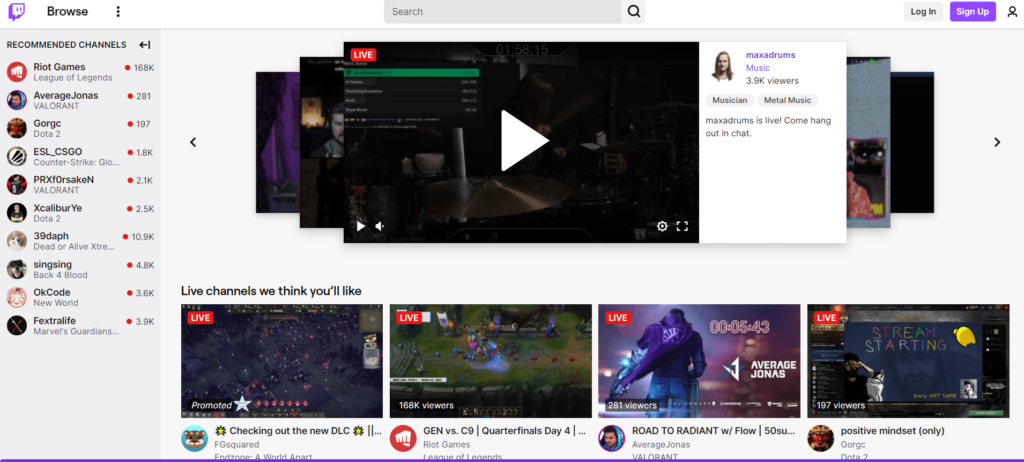 Twitch is a video platform and community for gamers, with more than 100 million active users. It lets gamers watch, share, and chat about gameplay footage from their favorite titles. The site also hosts live streaming events and offers premium features like ad-free viewing and subscriber-only content.
Key Features
It offers an interactive experience that lets them chat with fellow gamers, watch gameplay footage, and even tune into live streaming events. 

The site also offers a range of premium features that make watching and sharing gaming content more enjoyable.

Twitch offers users to purchase games through links on streams, with streamers receiving sales commissions
5. Vevo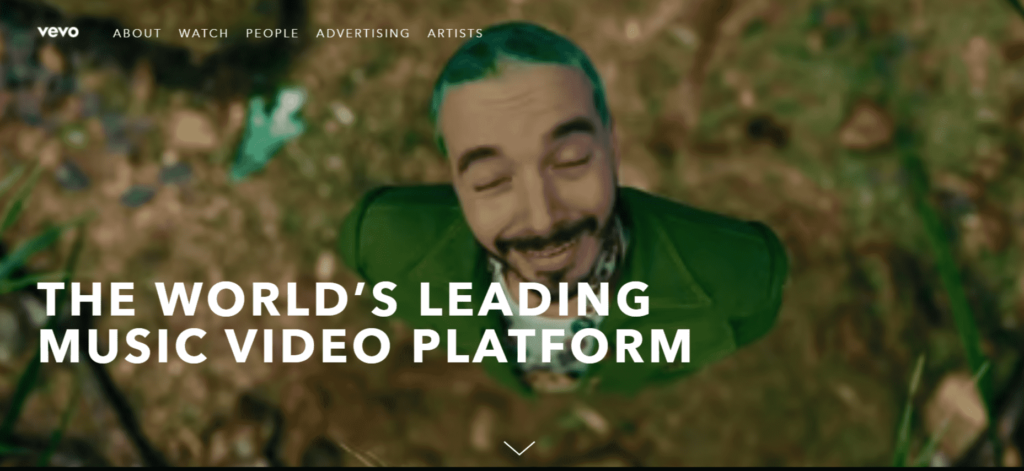 Vevo is a music video sharing website and online music store founded on December 8, 2009. It is owned by Sony Music Entertainment, Universal Music Group, Abu Dhabi Media, and YouTube. 
Vevo is available for use on mobile devices via apps built for Android, iOS, and Windows Phones; the mobile web; connected televisions (such as Xbox 360, PlayStation 3, Chromecast); digital media players (e.g., Roku or Apple TV); and on the web.
Key Features
You can enjoy vertical viewing without fiddling with your phone's position.

The site offers a wide variety of music videos from both major and independent record labels. 

It lets you preview the video while letting you continue to search through a playlist 
6. Dailymotion
The platform Dailymotion was launched in 2005. It is an open video sharing portal. It is a video portal like YouTube that allows you to upload videos to the internet and share them with the public or your friends.
It's mainly used by users who want to view or share free videos, create their own channel online and watch videos on demand. On daily motion there are also professional videos which users can watch after subscribing to the channel. The website offers a dedicated support service for any users who have questions or issues about the website.
Key Features
Dailymotion has a user-friendly interface that makes it easy for users to find the videos they are looking for. 

The website also offers a wide range of categories and genres to choose from, making it easy for users to find videos that interest them.

Dailymotion is available in over 183 languages, making it accessible to a global audience.

The website also offers a variety of tools and features that make it easy for users to share videos on other websites, share videos on social media networks and download videos from the website.
7. Crackle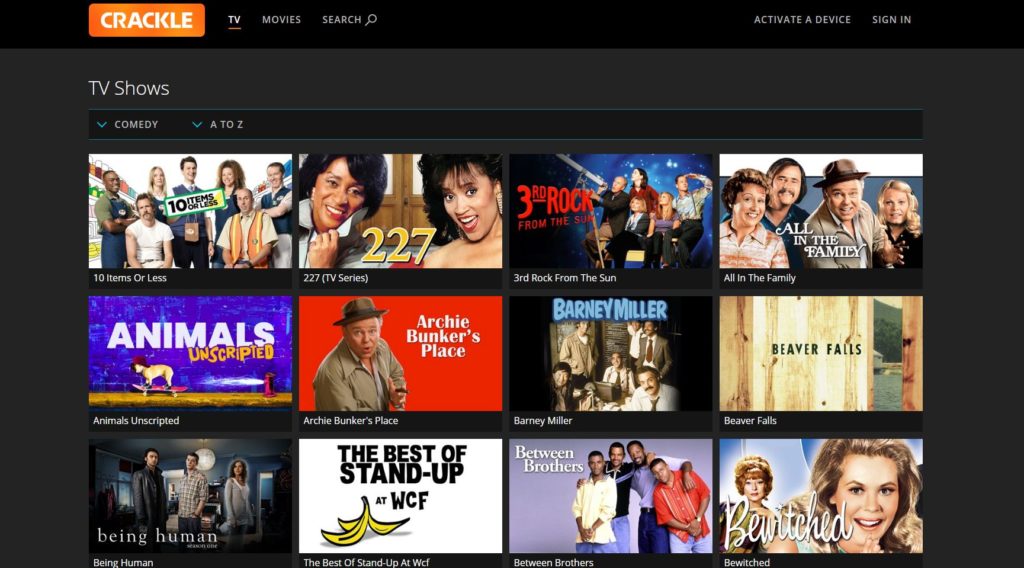 The crackle video platform is an online video service that offers ad-supported streaming of movies, TV shows, and original content. Crackle is a good option for those looking for free streaming content. It's also a good choice for those who want to watch older movies and TV shows that may not be available on other streaming services.
Key Features
The service has a library of more than 200,000 movies and TV episodes. It offers both ad-supported and commercial-free viewing options.

The crackle video platform is available on a variety of devices, including smartphones, tablets, gaming consoles, smart TVs.

 Crackle allows you to set Parental Controls.
Today's leading web video portals mostly offer an embedding function for its visitors, allowing them to do just what the title suggests – post videos they've shot or found on other sites onto their own pages, blogs and social media profiles – as well as options for subscribing to feeds or email alerts when new content is added. 
Users can also rate and comment on videos, helping to further engage with the material. Portals have also been known to create channels for individual users, compiling all the videos they've uploaded in one place for viewers to watch. This is a great option for those who like to keep all their content organized and easy to find.
Types of Video Portals
External Portals: These portals are usually run by large companies such as  YouTube and Vimeo. They provide a centralized location for users to search for and watch videos from all over the web.        
Internal Portals:  These portals, also known as hosters, allow users to upload and watch videos on their sites. The advantage with this type of portal is that it provides access to content from within your company or organization only.
Benefits of Creating a Video Portal
There are many benefits to creating an online video portal website for your customers. A video streaming portal is basically any website that hosts videos, making it easy for visitors to find and download the ones they want. 
If you're wondering how much work goes into establishing a successful video portal, the answer is "not much." You don't need to be a web development genius to set one up, and there are plenty of free or low-cost video hosting services that can get you started.
Once your video portal website is online, you'll enjoy increased traffic and better customer retention. Here are some specific benefits to consider:
1. Increased Traffic
A well-designed video portal website can send a lot of traffic your way. By giving customers easy access to all of your videos, you'll encourage them to watch more of them. And the more they watch, the more likely they are to stick around and buy from you.
2. Improved Customer Retention
Once customers have found your videos on your video portal, they're likely to come back again and again for more. Retaining customers is always easier than finding new ones, so you'll save money on marketing campaigns. If you want to make your customer retention game even stronger, consider integrating unified communications which will allow you to always keep in touch with prospects."

3. Reduced Costs of Customer Service
Customers like the convenience of online access – it saves them time and energy. That means they can resolve common problems (returns, exchanges, etc.) by themselves. That means less work for you and lower expenses related to customer service.
4. Improved Conversion Rates
People no longer shop online like they once did. Some people browse in stores and buy on the internet; others do research and order from their desktops or smartphones; still others pick up the phone and call. But all of these people can be converted into buyers if you offer them what they're looking for. Video is a powerful way to do that, and a video portal lets you present your videos in the most effective way possible.
5. Increased Brand Awareness
When customers see your brand name online, it builds credibility and trust. Video marketing is especially powerful because the "face" of your brand is right there, interacting with potential customers.
Key Features to look in Video Portal Solution
When choosing a video portal service, there are a few things you should look for:
1. Supports high quality videos 
You should be able to prepare your video for upload in a variety of common formats, including AVI, WMV, MOV and MPEG4. 
2. Ease of use & Simplicity
Simplicity and ease of use is crucial in any video portal website. Additionally, ensure that you get the options to easily embed your uploaded video into web pages or blogs without requiring any special plugins or software.
3. Social Sharing
Another important thing to look at is the presence of social media elements within each video portal site. Sites must have an easy way for users to share videos on their favorite social networking sites like Facebook, LinkedIn and Twitter. They must also offer sharing options via email and instant messaging.
4. Trust Factor
When choosing a video portal, it is important to make sure that the site has been around for a while and is likely to be around for a while longer. Services like YouTube and Vimeo have been around for over 10 years, so you can be fairly confident that they will not disappear anytime soon. However, there are also a number of new services that are starting up, so it is important to do your research before signing up.
5. Close Caption
Finally, closed captioning should be available on all videos hosted on the video portal site. This allows those who are deaf or hard of hearing to still enjoy the videos.
Video Hosting Solution
Vdocipher is a video hosting provider that enables users to securely share and stream videos. A video platform that allows businesses and organizations to upload, share, and stream videos securely. Vdocipher's video platform is designed to be easy to use, with a user-friendly interface that makes it simple to upload and share videos. You can just sign up today and get started right away for a trial of 30 days!
Conclusion
So, whether you're looking for interesting videos to watch or want to share your own content with the world, there's a video portal out there that's perfect for you. We recommend trying out a few sites to see which one you like the best.
Supercharge Your Business with Videos
At VdoCipher we maintain the strongest content protection for videos. We also work extremely hard to deliver the best viewer experience. We'd love to hear from you, and help boost your video streaming business.
Free 30-day trial →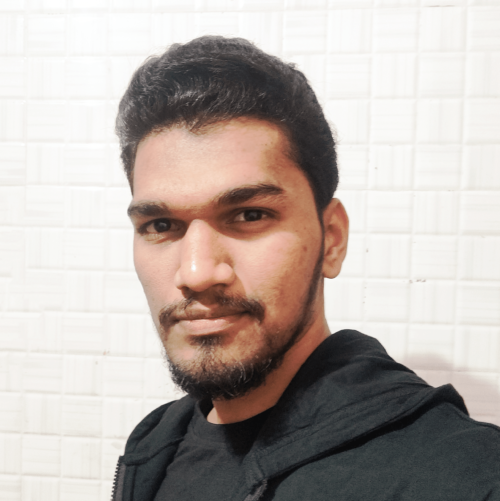 A Digital Marketing pioneer who loves to innovate strategies to effectively market a product through consumer research and data analysis. In addition to this I'm a sports and fitness enthusiast with love for travelling and photography.