In 1988, the International Telecom Union created the first video digital compression standard – H.261. According to Wikipedia, it is believed that shareyourworld.com in 1997 became the first video-hosting website. In 2004, South Korea's Pandora TV became the first video-sharing website to provide storage space to users for video upload and also attach advertisements. Today, the rise of video consumption shows no sign of slowing down and thus is the demand of Hosting for Video Websites.
Online videos are increasingly integrating into our daily lives and have also overlapped with other modes of entertainment and learning. Finally, such a growing demand for videos requires a dedicated place to upload, store and serve the videos with all additional features, known as a Video Hosting Website.
What is Hosting for Video Websites?
Hosting for Video Websites enables you to upload, store as well as distribute video content for playback to relevant audiences on the internet using them as a medium. Undoubtedly, with the popularity of video content over the years, the demand for video hosting websites has drastically increased. This is so because video files require large storage space and bandwidth utilization, unlike text or image content.
YouTube, a free video hosting platform, is one such example. The videos on these websites are uploaded via their website, desktop or mobile application, or API.  Videos are hosted on their servers with the functionality of embed codes to add videos on their own blog page or any third-party website.
The videos can be either hosted by self or using video hosting websites. In self-hosting, videos are hosted on your website's server just like other media files, unlike a video-hosting website. Although you have complete control over the content, many technical implementations must be done from your end. Similarly, Hosting videos can be expensive owing to the bandwidth and storage costs. Also, there are security risks associated with self-hosting, as the videos are not properly encrypted.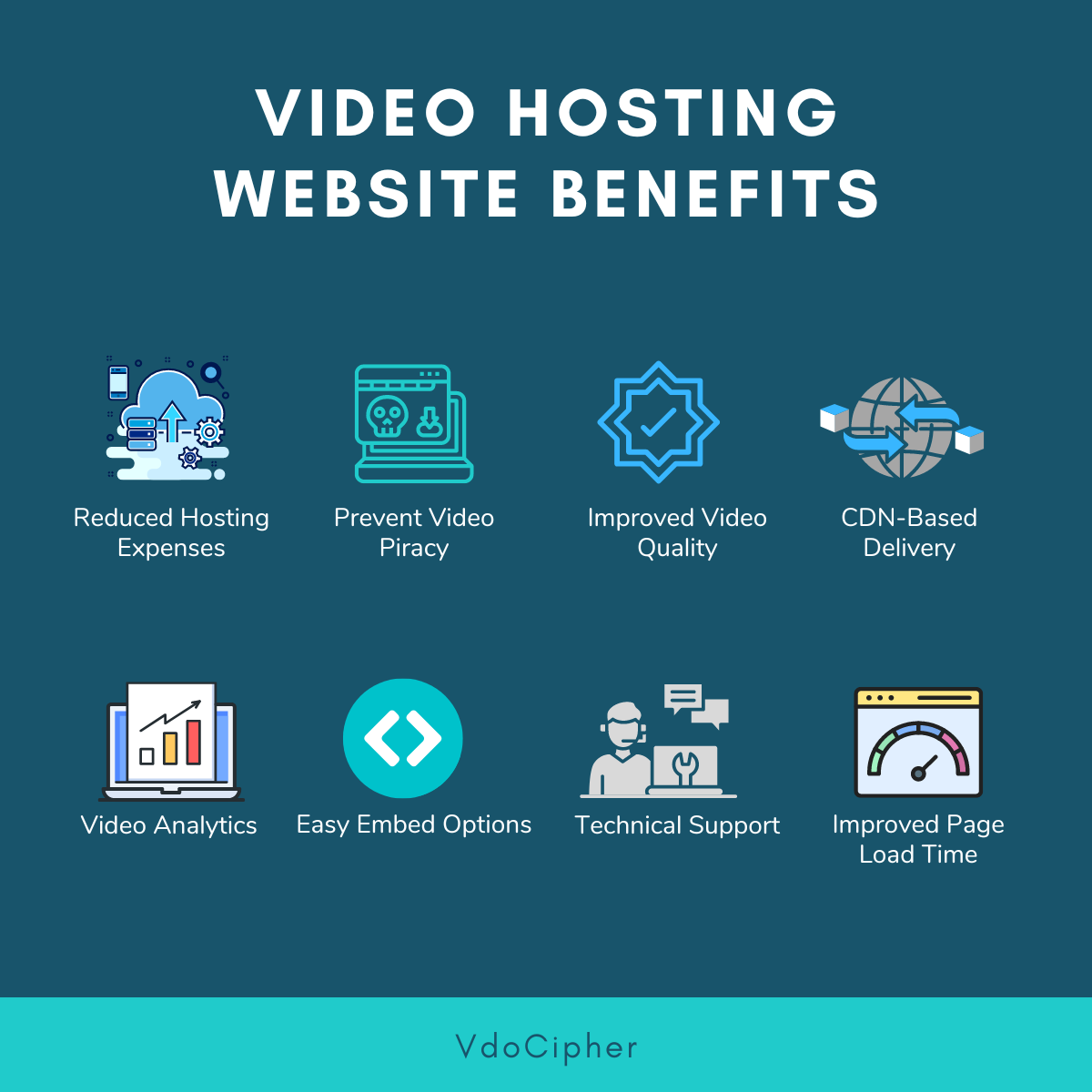 Paid vs Free Video Hosting for Video Websites
A free video hosting website has bandwidth, features, and access limitations. These websites mostly restrict the number of video uploads and have limited bandwidth availability. Platforms like YouTube offer free hosting, but there are limitations too.
As these websites do not charge for video hosting, advertising is their major earning source. The algorithms are so designed as to have more clicks on videos so that users do not leave the website.  Moreover, free hosting is a good choice if you do not have a bunch of videos to upload or are looking to share some promotional videos.
The videos hosted on free video hosting websites are not secure and easily downloaded and distributed. In conclusion, these free video hosting websites benefit those looking to host videos for free and for anyone to download or share.
Compared to free hosting, paid or professional video hosting websites, on the other hand, are more reliable and come with many features and benefits. They have different plans based on your storage and bandwidth usage and are always scalable as per business requirements. Generally, with free video hosting, you cannot expect advanced security features.
If your videos are confidential or you are looking for monetization options, it may be in your best interest to look for a business video hosting website or platform like Vdocipher.  Most importantly, if you run a business where your videos are sensitive and need support, security, analytics, and branding, including eLearning or media platforms, a free service is not at all adequate. For this, VdoCipher is a perfect choice for businesses, enterprises, individual creators, and educators. Moreover, VdoCipher is more than a secure video hosting website; from DRM encryption to secure offline downloads in apps, they have got them all.
| | | |
| --- | --- | --- |
| Features | Paid Video Hosting Website | Free Video Hosting Website |
| Reliability | Uptime of nearly 99.9% | Usually not that high |
| Bandwidth & Storage | Scalable with flexible pricing | Limited |
| Security | Video security is a major focus | Usually lacking or basic login protection  |
| Customer Support | 24×7 major priority | Tends to be slower |
| Video Customization | Plenty of options to customize | Basic customization |
| Advertisements | Ad-free or as per customer preference | Chances of lot of advertisements |
Must-Have Features of a Hosting for Video Websites
Video API
Video APIs provide ease and automate the integration and other video functionalities without hassle. According to Forbes, more than 71% of developers plan to use more APIs in the coming year. Server and Player APIs can automate video upload, inject custom HTML in the video player or customize player design.
CDN Delivery
CDN is a geographically distributed network of proxy servers to make multimedia content delivery faster and streamlined. A copy is created and stored in the proxy servers whenever a user makes a playback request. Next time whenever the same request is made, the proxy server nearest to the user serves the content. Further, this minimizes latency and buffering, resulting in uninterrupted video playback.
Video Analytics
Generally, all video hosting websites give basic video analytics to monitor your content. A good hosting website's video analytics parameters including no. of visitors, conversion rates, traffic source, bounce rate, average view time, and other engagement metrics. This information helps you better understand the video performance and tailor the content based on demographics.
Multi-level User Access
The feature of adding multiple users to your dashboard is of importance for organizations looking for access level controls for the team. For instance, some may have full access, while some have restricted access, such as just viewing. The different permission levels can be viewed, edited, or uploaded.
Support
There are times when you need support as well as guidance from your video hosting website. They must have robust customer support in place to address the problems faced by the user at any time.  Additionally, the various contact modes can be email, call or complaint form. Usually, the support levels vary depending on your opted plan.
Security
Regarding hosting videos, especially premium videos, security is the main concern to address. Not only are your videos protected from unauthorized access and illegal downloads, but they must also be well-encrypted. In summary, no hacker or tools must be able to bypass the security. You should host your videos on DRM Protected video hosting providers like VdoCipher that use Hollywood Grade DRM Encryption to secure videos.
Easy Embed Options
A video hosting website must have an easy option to generate embed code. Some provide APIs to automate the embedding process on your website or any 3rd party site. An embedded video is hosted on another site but viewers can watch it on your webpage. Moreover, they can watch the video without leaving your webpage. Finally it reduces your bandwidth and storage costs.
Uptime
An always-available video hosting website is a mandatory requirement these days. If the website is slow or unavailable for some duration, there may be many problems. Uptime refers to the time for which a website is available to its users. Theoretically, the uptime must be 100% but in the real scenario due to various factors, such a high availability is difficult to achieve. Secure video hosting providers like VdoCipher give 99.99% uptime availability.
Scalable
Your video hosting requirements vary with time and growth. At some time, you may upload more videos and require higher bandwidth utilization. The hosting website must provide flexibility in upgrading the service with no hassle. The video hosting website must be capable of handling high volume of video uploads and streaming in an interrupted and streamlined way.
Adaptive Video Quality
Adaptive streaming is one of the most required features in a video hosting website. Their player must be able to offer multiple video quality options on the player so as to switch video quality as per internet connectivity. Viewers having poor internet connectivity can still watch the videos with minimum latency with the device automatically selecting the optimum streaming bitrate.
DRM Secure Video Hosting Website – VdoCipher
Digital Rights Management (DRM) is a technology to access and control the use, modification, and distribution of copyrighted work, such as multimedia content and software. Additionally, Video DRM techniques employ licensing agreements and encryption to secure digital content from piracy and unauthorized usage. Moreover, there are a number of DRM technologies to give creators various amounts of control over how their content is used and shared.
In regards to videos, DRM technology secures the videos from illegal downloads and access, minimizing video piracy and revenue loss using DRM encryption. The video is converted into an encrypted format and decrypted at the player's end using a private decryption key. After that, the online viewer does not get the raw video for downloading and hacking.
Standard video encryption technologies like AES128 and RTMPe have a partial key exchange mechanism, making them vulnerable to hackers and piracy with software or plugins. On the other hand, DRM encryption not online encrypts the video but involves private video encryption key exchange.
VdoCipher uses Google Widevine DRM and Apple FairPlay DRM to ensure the highest level of security against piracy and cover all key devices and browsers (laptop/desktop, android, IOS).
Serving over 2500 customers in more than 120 countries, VdoCipher offers secure video hosting with Hollywood Grade DRM Encryption to secure your premium videos and boost revenue generation. Video streamed via VdoCipher cannot be illegally downloaded using any internet plugin or hack. Apart from secure hosting, the other features are dynamic watermarking, secure offline downloads in apps, plugins for WordPress and Moodle, video API and analytics, smart HTML5 video player and SafetyNet for added security.
Features
Google and Apple FairPlay DRM Encryption
Protects videos from unauthorized access and downloads with the highest encryption security via Widevine and FairPlay DRM
Dynamic Watermarking
To discourage screen capture and establish branding, details like user ID, email as well as other identification details can be dynamically watermarked over the video. It can be customized for color, transparency and size.
Secure Offline Downloads in Apps
VdoCipher iOS native SDK enables video download on the device in a secure manner. There is even an option to limit the time duration for which an offline video will be available for download. You can also download inside your Android app with time validity for the downloaded video.
Screen Capture block in Android and iOS Native app
Our native SDK integration blocks screen capture at the hardware level and discourages screen capture. This is a very useful feature for securing your videos against piracy.
Google SafetyNet for App-Based Security
Google's Safetynet provides additional video security against application tampering and replay attacks. VdoCipher's Android SDK easily integrates SafetyNet to block playback on duplicate apps.
Plugins
VdoCipher WordPress video plugin seamlessly supports all popular WP membership plugins, including Members, Restrict Content Pro, MemberPress, and WP eMember. The video plugin also supports LMS such as WP CourseWare, LifterLMS, Sensei, and LearnDash.
Geo-Restrictions
Blacklisting or whitelisting specific countries is possible with geo-blocking. You can block a range of IPs, such as a company or college. Add time-based restrictions and set the expiry of URLs.  However, there might be many reasons to opt for geoblocking, including privacy laws, copyright, target market & audience, or internal content usage.
Smart HTML5 Video Player
Our smart HTML5 video player comes with dynamic controls with multi-lingual subtitle support. There are dynamic controls to change playback speed, choose theme options and Javascript API to add overlay buttons and track viewer interactions with video.
Adaptive Video Quality
Sometimes, the video quality deteriorates or stops playing due to low internet connectivity. We offer multiple bitrate streaming, which means the video quality auto switches as per the viewer's internet connectivity.
AWS CDN and Server
VdoCipher uses Global AWS Cloud Infrastructure (Storage on AWS S3, Transcoding via VdoCipher algorithms on EC2, Streaming of content via Cloudfront CDN). Content delivery via geographically distributed CDN servers ensures minimized latency and uninterrupted delivery of videos.
Best Video Hosting Website to Choose
It depends. Especially if you are looking to host videos for the public for free and have no concern in video download or sharing by anyone, a free hosting website can be a choice. Still many creators use platforms like YouTube to upload videos for entertainment and monetization purposes without confidentiality concerns. The videos are not secure and easily downloaded and screen captured.
For example, businesses such as Media and eLearning platforms having videos as their source of revenue opt for professional video hosting websites with secure video protection. Each year, the economy loses billions of dollars due to piracy, with videos contributing majorly in the statistics. Creating videos is a task, and especially with premium videos, you cannot risk videos leaking or public access. In addition, paid video hosting websites like VdoCipher to give a single dashboard to manage all your videos, monitor performance, customized features, and, most importantly, very few technical implementations.
FAQs
Is Unlimited bandwidth video hosting real?
You may have seen dozens of video hosting providers claiming to offer unlimited bandwidth video hosting. However, there is no such thing as unlimited bandwidth, and there are always limitations. In general terms, unlimited means without limits but in terms of hosting, it means unlimited as long as a certain threshold is reached.
Can I embed videos on WordPress?
Yes. Videos can be embedded on any WordPress website using the VdoCipher WordPress plugin.  Also the plugin is easy to use, and integration is quite simple.
What are the commonly used file formats for video streaming?
MP4, AVI, MOV, MKV, AVCHD, FLV, and SWF are the popular video file formats.
Supercharge Your Business with Videos
At VdoCipher we maintain the strongest content protection for videos. We also work extremely hard to deliver the best viewer experience. We'd love to hear from you, and help boost your video streaming business.
Free 30-day trial →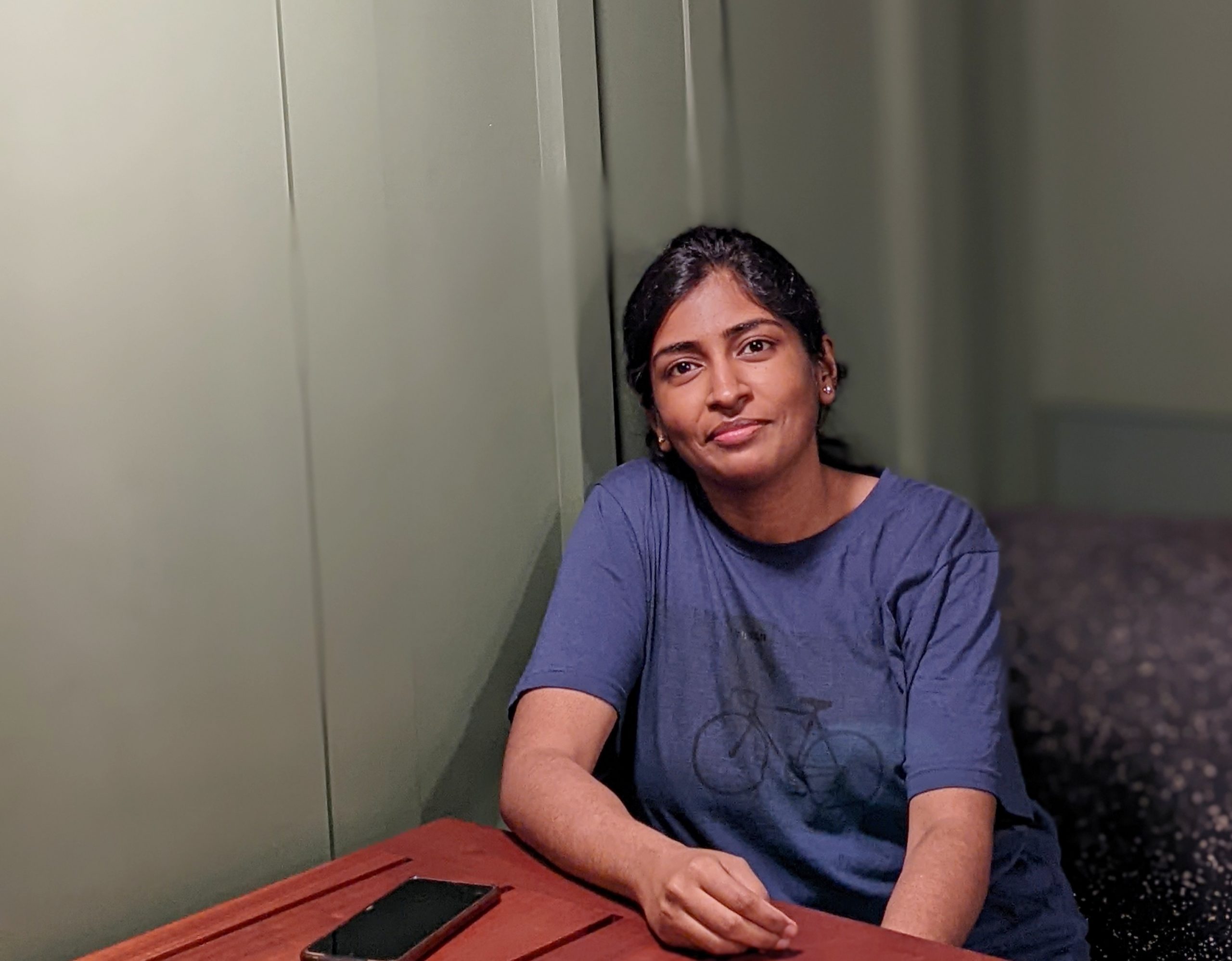 Jyoti began her career as a software engineer in HCL with UNHCR as a client. She started evolving her technical and documentation writing skills to become a full-time Content Marketer at VdoCipher.