Illegal copying and distribution of film, music, and software are increasing. Although the Internet has played a part in this, the main reason is that the technology to make copies is now widely available. Many people claim that the film and music industry has not been very successful in making their products available to people, so it is the industry's fault that people steal the products. Why do people steal? People steal because they can. It is very easy. Popular internet-based video platforms such as YouTube serve as the main online video sources. There is no doubt that many videos on YouTube have been uploaded illegally, and users do not have a legal right to download them. However, online video piracy is also a huge problem in video-sharing platforms with legal services.
Piracy of copyrighted materials, including television shows and movies, continues to be a problem for the entertainment industry. The unauthorized distribution of copyrighted content, often referred to as piracy, costs the industry billions of dollars. Video Piracy can take many forms, including downloading or streaming copyrighted content without permission from the copyright holder, uploading copyrighted content to file-sharing websites, or copying copyrighted content onto removable media, such as a USB drive or CD.
Anti-piracy solutions have become a serious concern mainly because of the high cost of video content and the low price of pirated video files. Online video pirates will upload high-quality pirated videos, which are better in quality than the original videos. Pirated videos are available in high-definition (HD), ultra-high-definition (4K), and even higher quality. The price of pirated videos is also much lower or almost free than legal video files. In addition, users can directly download pirated videos in various video formats, such as mp4, avi, flv, and mkv.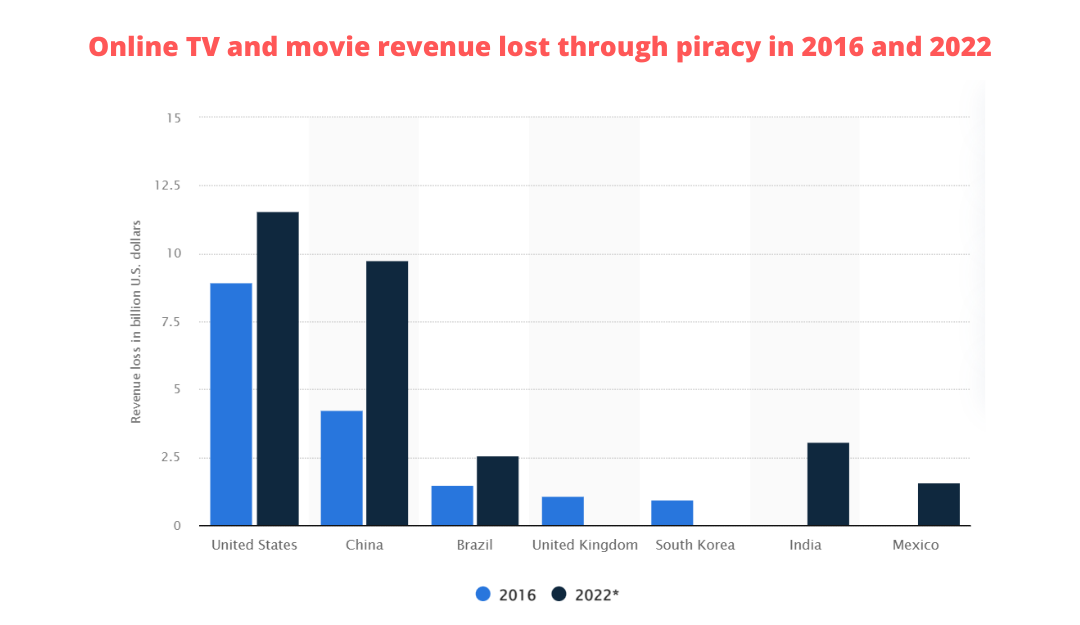 Video Piracy and its impact
Video piracy is the unauthorized duplication, distribution, or sale of copyrighted video content. This can include the illegal streaming of copyrighted videos online, the unauthorized downloading of copyrighted videos, or the sale of pirated video content.
Video piracy has several impacts, both on the people who produce the videos and those who consume them. Many people pirate content because it is free, but there are also risks associated with piracy, including malware infections and identity theft. Copyright holders are increasingly using technology to track and identify pirates, and they may take legal action against those who infringe on their copyrights.
For video producers, piracy can lead to a loss of revenue as people choose to watch pirated copies of videos rather than purchasing them legitimately. This can lead to a decline in the quality of the videos that are produced, as producers have less money to invest in their products. Additionally, piracy can lead to legal action being taken against those who produce or distribute pirated videos.
For video consumers, piracy can lead to many problems. Firstly, pirated videos are often of lower quality than legitimate copies, so they may not be as enjoyable to watch. Additionally, pirated videos may contain malicious software which can infect the viewer's computer. Finally, watching pirated videos may support and encourage the continued production of pirated videos, which ultimately harms the video industry as a whole.
Pirated copies of movies and TV shows can be sold or traded. They are often of very poor quality, with missing or extra scenes, poor audio and video quality, incorrect aspect ratio, and are often incomplete or edited for easy access. Piracy can also be used to spread computer viruses or malware.
Digital Piracy and Security
Digital piracy and security are two of the most important issues in the world today. Piracy is the unauthorized copying or use of copyrighted material, such as music, movies, or software, often on the Internet. Security is the state of being protected from danger or harm. Digital piracy is a huge problem and hurts the people who create copyrighted material. For example, when people download music illegally, they are not paying the musicians or songwriters who created it. This can make it difficult for musicians and songwriters to make a living.
Digital piracy can also be dangerous. For example, when people download movies illegally, they may be downloading malware or viruses that can harm their computers. Additionally, downloading copyrighted material without paying for it is illegal.
Piracy of OTT Content
The recent upsurge in Over-The-Top (OTT) content piracy has been nothing short of alarming. In just the last few months, we've seen a string of cases involving the illegal downloading and streaming of popular shows and movies. The problem has become so prevalent that it's no longer just a niche issue; it's now a mainstream concern impacting both content creators and consumers.
There are a variety of factors that have contributed to the problem. Still, the two primary ones are the proliferation of cheap, easy-to-use streaming devices and the fact that many popular OTT services do not have robust anti-piracy measures in place. As a result, pirates have taken advantage of the situation and have been increasingly offering stolen content for free or for a fraction of the price of a legitimate subscription.
This has had a significant impact on the business model of OTT providers, who are now losing out on potential revenue from subscribers who cancel their subscriptions in favor of pirated content. It's also having a negative impact on the quality of the content itself, as pirates are often more concerned with quantity over quality.
To best manage piracy, it is important to understand how much piracy truly costs the economy. Many economists believe that the actual effect of piracy on the economy and the job market has been vastly exaggerated.
A firm 'Digital TV Research' released stats that the U.S. economy alone will see $11.6 billion in revenue loss from video piracy by 2022, up from $9 billion in 2016. China is expected to lose $9.8 billion by 2022, and the Asia-Pacific region countries could lose nearly $20 billion in revenues. Overall, the estimated lost revenues from video piracy to total $51.6 billion by 2022.
Solutions to Piracy of Videos
There are numerous ways to prevent piracy of videos, and the most effective approach depends on the specific needs of the video owner. There are many ways to prevent piracy of videos, and the most effective solution will vary depending on the individual circumstances. However, some general tips to help reduce video piracy include:
Use digital rights management (DRM) technology to protect your videos. DRM can help prevent unauthorized copying and distribution of your videos by encrypting them and making them difficult to copy or download.
Usage of Watermarks or other visible identifiers on your videos. It deters potential pirates by clarifying that the video is your property and should not be copied or distributed without your permission.
Using secure video hosting and streaming services. This can help to prevent your videos from being downloaded or streamed without your permission.
Make sure your videos are not easily accessible. It means keeping them off public websites and making them only accessible to authorized users.
Use encryption and other security measures to protect your videos. It helps make it more difficult for pirates to access and copy your videos.
Stay up-to-date on anti-piracy measures. This can help you adapt and implement new solutions as they become available quickly.
These methods can effectively prevent piracy of videos, but they can also be costly and time-consuming to implement. Video owners should weigh the costs and benefits of each method before deciding on the best approach for their needs.
Anti Piracy Video Solution – VdoCipher multi-DRM
If you are thinking about downloading or streaming copyrighted content without permission, you should be aware of the risks and consequences of piracy. There are a few solutions to prevent video piracy, but the most effective anti-piracy video solution is to use a DRM encrypted video streaming technology.
VdoCipher DRM solution will encrypt the video content so that it cannot be copied or streamed without authorization. No Internet plugin or downloader can capture the video content. This ensures no illegal video downloads and the highest anti-piracy video solution to secure premium digital content and boost revenue from videos.
VdoCipher uses the same underlying encryption protocols that Netflix and Hotstar use to secure their content. We are a direct Google partner for the major encryption technology called Widevine DRM. Our pricing model is based on storage and bandwidth usage, which is an advantage for businesses to pay as they grow.
Illegal Download Prevention via DRM Encryption – DRM encryption ensures a highly secure key exchange mechanism and encoding of the content to make it unreadable without the correct key. A hack can not decrypt the content. We are a direct license partner for Google Widevine DRM and provide Apple Fairplay DRM integration. DRM providers like VdoCipher ensure your videos are stored and streamed in an encrypted format with the highest key exchange security. Multiple DRMs are used for device compatibility. We also provide APIs for DRM encryption.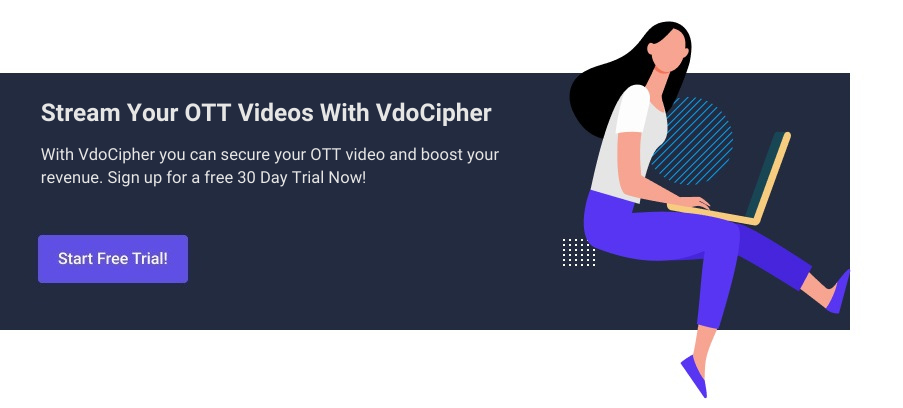 Dynamic watermarking for screen capture blocking – VdoCipher offers a user-based dynamic watermark feature that allows a watermark (user email, user ID, IP, or timestamp). Customization options are available for colour, speed, transparency, and watermark size. Additional control features in terms of geo, IP restriction, and domain restriction are available.
Smart html5 video player – VdoCipher Smart HTML5 Player has dynamic player controls for the best viewing experience. With Playback speed controls, multi-lingual subtitles, and Adaptive Multi-Bitrate Playback support, stream HD content even at low internet connectivity. Other features include video analytics, theme option, and custom overlay.
Secure offline downloads in Android – You can enable users to download videos inside your app for offline viewing. Videos are not accessible outside the app and are protected from screen capture on Android and iOS.
FAQs
What is anti-piracy technology?
Anti-piracy technology is a term used to describe various technologies used to prevent or deter copyright infringement. This can include technologies used to avoid unauthorized access to copyrighted content or technologies used to track and identify copyright infringement.
How can I protect myself from video piracy?
There are several ways to protect yourself from video piracy, including using a copyright protection service or a digital rights management system. VdoCipher offers secure video hosting with Hollywood-Grade DRM Encryption using Google Widevine and Apple FairPlay DRM.
How is video piracy related to software piracy?
The video and software industries are very similar. They both rely on copyright to protect the intellectual property of the content they produce, and they both face similar challenges. Video piracy is often a gateway to software piracy.
What are some of the most common forms of video piracy?
The most common forms of video piracy include unauthorized downloads, streaming, and copying.
What are the consequences of video piracy?
Video piracy can have a number of consequences for copyright holders, including lost revenue, decreased profits, and damage to the brand. It can also lead to criminal penalties for those caught engaging in piracy.
Supercharge Your Business with Videos
At VdoCipher we maintain the strongest content protection for videos. We also work extremely hard to deliver the best viewer experience. We'd love to hear from you, and help boost your video streaming business.
Free 30-day trial →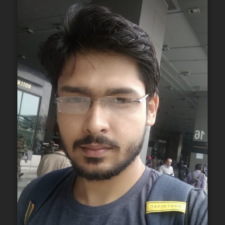 I love exploring the nexus between tech, marketing, culture, space, and politics by lying awake at night pondering over the myriad facets of life. In my spare time, I enjoy watching nature documentaries, sci-fi and drama series.