When we start setting up a WordPress CMS website as an eLearning or media platform, we often encounter video hosting issues. A lot of WordPress self-hosting users can be seen complaining about the lag on the website, their disk space running out, and even high costs. This issue is easily solvable by using a WordPress video hosting provider with features and costs as per requirements. This helps you scale up your platform with cost-efficient and scalable solutions with more uptime benefits. Not only it is about making the right move against the cost but also about your video's security as they are your assets. If they get illegally downloaded, it will eventually be a revenue loss. As a solution, it is always good to consider a secure video hosting solution provider like VdoCipher with multi-DRM video encryption and security. It is nowhere a case that good solutions are not affordable as scaling up will get you even more cost benefits.
Importance of Videos in WordPress
Videos are a powerful tool for engaging and informing website visitors about the product and also allow promotion on social media platforms. They can be used to showcase products or services, demonstrate how-to tutorials, and eLearning courses or provide visual explanations of complex concepts. Videos are a highly engaging form of content that can capture visitors' attention and can make a website more accessible to people with disabilities, for example, by providing closed captions support. When used with WordPress CMS, videos can help to increase conversions by providing a more engaging and effective way to present products and services. You can add videos to WordPress website, including video embeds, and direct video upload, and also by using a plugin specifically designed for managing videos.
On WordPress, you get the option to self-host the videos and display them directly on the content pages of your website. In this case, the video file gets stored on your web hosting server. Additionally, to scale up and have more cost benefits you can use WordPress video hosting services like YouTube, VdoCipher, etc. to host videos and use the embed code, API, plugin, and other integration support to add videos to your website.
Does WordPress support Video Hosting?
Yes, WordPress supports video hosting in multiple ways which depend on the use case a business or video creator has. It does not have a built-in video infrastructure. Instead, it relies on the use of the web server on which it is deployed. There are two ways to host videos for a WordPress website.
Self-Hosted – In this case, when you upload a video in the media upload section, this video will go into your web server directory. When you upload a video to your WordPress site, it is typically stored on the same server as your website. However, as videos can be large in size, this can quickly consume a lot of storage space and bandwidth. This also means that your main web server SSD space will get utilized and can cause crashing issues if the memory goes out of space. It is not a recommended method unless the use case is very small.
Third-Party Video Hosting Services – uploading videos to a third-party video hosting service and embedding them in posts or pages is a great way to host your videos. Popular third-party video hosting services that can be embedded in WordPress include YouTube, AWS, GCS, and for security needs, VdoCipher. Additionally, a good video hosting provider allows you to host and embed videos directly from your website through their plugin and API integrations.
Self-Hosting Videos on WordPress
Before understanding the process of self-hosting on WordPress let us look at the file storage structure present on your server on which WordPress is deployed. WordPress files that take up any disk space include things like:
Images, videos, and other media files are uploaded to your media library. These are stored in /wp-content/uploads/ by default.
Plugin and theme files like PHP, CSS, JS, etc are stored in /wp-content/themes/ and wp-content/plugins/ by default.
Your WordPress core files or installation files are usually present in the root or public_html folder.
You could also store other library and font files by uploading via FTP under root or in its sub-directories.
As discussed, video files in a self-hosted default setting environment will use the space in the /wp-content/uploads folder. It is always advisable to regularly check your disc space stats and take corrective action if required. In current versions of WordPress (5.2+), it is very easy to check the same using the Site Health option under the Tools section. Switch to the info tab and click "Directories and Sizes" for a dropdown listing like below example,
| | |
| --- | --- |
| WordPress directory location | /home/ubuntu/wordpress/blog |
| WordPress directory size | 1.09 GB |
| Uploads directory location | /home/ubuntu/wordpress/blog/wp-content/uploads |
| Uploads directory size | 400 MB |
| Themes directory location | /home/ubuntu/wordpress/blog/wp-content/themes |
| Themes directory size | 15.93 MB |
| Plugins directory location | /home/ubuntu/wordpress/blog/wp-content/plugins |
| Plugins directory size | 11.21 MB |
| Database size | 23.23 MB |
| Total installation size | 1.54 GB |
To upload a video file in a WordPress self-hosted environment, you can simply go to the editor of your post or page and click the "Insert Media" or "Add Gallery" option as per theme and editor settings. This will open up your media library where you can click on the Upload files tab and select the media from your local library. Once uploaded, you will be able to add alt text, title, and other details of the video. Finally, add to the gallery and insert the media options will directly insert the media using < video > tag with src attribute as "example.com/wp-content/uploads/2023/01/new-video.mp4". You can save the page or post and anyone with the required access will be able to make the playback easily via the default HTML5 player. Further customizations to the player can be made by using custom javascript and CSS for the player.
Cons of Self-Hosted WordPress Video Hosting
It is technically possible to use the same web hosting server for video hosting, but it may not be the best option in all cases. Using a web hosting server for video hosting can put a significant strain on the server resources, especially if you expect to get a high amount of traffic to your videos. This can lead to slow loading times, buffering, and even server crashes.
Web hosting servers are not typically optimized for WordPress video hosting, which means that videos may not be delivered as quickly or as smoothly as they would be from a dedicated video hosting server. Also, the use of CDN and transcoding to optimize for multiple devices, geo-locations, network speed, and browsers is nowadays a minimum requirement to have. This enhances the overall user experience and a higher likelihood of viewers not leaving your site before the video has finished playing.
Security is also a major drawback when you try to self-host videos on the same web server. The reason is the non-availability of any default video protection infrastructure at the WordPress end. Even if you try using javascript and other basic security plugins, you are always vulnerable due to the private key being revealed through the network and other logs. Any illegal download attack on your main server will also lead to service disruptions.
However, if you have a non-vulnerable and small use case, you can choose to self-host your videos. Just make sure that your web hosting plan is suitable for hosting large files, has enough storage space and bandwidth, and that you keep an eye on your website's performance.
Security needs with WordPress Self Video Hosting
As a WordPress user, it's important to consider the security of your videos, especially if you're self-hosting them on your website. Here are a few key security needs to keep in mind:
Access control: Make sure that only authorized users can access your videos by implementing user authentication and permissions. This can be achieved through the use of Access Manager plugins, which allow you to restrict access to specific videos based on user roles and capabilities.
Multi-DRM Encryption: Consider encrypting your videos to protect them from being accessed by unauthorized parties. This needs to be done by partnering with Google and Apple to use their DRM protection technology and is the safest method to protect your videos from illegal downloads and screen captures. Although, setting up a multi-DRM infrastructure is difficult and that is why a secure video hosting provider like VdoCipher brings the complete package to all categories of users at a highly affordable cost.
Backup: Regularly back up your videos to protect against data loss due to server failures or hacking attacks. This can be done through the use of backup plugins, which allows you to schedule automatic backups of your videos and restore them in case of an emergency. Keep in mind that using backup will increase your storage use of the main web server and might result in problems.
Analytics and Monitoring: Keep an eye on your website's performance and security by monitoring it regularly. Use tools like Google Analytics to track the number of views your videos are getting or if you are using a plugin like VdoCipher, you can easily check your complete video analytics through a video dashboard.
By considering these security needs, you can ensure that your videos are protected and there is no respective revenue loss.
Must have Features in Third-Party Video Hosting
Secure video playback and streaming – Includes the security measures like multi-DRM encryption to control and protect your videos from unauthorized access and downloads. DRM-encrypted video files need a private decryption key at the player's end to decrypt and play the video.
Various video format compatibility – Different devices and browsers support different file formats and a video hosting platform must accommodate a wide range of file formats to increase content availability. This also allows users to upload files in various formats and the hosting platform can encode and transcode the videos.
Video analytics and tracking tools – Key metrics related to your videos are very important to monitor and analyze the performance. The various parameters are view counts, and engagement metrics like how many videos are viewed and which part of the video is played more. Some hosting platforms even provide heatmaps (visual representations of viewer engagement), conversion tracking, and a detailed report of the analysis.
Adaptive bitrate streaming – Based on various device types and availability of internet connection, the videos should be played seamlessly without much buffering or latency. Adaptive bitrate streaming (ABR) technology chunks a video file into variable bitrate segments. This ensures that the video quality is automatically adjusted to the viewer's available bandwidth.
User access and management – If you are already using or looking for a video hosting service, you obviously have a library of videos and need multi-user access. Some team members have just the view access while some have an editor or upload access. A third-party video hosting provider must offer easily accessible multi-user access.
Subtitle support – Hosting platforms like VdoCipher offers multilingual subtitle support to encourage more viewership and content availability. You can select the desired subtitle language and upload the SRT or VTT file.
Easy embed options – When videos are uploaded on a hosting platform, you will require an embed code to embed the video on your website or blog post.
APIs and SDKs – SDKs and APIs make the whole process streamlined and faster. For example, VdoCipher has server API, Player API, and Android SDK.
Best Video Hosting for WordPress
We have discussed the necessary features to have in a third-party video hosting platform. Overall, using DRM-encrypted video hosting with WordPress can help you protect your revenue-producing content while giving you more control over distribution and access to your videos. The best hosting will eventually cover all features that will make the overall user experience far better. Let it be multiple file and device format support, adaptive bitrate infrastructure, bug-free plugins, and integration options. You can even find new video hosting companies offering full-scale solutions, but experience tells that it is easy to offer but making it bug-free is difficult. Bugs result in errors and downtime, thus affecting your user experience and also monetary loss.
VdoCipher, a secure video hosting solution provider has a fully featured WordPress plugin for easy integration, dynamic watermarking, and many other features. VdoCipher video plugin enables you to host premium video content on your WordPress website. It gives you complete control over your video content, so you can start minting money out of your awesome videos.
With VdoCipher's WordPress video plugin, you get the highest protection from video piracy through multi-DRM encryption. Multi-DRM video encryption technology makes sure that no downloader or plugin can download your videos and in many cases also protects screen capture.
VdoCipher uses AWS-powered server, transcoding & CDN infrastructure to ensure a smooth playback across 6 continents. Its smart HTML5 player includes options like speed change, forward/rewind, multi-quality adaptive & responsive playback, add multi-language subtitles, chapters, and many other features. If you are looking to automate or integrate the upload, etc processes, you will also need the required VdoCipher APIs and SDKs.
VdoCipher also has well-written documentation and videos to make you understand the basic uploading, embedding, and customization options available with WordPress integration.
FAQs
How to upload videos to WordPress without YouTube?
You can either choose to self-host on the web server where the website is deployed or you can pick a video hosting provider as per needs. If you are concerned about video security, VdoCipher provides the best multi-DRM AWS-hosted and transcoded infrastructure for the utmost protection against piracy.
How to upload a large video to WordPress?
By default WordPress installation is set to contain the php.ini file with upload_max_size value as 64MB or 80MB. You can add code strings to your functions.php and add the @ini_set function with parameters such as upload_max_size and post_max_size. Also, there is a cap on max file size even after that and it is from the hosting provider side. It is usually 5TB and if an object exceeds 5TB, it must be divided into maximum chunks of 5TB before uploading.
Can I add a dynamic watermark on videos hosted on WordPress?
Yes, but the only way to do so is by adding the VdoCipher video plugin. Just add dynamic watermark annotation in the plugin field and some PHP line of code in functions.php calling the dynamic fields data.
Supercharge Your Business with Videos
At VdoCipher we maintain the strongest content protection for videos. We also work extremely hard to deliver the best viewer experience. We'd love to hear from you, and help boost your video streaming business.
Free 30-day trial →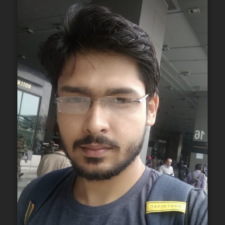 My expertise focuses on DRM encryption, CDN technologies, and streamlining marketing campaigns to drive engagement and growth. At VdoCipher, I've significantly enhanced digital experiences and contributed to in-depth technical discussions in the eLearning, Media, and Security sectors, showcasing a commitment to innovation and excellence in the digital landscape.