As online learning transitions to a new normal following the pandemic, one aspect students and learners, irrespective of age, don't want to give up is access to online courses. Whether enrolled in in-person, hybrid, or online courses, most learners now want to take more courses fully online in the future. To be successful, institutions and teachers have to meet the demand for quality online courses and provide the best viewing experience along with support services to the students. Here arises the need for a secure online course hosting platform to host, manage and deliver online courses with the necessary technological infrastructure.
Recently, The Digital Learning Pulse Survey by Bay View Analytics and Cengage in April 2022 collected responses from 1,246 students. The survey was on how the shift towards digital learning is affecting them.
935 students are currently enrolled in online courses and desire to opt for more courses in the future.
Of those students taking online courses, 62% gave online courses learning an "A."
What is an online course hosting platform?
A course hosting platform allows you to upload your courses onto their servers and then embed them into the relevant pages on your site, where it won't slow down your page load times. Course hosting platforms also have additional benefits, such as securing your online course videos, video analytics information, and sharing options.
If you have a website, surely you can upload your online course video files to the server and play the content on your website. But hosting courses locally isn't a good idea. Unlike plain text or images, video files take up considerable storage space and bandwidth. Plus, there are all sorts of playback issues, buffering, latency, quality problems, device support, and, most importantly, video security. As a course creator, you won't expect your videos to be leaked and made available on the web. Your whole earning model can be dramatically affected. These cumulative issues may lead your website not to bear the load, leading to page loading delays.
Hosting your videos on a professional and secure online course hosting platform easily cuts through all these issues. Later, you can easily add the video course to a website, web page, or social media using copy-paste the embed code with the touch of a button.
Free Course Hosting Platform
These platforms allow free video hosting with limited upload count, bandwidth limitations, and a few additional features. You might even face your website downtime, or it may not be capable of handling traffic spikes. Due to the free service, there is mostly a basic plan and no flexibility in various web hosting packages.
The free hosting platforms may seem reasonable in the initial phases of video hosting. Still, as the video requirements increase, people have to shift towards paid course hosting. Another concern with free video hosting is video security. These platforms, in most cases, won't provide secure hosting, i.e., your videos are at risk of piracy. Anyone can download your video and make them available on the web. Even when you lose your data, there is no backup to recover them.
'According to Eurostat European Statistics, in 2021, among all EU Member States, Ireland had the highest share (46 percent) of people aged 16 to 74 doing an online course.'
Paid Course Hosting Platform
Paid course hosting platforms have flexibility in bandwidth and storage consumption. These platforms employ the latest technologies to keep your content performance at the best possible state. Most of the paid course hosting platforms have high uptime and better management of your video content during peak surges. You can choose the paid plans based on your bandwidth requirements and the number of videos you plan to upload. Anytime the business from your end increases, there is always room to opt for a higher plan with more bandwidth and other features.
Security is one of the main factors in choosing a paid course hosting provider. Creators wishing to monetize their content or prevent unauthorized access require a secure video hosting platform like VdoCipher. The course hosted and served via VdoCipher cannot be downloaded or shared using any internet plugin or software hack. This helps secure your videos and boosts the generated revenue, and at the same time, protects from video piracy and illegal downloads.
Difference Between Free and Paid Course Hosting Platforms
| | | |
| --- | --- | --- |
| Features | Free | Paid |
| Bandwidth & Storage | Limited | Different packages based on consumption |
| CDN-Based Delivery | Likely to be unavailable. It may lead to buffering & latency | Available with major hosting providers |
| Security | Less secure. Risk of video piracy | Video courses are protected from illegal download if the platform offers DRM Level of security as VdoCipher does |
| Support | No proper customer support for technical issues | 24×7 or dedicated customer support |
| Customization | very few to no customization options | Courses can be customized as per your opted paid features |
Types of Course Hosting Platforms
Some course hosting platforms are designed specifically for video courses, while others are more general purpose.
Video course hosting platforms: Built specifically for hosting and delivering video courses. The services include video hosting, CDN-based delivery, password protection, easy-to-manage access from Dashboard, video analytics, and most importantly, video security of your premium videos.
General hosting platforms: These platforms host a variety of course content, one being video courses. They may lack the features of a dedicated video course platform but still deliver and manage video courses.
Self-hosted course videos: This means hosting and video course content delivery on your own website or server. Self-hosting may give you better control over the delivery and management of courses but requires more technical knowledge and hosting expertise. Your webpage where the courses are hosted may even suffer latency, unauthorized access, and page load time delay, which can be easily addressed by opting for a secure video hosting platform like VdoCipher.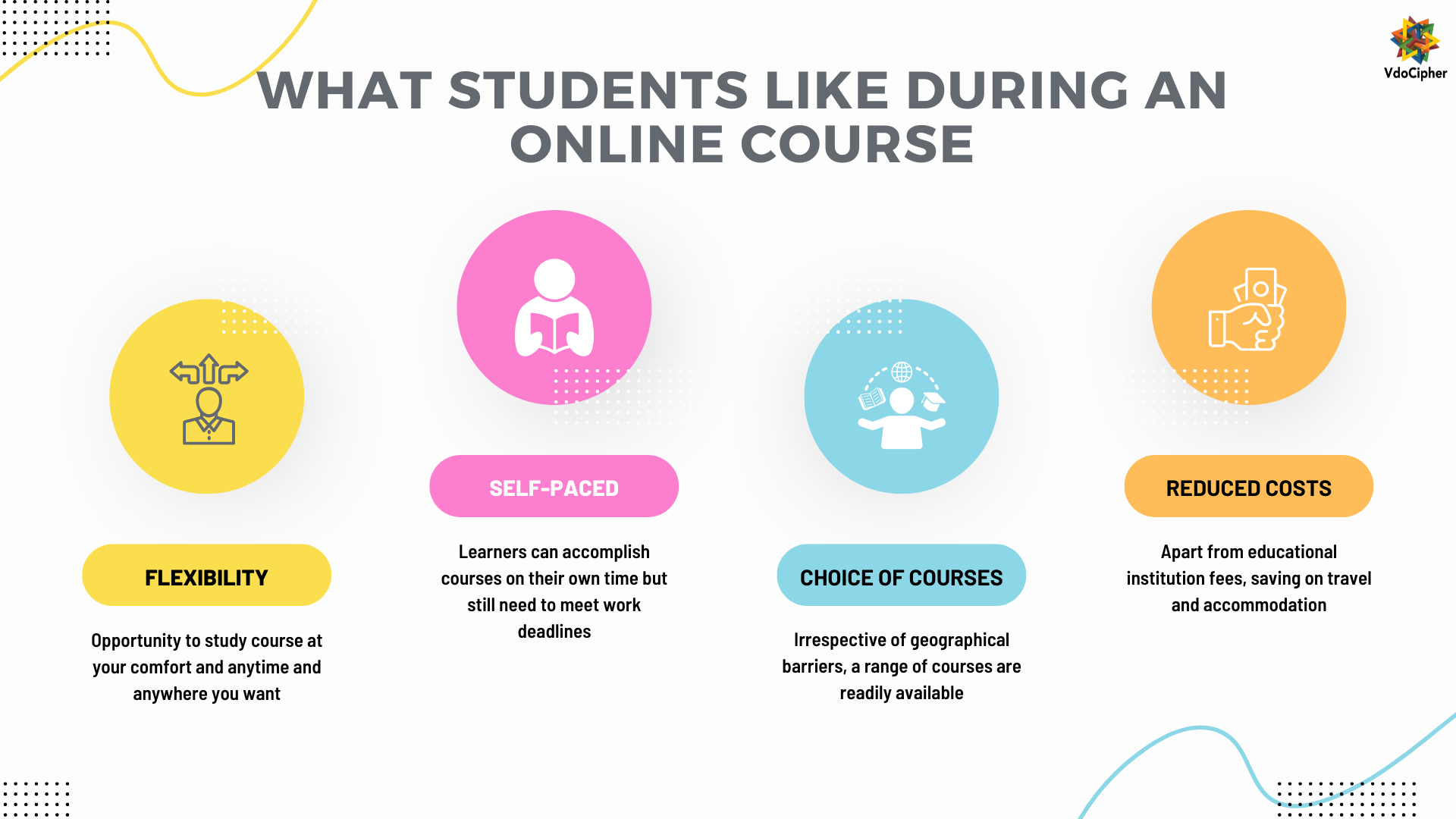 Features of a Good Online Course Hosting Platform
Easy Embed Options
When you upload a course to a hosting platform, you require it to be placed or embedded into your website or other platforms. An embed code is used to add the video to your website, and viewers can watch the video without leaving the website. The video can easily be altered for height, frame size, and more. The hosting provider must have easy embed options with a simple embed code.
CDN-based Delivery
Content delivery networks serve content via a group of geographically distributed proxy servers. The servers create a copy and store cached information. The content is delivered via the nearest CDN instead of the origin server whenever a user makes a playback request. CDN-served courses have minimum latency and buffering and are readily available to the viewer even during the time of peak traffic. It also provides security against distributed denial of service (DDoS) attacks.
APIs for Easy Integration
To streamline and automate the workflow, the course hosting platform must provide APIs and SDK support. APIs help manage videos, enable auto upload, add interactive features to the player, customize designing, and much more. A course hosting provider's API allows third-party tools and applications to integrate the provider's hosting functionality and features.
Adaptive Streaming
Your course learners may sometimes encounter slow internet speed or network congestion. In such a scenario, the video quality is badly hampered, and there is buffering and latency. In ABR streaming, the video quality automatically adjusts to the viewer's available bandwidth. The video file is chunked into variable bitrate segments. If the hosting platform lacks ABR, the viewing experience may suffer due to buffering and more load time.
Multiple File Format Support
The file format varies with device and browser. While converting a video into various file formats, often the video quality is lowered. A video may play at a low quality on one device and comparatively better on another. A course hosting platform must be capable of converting the video file into the best resolution formats for every device type.
Customer Support
The platform must provide dedicated video customer support to address any issue faced by the customer. The support channel may be email, phone, WhatsApp, or contact form. The priority of addressing the problem is what makes a good customer service portal.
Affordable for small creators as well as enterprises
The pricing model of the platform must have a range of plans to opt for based on bandwidth, storage, and other requirements. You may look for those giving free trials before choosing a higher-paid plan.
IP/Domain Restrictions
It is a very helpful feature if you want to restrict course access based on IPs. Viewers connected to those IPs are not permitted to watch the video. Course hosting platforms even provide the feature of Domain Restriction, wherein viewers in a particular list of restricted domains are blocked from watching the content.
Security
While choosing a course hosting platform, the security of your videos is a major factor to consider. You never expect your videos to be leaked or exposed to hackers or illegal downloads at any cost. Platforms like VdoCipher provide Multi DRM encryption using Google Widevine and Apple FairPlay DRM.
Need for Secure Course Hosting Platforms to Host Online Courses
Some courses are available to the public for free, while for some, you pay in the form of on-time payment, subscription, or enrollment. For video creators looking for monetization or making the courses paid, protecting the videos from unauthorized access is important. Many viewers legally download and stream the content. This leads to huge revenue loss for the creators as the content is readily available without paying. The content makers are less motivated to create high-quality content which also affects the viewers.
'Digital video piracy costs the US economy around $29 billion in lost revenue per year.'
Companies like Netflix have their anti-piracy team to address this issue. The device people use to download pirated content may become infected with malware which can compromise personal data.
When it comes to choosing the course hosting platform, security is one of the major deciding factors. Common video hosting platforms have standard AES-128 encryption as the video encryption protocol for video protection. In themselves, DASH, RTMPE, and HLS Encryption are not sufficient to completely secure the content. The major security flaws are Partial video encryption and the Open key exchange mechanism.
Tools like IDM and Video DownloadHelper can even download encrypted content, exploiting the vulnerability in the above-mentioned streaming protocols. We at VdoCipher use the modified and more secure streaming protocol to prevent illegal downloads, discourage screen capture and minimize bandwidth usage.
'More than 2500 customers from over 121 countries rely on VdoCipher secure video hosting services to protect their premium video content and boost performance and revenue at affordable pricing.'
VdoCipher – Best Platform to Host Online Courses
If securing your videos is your main priority, VdoCipher is the best available online course hosting platform for your business. There can be security risks if the videos contain sensitive information and the hosting platform does not have adequate video security measures in place.
You no longer need to worry about unauthorized access to your videos or sharing because the videos are Multi DRM protected with Hollywood Grade DRM Encryption. We are a direct partner with Google and employ Google Widevine DRM and Apple FairPlay DRM to protect your videos. Apart from the highest level of video security, we offer features like Dynamic Watermarking, Secure offline download in apps, WordPress Plugin, and APIs.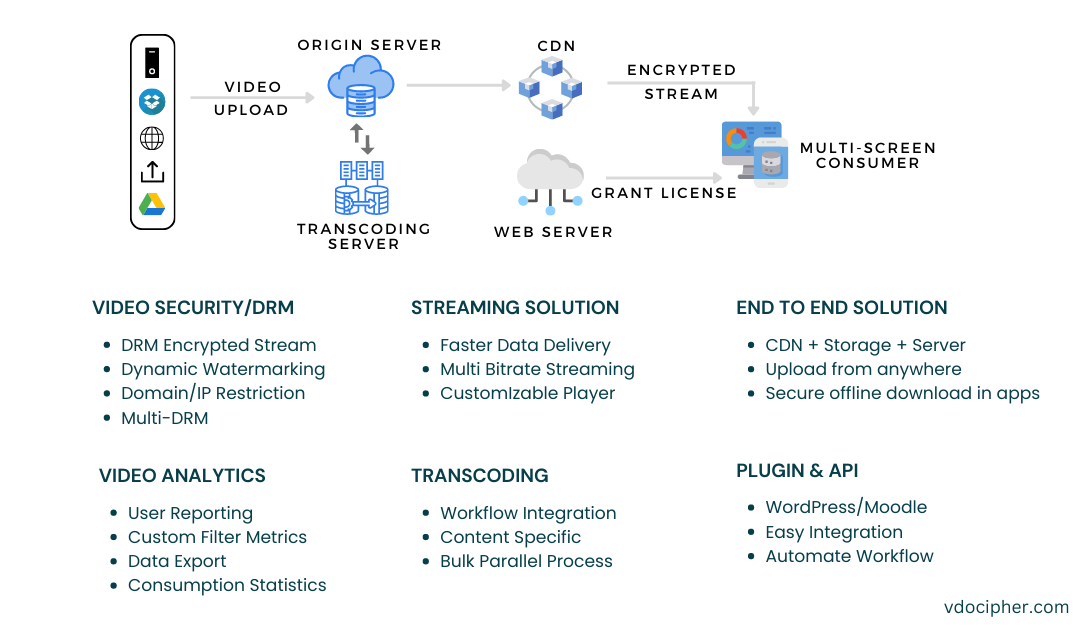 Features
Google Widevine and Apple FairPlay DRM Encryption
Dynamic Watermarking to brand your videos
Domain Restrictions
Screen capture block in Android and iOS Native App
Secure offline downloads in apps
Smart HTML5 Video Player with adaptive bitrate streaming, multi-lingual subtitle support, chapter segmentation via API, customizable controls, theme, and layout
Global AWS Cloud Infrastructure
Easy to manage Dashboard to upload and edit videos, generate embed code and view the usage of bandwidth consumption
WordPress and Moodle Plugin for quick integrations
VdoCipher Android SDK to integrate Google's Safetynet to added video protection
FAQs
What is a course hosting platform?
A cloud-based platform to upload, store and share course videos. These platforms provide a reliable and secure infrastructure for course hosting and streaming.
How much does the course hosting platform cost?
The pricing varies depending on the number of videos uploaded, video size, bandwidth, and storage requirements. Contact us for more information on storage estimations and pricing.
Which is the best course hosting platform that offers free trials?
At VdoCipher, every new user gets 5 GB bandwidth for 1 month at no cost. Except for the FairPlay DRM trial, all the other features are included. Up to 4 videos can be uploaded in the free trial. If satisfied with the service and support, you can upgrade to the paid plan anytime.
Supercharge Your Business with Videos
At VdoCipher we maintain the strongest content protection for videos. We also work extremely hard to deliver the best viewer experience. We'd love to hear from you, and help boost your video streaming business.
Free 30-day trial →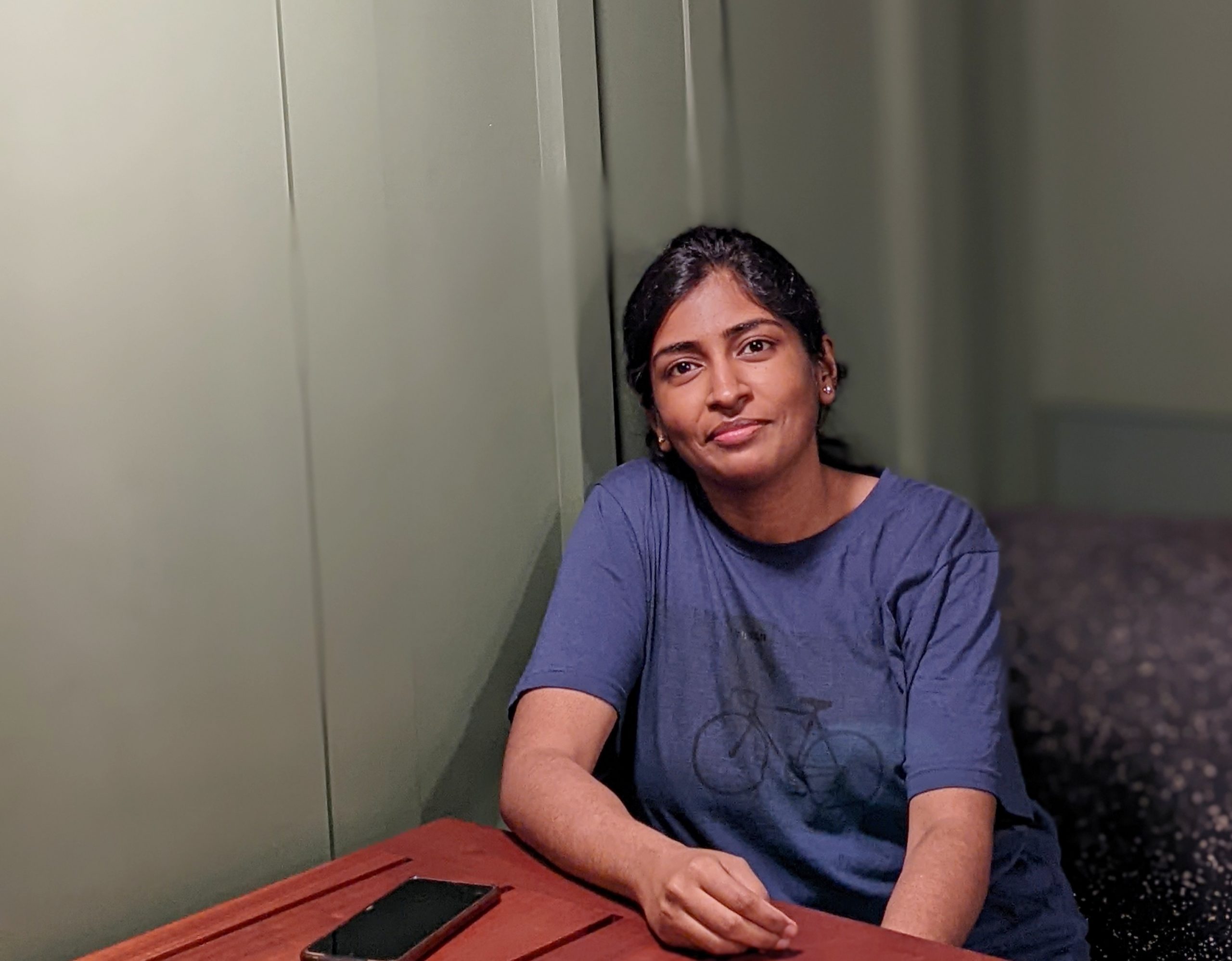 Jyoti began her career as a software engineer in HCL with UNHCR as a client. She started evolving her technical and documentation writing skills to become a full-time Content Marketer at VdoCipher.