If you are looking for an alternative site similar to Vimeo for a secure video hosting platform you can consider an alternative site that suits your requirement. Although Vimeo is a popular video platform there are a few drawbacks that made users look for Vimeo alternatives.
As we have observed there's a rapid growth in video consumption and a lot of businesses using video for their marketing strategy. Video can be an effective mode of communication to convey your message.
In this article, we are going to explain the features and benefits of a secure video streaming platform similar to Vimeo which can be a good alternate option to consider.
About Vimeo
Vimeo Video Player Features
Video player customization – Vimeo offers Vimeo Plus and higher memberships customers have more customization options Users can add a logo, change the play bar color, optimize the video with interaction tools etc
Video embedding – Videos can be embedded on your blog and landing page with simple steps
Adaptive streaming to ensure videos are played for any connection speed
Provides the option to get leads right from the player with customizable forms
Security Features of Vimeo
Video can be accessed through an SSL-encrypted URL with a self-expiring token/signature
Provides the option for Private link sharing
Domain-level piracy for paid users where you can specify what website to allow your video to be embedded on
Other Features
Video monetization – Content creators can earn a source of revenue through both on-demand video and live stream monetization.
Ad-free streaming – Users can watch videos hassle-free without ads interrupting
Live streaming – Vimeo's Premium and Enterprise plans allow you to stream videos in 1080p HD
Team collaboration with up to 10 members – You can seamlessly connect with peers, and clients to private projects with permission levels for each person
Although Vimeo has a wide range of features, there are a few reasons to consider a site alternative to Vimeo.
Cons
Lack of Customer support
Absence of Security Features and Customization in Free plan
Unlimited Streaming is not available as mentioned in the pricing plan. Users need to upgrade to a customized plan after reaching a certain amount of usage
Streaming can be slow and unreliable at times
What has changed in Vimeo Pricing?
Recently Vimeo made a significant change in the pricing model and introduced new subscription plans, Free, Starter, Standard, and Advanced. The free plan includes a limit of two video uploads per month.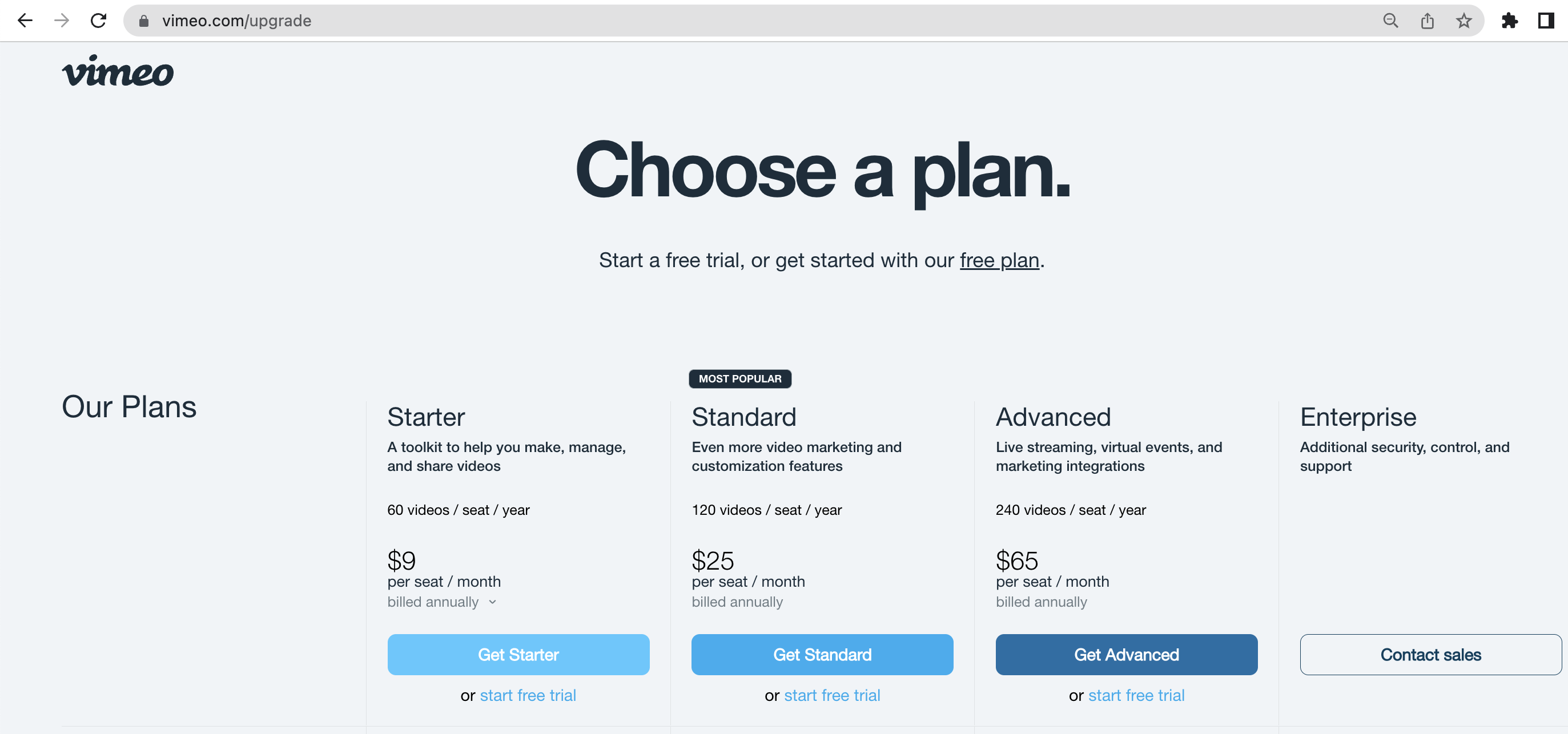 The plans Legacy Plus, Pro, Business, or Premium are no longer available for new customers.
Shift from storage caps to the number of videos per user
Earlier the pricing segregation was based on the storage space available with each plan irrespective of video length, format, or resolution. Now, each subscription plan provides a specific number of videos.
The bandwidth limit for all plans except Enterprise remains at 2TB bandwidth/month.
The maximum file size is 250 GB, and the maximum duration is 24 hours.
This is proving to be comparatively expensive for many users, especially those in the e-learning segment. 
Flexibility to add paid seats to a single account
By default, each plan includes only one seat which is the Owner who has the highest level of permission.
An Owner can add additional seats for Admin and Contributor user types. Both types of users can create and upload videos. Viewers can be added for free but they can only view and comment on videos.

Are you missing video DRM protection from piracy in Vimeo?
To give a simple brief about DRM protection for video, it is a technology to protect and manage the digital rights of the content. In reference to Video, it enables the protocols built by Google & Apple to secure content in their ecosystem of devices & browsers. This includes encrypting your videos and managing a secure playback through a dynamic key exchange mechanism. The key is protected by Google and Apple through the Content Decryption Module or CDM present as a black box in the browsers and devices. This allows protection against illegal downloads and also against screen capture in many cases.
Vimeo does not provide DRM protection with their hosting plans and only allows enabling DRM to enterprise Vimeo OTT sellers. Some users have also raised support tickets to confirm the same and here is a copy of the reply Vimeo support provided.
"Unfortunately, online video distribution is inherently insecure in this way and no form of protection or security has 100% fared against the might of online piracy. We are always working to improve the security of our player, but as technology grows and users become savvier, the inevitable reality is that online videos are becoming less secure.
Some solutions for preventing unauthorized downloads include DRM or file encryption, which are features we do not currently offer for Vimeo members. Advanced techniques like DRM would substantially increase the cost of hosting your videos, and we want Vimeo to be as affordable as possible to as many people as possible." ~ Vimeo Support
The reason mainly looks like it is due to the increase in the cost of video hosting and thus their pricing plans are assumed to be cheaper. But is it really the case?
DRM protection is a necessity nowadays due to increasing cases of illegal downloads and distribution of media and eLearning content. It obviously has a cost of setup, licensing, and usage but when you acquire the technical acumen of setting up a large-scale, error-free, and efficient architecture, it obviously turns out to be highly affordable. For example, in our comparison section below, we have listed VdoCipher's multi-DRM video hosting on AWS infrastructure pricing and you can easily figure out at what cost you are missing DRM.
How to get more features in similar pricing
The first thing is that you have to get out of the notion that Vimeo has affordable pricing. For not secure video hosting, you can even use large cloud storage services like AWS and Google Cloud and still it will cost less. There are a few approaches you can take to get more features while maintaining the same pricing as that of Vimeo:
Look for secure video hosting platforms. There are secure video hosting platforms like VdoCipher that offer a range of additional features.
Use a service that has infrastructure facilities like that of AWS for scalability and uptime.
Look for a smart HTML5 video player with better customization options.
Check for the availability of integration options like APIs, SDKs, and plugins for major third-party CMS, LMS, and even open-source platforms.
You can also use custom-built solutions. If you have specific needs or requirements that cannot be met by existing video hosting platforms, you may want to consider building a custom solution or working with a developer to create a bespoke video hosting platform.
Important features to have in Vimeo Alternatives
Multi-DRM encryption and playback
Dynamic watermarking to deter screen capture
Secure Offline Downloads in Apps
Google Play Integrity for App-Based Security
Smart and customizable HTML5 Video Player
APIs, SDKs, and Plugins for easy and automated integrations
CDN Delivery
Video Analytics
Easy embed options
Adaptive video quality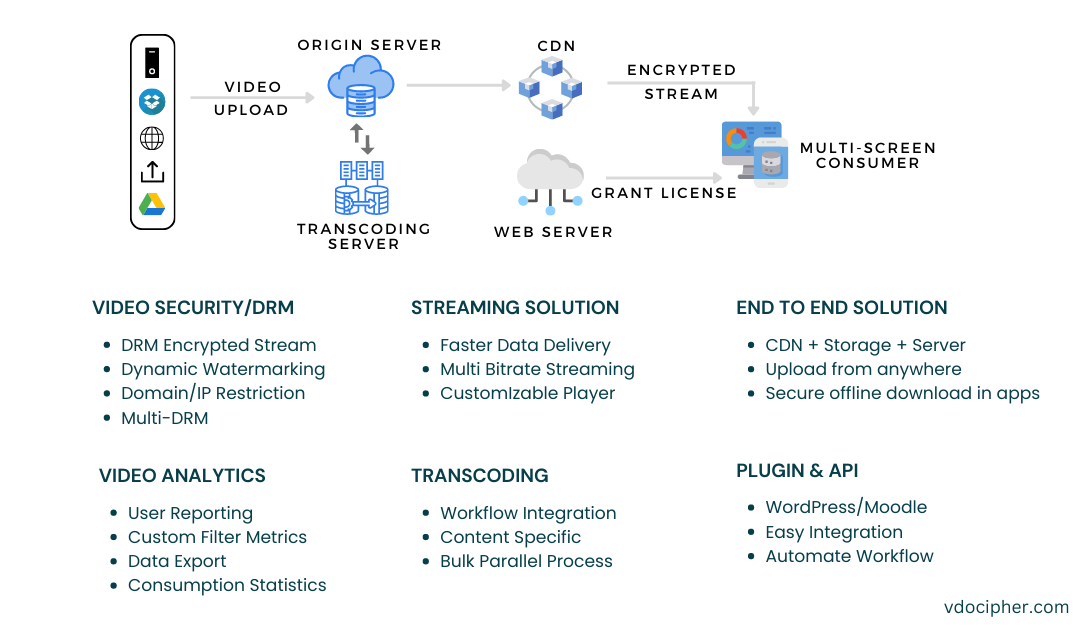 This makes it very clear that there are many features you are missing in Vimeo and that is why it becomes more necessary to compare the best alternative with better pricing as discussed below. The least pricing plan a user can have from Vimeo is $108/year and that from VdoCipher is just $99/year. This $99 spend is far better than Vimeo's $108 spend as the affordable one comes with far more advanced features like DRM, dynamic watermarking, etc.
VdoCipher – Comparing Top Alternative with better pricing
Although Vimeo is a popular video platform, it lacks certain features and technological advancements. With the recent increase in its pricing and the change of the pricing model, which is now limited to the number of videos a user uploads, viewers are exploring Vimeo alternatives.
One such alternative that offers complete video hosting and streaming infrastructure with Google Widevine + Apple FairPlay DRM Encryption at affordable pricing is VdoCipher. Trusted by over 3000 customers spread across 120+ countries, VdoCipher offers secure and streamlined video hosting services to major elearning and media businesses.
Digital Rights Management (DRM) technology is what makes VdoCipher stand out from other popular video hosting platforms. Being a direct partner with Google, VdoCipher uses Google Widevine and Apple FairPlay DRM technologies to help secure your videos.
Features
VdoCipher
Vimeo
Security (Encryption)
Hollywood Grade DRM-Encrypted Secure Video Streaming
Only basic security measures like password protection. DRM available on request for only the Enterprise plan
Dynamic Watermarking
Viewer-specific dynamic watermarking. Customizable for size, transparency, color, speed, and more. Discourages screen capture
Not available
Pricing
Based on the bandwidth and storage utilized.

Starting $99/year (70GB Storage & 500 GB Bandwidth).

Based on the number of videos.

Starting at $9 per seat/month (billed annually) or $108/year. Limited to just 60 videos per year.

User access
Multi-user access for all plans except Starter
Except for Enterprise, each plan is restricted to only one seat (owner). The owner needs to buy additional seats.
DRM is the highest level of video security and prevents illegal downloads and video piracy. Video streamed on VdoCipher cannot be illegally downloaded via any plugin or software or shared with unauthorized users. In DRM encryption, the video stream is converted into an encrypted format and at the player's end, decrypted using a private encryption key.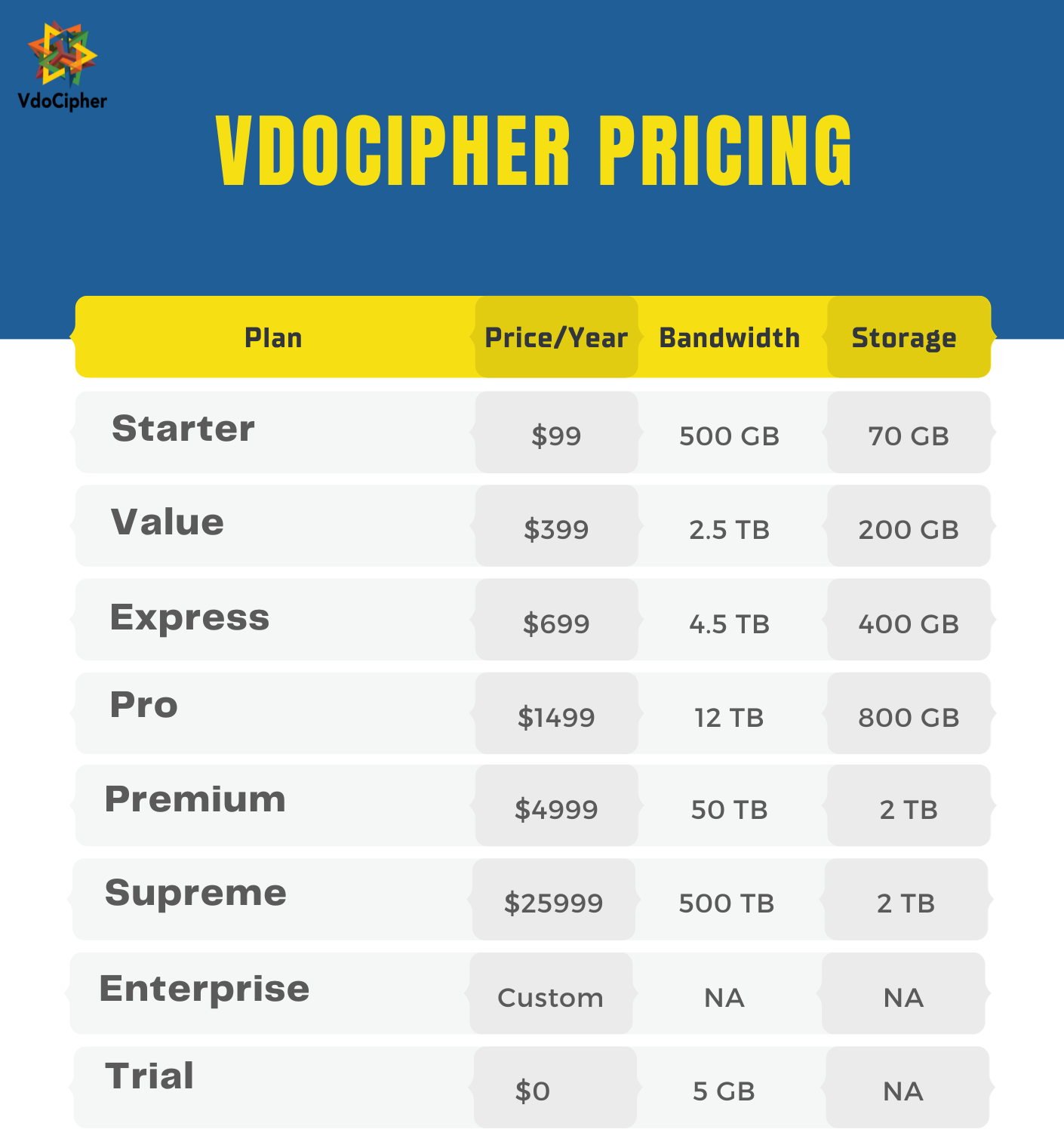 Other hosting providers in the name of security using standard encryption technologies like RTMPe and AES 128 which have partial key exchange mechanisms. The key in such cases can be retrieved using any plugin or software.
Security Features of Vdocipher
Supports Google Widevine DRM Encryption, a highly reliable security technology for both Desktop and Android devices. This minimizes the chance of unauthorized downloads.
Apple Fairplay DRM Encryption is available for IOS devices.
Dynamic URL generation for each playback session to ensure a robust level of security
Vdocipher offers a watermark feature to discourage screen capture and you can easily customize the color, speed of movement, and size of the watermark.
Users can easily block the screen capture block in Android and Apple Native apps.
Geo-Blocking feature to restrict specific countries from unauthorized access
Video Player Features
VdoCipher offers adaptive video quality to ensure video quality can be adjusted based on the internet connection of the user.
The dashboard is designed to ensure easy video management.
Forward/Rewind option to users while watching the videos.
Easy interface and guides are available to upload videos and generate embed code.
Multilingual subtitles options are present in WebVTT format.
Ready to use codes to embed buttons/forms over the video.
Video Analytics is provided to understand users' interaction with the content.
APIs, SDKs, and Dashboard Features
Our range of APIs & upload options ensure that you can launch your videos with minimal time and effort
Developers can utilize APIs and SDKs to integrate and automate workflow
Our custom player is designed to suit your site theme and target audience
Users can easily import videos from Google Drive, Vimeo Pro, Dropbox, AWS S3/Server
Supports multiple users to your dashboard with different permission levels.
AWS Global CDN Hosting features for video
AWS CDN and server – Global AWS Cloud Infrastructure is available that comprises 3 primary components of Storage on AWS S3, Transcoding via VdoCipher algorithms on EC2, and Streaming of content via Cloudfront CDN. Read more here
AWS-backed Transcoding – Once a video is uploaded – it will be transcoded to multiple sizes and we encrypt it with our DRM licenses for the highest security.
Cons
Doesn't support Live Streaming
Reasons to choose VdoCipher Instead of Vimeo
Delivers robust security with encrypted video streaming ensures the highest level of security protection from piracy compared to sites like Vimeo
Provides Excellent customer service than platforms like Vimeo
Demos – Encryption, Viewer Specific Watermark
Find out how to add text to videos with Watermark. You can also create the watermark script directly from the Dashboard.
Register and start a free full-version trial at VdoCipher
How to import videos from Vimeo?
Login to the VdoCipher dashboard
Click on "Import" and select "Import from Vimeo" in the drop-down

Note: You cannot import videos from Vimeo if you are a trial user of Vimeo as it will result in the error, "Vimeo Error: Only PRO Allow Export"
Users' feedback on Vimeo Pricing
Pricing models are a bit complicated to understand and not very transparent. – trustradius.com
2tb Cap for streaming monthly, next package up is a significant boost in pricing – g2.com
One of the reasons I had to opt-out of vimeo were the pricing plans – g2.com
I've only utilized the free trial because pricing is a bit steep – capterra.com
Perhaps the free plan is its weak point, it is too limited – capterra.com
The livestream options make it too cost-ineffective compared to other platforms – capterra.com
Costs more than some and I wanted to see more out of it  – capterra.com
It is kind of expensive to use if you have higher volume content  – capterra.com
Vimeo can be costly depending on the package you need  – capterra.com
FAQs
How to prevent or disable Vimeo hosted videos from downloads?
To disable downloads of your Vimeo videos, go to Settings>Video>Upload Defaults tab. Under the, What can people do with your videos? section, uncheck the box next to Download them. Now, check the box next to, Also apply to existing videos, and hit the Save button.
To prevent a Vimeo video from being illegal download, you will have to start using a multi-DRM security provider like VdoCipher.
Does Vimeo have a watermark feature?
No, Vimeo does not have a dynamic watermarking feature to deter screen capture. Dynamic watermark usually contains information about the authorized user IP and email address for tracing.
Differences and alternatives of Vimeo and YouTube?
YouTube allows free video hosting and playback through its own branded player. On the other hand, Vimeo is a paid video hosting platform with playback through its javascript video player and branding customization. They do not provide secure video hosting and for that purpose alternatives to Vimeo and YouTube include multi-DRM security providers like VdoCipher.
How to use the File Transfer Links option on Vimeo?
Starter and higher plan customers can share their video's unique link from where the video can be downloaded. The videos cannot be played from the link. To do so, there is a Send file icon on the Vimeo's homepage, library, and advanced settings on that particular video.
VdoCipher is a secure video platform similar to sites like Vimeo which provides streaming solutions catering to e-learning and media businesses across 6 continents. We offer a full-stack solution for businesses to host and stream video content in the most secure, smooth & affordable manner. Our DRM solution ensures that your video remains protected.
VdoCipher offers 100% protection against video piracy matched by no other competitors in the world with its DRM-based Video Encryption.
Supercharge Your Business with Videos
At VdoCipher we maintain the strongest content protection for videos. We also work extremely hard to deliver the best viewer experience. We'd love to hear from you, and help boost your video streaming business.
Free 30-day trial →