If you are looking for an alternative site similar to Vimeo for secure video hosting platform you can consider an alternative site that suits your requirement. Although Vimeo is a popular video platform there are few drawbacks that made users look for Vimeo alternatives.
As we have observed there's a rapid growth in video consumption and a lot of businesses using video for their marketing strategy. Video can be an effective mode of communication to convey your message.
In this article, we are going to explain the features and benefits of a secure video streaming platform similar to Vimeo which can be a good alternate option to consider.
Vimeo

Vimeo is one of the popular video platforms similar to youtube that offers hosting and streaming solutions. It enables users to upload, host, and customize videos. The platform is ideal for filmmakers, and content creators.
Pricing Plan
In the Basic free plan, Users can consume 500MB per week of upload space and up to 5GB of total account storage. No privacy features, customization, or advanced analytics are available in the basic plan.
$7/month(billed annually) for the Plus plan with 5 GB of bandwidth per week, and 250 GB storage every year.
The Pro plan is $20/month(billed annually), it offers 20 GB of bandwidth per week, and 1 TB of storage every year.
The premium plan of $75/month(billed annually) offers Unlimited live streaming with 7TB of storage; unlimited viewers and no weekly bandwidth limitations.
Video Player Features
Video player customization – Vimeo offers Vimeo Plus and higher memberships customers have more customization options Users can add a logo, change the play bar color, optimize the video with interaction tools etc
Video embedding – Videos can be embedded on your blog and landing page with simple steps
Adaptive streaming to ensure videos are played for any connection speed
Provides the option to get leads right from the player with customizable forms
Security Features of Vimeo
Video can be accessed through an SSL-encrypted URL with a self-expiring token/signature
Provides the option for Private link sharing
Domain level piracy for paid users where you can specify what website to allow your video to be embedded on
Other Features
Video monetization – Content creators can earn a source of revenue through both on-demand video and live stream monetization.
Ad-free streaming – Users can watch videos hassle-free without ads interrupting
Live streaming – Vimeo's Premium and Enterprise plans allow you to stream videos in 1080p HD
Team collaboration with up to 10 members – You can seamlessly connect with peers, clients to private projects with permission levels for each person
Although Vimeo has a wide range of features, there are few reasons to consider a site alternative to vimeo.
Cons
Lack of Customer support
Absence of Security Features and Customization in Free plan
Unlimited Streaming is not available as mentioned in the pricing plan. Users need to upgrade to a customized plan after reaching a certain amount of usage
Streaming can be slow and unreliable at times
VdoCipher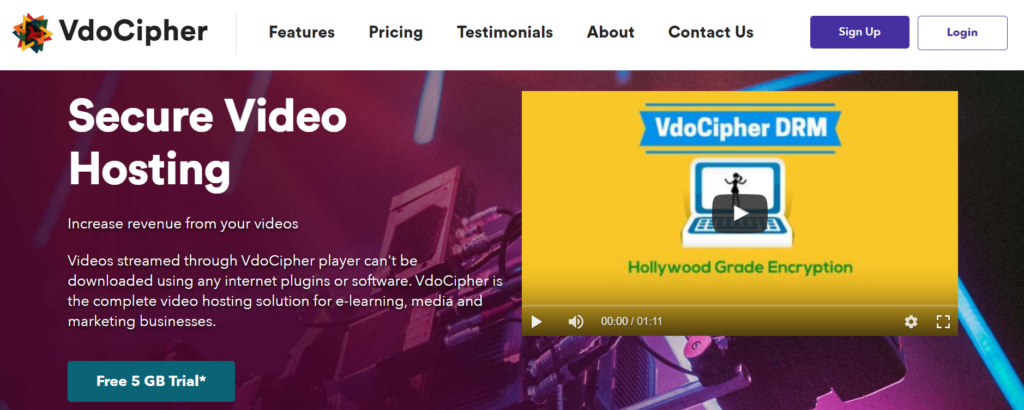 VdoCipher is a secure video platform similar to sites like Vimeo which provides streaming solutions catering to e-learning and media businesses across 6 continents. We offer a full-stack solution for businesses to host and stream video content in the most secure, smooth & affordable manner. Our DRM solution ensures that your video remains protected.
VdoCipher offers 100% protection against video piracy matched by none other competitors in the world with it's DRM based Video Encryption.
Security Features of Vdocipher
Supports Google Widevine DRM Encryption, a highly reliable security technology for both Desktop and Android devices. This minimizes the chance of unauthorized downloads.
Apple Fairplay DRM Encryption is available for IOS devices.
Dynamic URL generation for each playback session to ensure robust level of security
Vdocipher offers a watermark feature to discourage screen capture and you can easily customise the colour, speed of movement and size of the watermark.
Users can easily block the screen capture block in Android and Apple Native apps.
Geo-Blocking feature to restrict specific countries from unauthorized access
Video Player Features
VdoCipher offers adaptive video quality to ensure video quality can be adjusted based on the internet connection of the user.
Dashboard is designed to ensure easy video management.
Forward/Rewind option to users while watching the videos.
Easy interface and guides available to upload videos and generate embed code.
Multilingual subtitles options are present in vtt format.
Ready to use codes to embed buttons/forms over the video.
Video Analytics are provided to understand users' interaction with the content.
APIs, SDKs and Dashboard Features
Our range of APIs & upload options ensure that you can launch your videos with minimal time and effort
Developers can utilize APIs and SDKs to integrate and automate workflow
Our custom player is designed to suit your site theme and target audience
Users can easily import videos from Google Drive, Vimeo Pro, Dropbox, AWS S3/Server
Supports multiple users to your dashboard with different permission levels.
AWS Global CDN Hosting features for video
AWS CDN and server – Global AWS Cloud Infrastructure is available that comprises 3 primary components of Storage on AWS S3, Transcoding via VdoCipher algorithms on EC2, Streaming of content via Cloudfront CDN. Read more here
AWS backed Transcoding – Once a video is uploaded – it will be transcoded to multiple sizes and we encrypt it with our DRM licenses for highest security.
Cons
Doesn't support Live Streaming
Pricing Plan
VdoCipher has 7 different pricing plans to users:
Starter: $99/year; 500 GB of bandwidth and 70 GB of storage
Value: $399/year; 2.5 TB of bandwidth and 200 GB of storage
Express: $699/year; 4.5 TB of bandwidth and 400 GB of storage
Pro: $1499/year; 12 TB of bandwidth and 800 GB of storage
Plus: $2999/year; 30 TB of bandwidth and 1.2 TB of storage
Premium: $4999/year; 50 TB of bandwidth and 2 TB of storage
Enterprise: Enterprise plans are custom-priced and custom-built. Please contact VdoCipher for a quote.
Vdocipher vs Vimeo Comparison
| | | |
| --- | --- | --- |
|   |   VdoCipher | Vimeo |
| Security (Encryption) | Full DRM Encrypted Streaming (Same as Netflix etc.): 100% prevention from all downloaders. Progressive smooth streaming | Video streams are protected through a combination of security measures. DRM options are only available as part of only Enterprise plans. |
| Security (Watermark) | Viewer Specific moving watermark – Email id, user id, ip. Deters Screen captures | No watermarking feature |
| Custom Encoding | Set custom desired bitrates & height for all devices | No custom bitrate & height options. |
| Pricing | Starting Price Plan $99/year | Starting Price Plan $7/mo billed annually |
Learn more about how other OVPs may be misleading you about their security features, and how VdoCipher secure streaming solution ensures 100% protection against video piracy. Find out more about the full security feature set that VdoCipher offers.
Reasons to choose VdoCipher Instead of Vimeo
Vdocipher provides in-depth video analytics with metrics like details of video playback, seek, pause, viewer variety, demographics
Delivers robust security with encrypted video streaming ensures the highest level of security protection from piracy compared to site like Vimeo
Provides Excellent customer service than platform like vimeo
Demos – Encryption, Viewer Specific Watermark

Find out how to add text to videos with Watermark. You can also create the watermark script directly from the Dashboard.
Register and start a free full version trial at VdoCipher
Import Video from Vimeo
If you have videos already on Vimeo, don't worry , you don't need to reupload them. Our Vimeo import feature in your dashboard will directly transfer content from Vimeo to VdoCipher. Find out how to import your videos directly from Vimeo to VdoCipher without the need for downloading.

Thus as the best Alternative to Vimeo, Start full free trial at www.vdocipher.com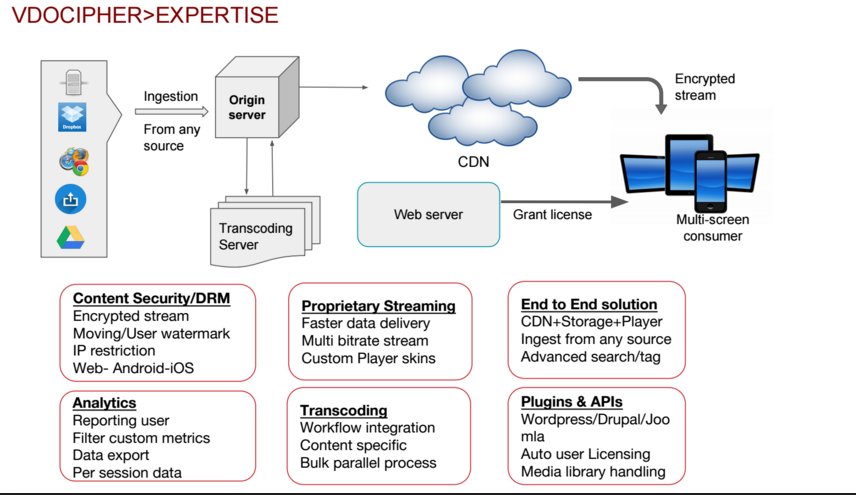 Vimeo vs Vdocipher: Conclusion
Both the platforms have their pros and cons. Every business or individual needs to assess their requirements when it comes to choosing a video platform. If you are concerned about video security, affordable pricing and technical support then Vdocipher can be an excellent alternative to Vimeo to secure video.
Supercharge Your Business with Videos
At VdoCipher we maintain the strongest content protection for videos. We also work extremely hard to deliver the best viewer experience. We'd love to hear from you, and help boost your video streaming business.
Free 30-day trial →