Video content consumption is at an all-time high and is the main medium to convey information. With the widespread access to the internet, there have been too many cases of hacked videos making their way to the internet illegally. Video creators and businesses not only need to protect their videos in production but also while distributing them online. There needs to be a secure technology to protect and manage your premium content during consumption. Digital Rights Management (DRM) technology is used to protect digital content. DRM technology helps control how users can access and use digital content. For example, DRM can restrict how much of a digital document can be printed or prevent users from copying or sharing digital content. As more and more devices enter the market, content owners, distributors, and consumers are looking for a level of control, security, and interoperability. This has prompted the development of DRM Platforms.
In the past, when piracy was rampant, businesses had to think of ways to counter the damage as much as possible. The need for a standardized DRM Platform is growing as digital entertainment expands. Consumers are looking for a consistent experience across devices, and the content industry is looking for a unified platform that enhances interoperability and provides a secure environment.
Importance of DRM
The importance of DRM lies in its ability to help content creators and distributors control how their digital content is used. DRM can help content creators and distributors protect their intellectual property and help them prevent unauthorized use of their content. In addition, DRM can help content creators and distributors to generate revenue from their digital content.
For example, in the case of a downloaded digital song or movie, you are often limited in what you can do with your purchase. Digital Rights Management ensures that you are prevented from doing things like copying the music, sharing it with others, or even playing it on all your devices. DRM is present in many other products as well. For example, if you buy a DRM hardware printer, the printer cannot be used with other computers and with other printers. The companies that develop DRM technology are constantly working on new ways to protect the content.
What is a DRM Platform
DRM platforms are important because they allow companies to protect their digital content from unauthorized access and use. DRM platforms provide a way for companies to control how their digital content is used and accessed and ensure that only authorized users can access and use it. They can also help companies track and manage their digital content and ensure that it is used according to their policies and procedures.
DRM platforms are an important enabler of digital entertainment. Platforms enable content owners to protect their valuable assets by applying DRM. The platforms also allow content owners to sell their assets in a controlled environment using a specific business model. In turn, consumers can be sure that the assets they buy will work on their devices without worrying about piracy.
Features of good DRM Platforms
There are many reasons why companies need DRM platforms. One reason is to protect their digital content from piracy. Another reason is to control how their digital content is used and distributed. DRM platforms allow companies to set rules and restrictions on how their digital content can be used. This will enable companies to control how their content is used and distributed and ensure that only authorized users can access and use their content.
Secure key storage and distribution model
Easy integration with your applications and websites
Support for multiple platforms
Multi-DRM
Secure Content Transmission
Flexible licensing model
Online updates
Scalable
Customizable and intuitive user interface
Customer support
How does a DRM Platform generally work?
There are basically three DRM components, encryption, license management, and a DRM-capable player.
Encryption – DRM technologies use encryption to protect the content before or during streaming, downloading, or other transfers. The encoder encrypts the files with media keys from one or more DRM providers.
License management – DRM platforms must manage the request and issuance of licenses. Some also incorporate domain controllers, managing multiple user devices that can play content under a single license, and metering servers that track usage data and total plays for royalty purposes.
DRM-capable player – DRM-compatible player communicates with the DRM platform and enforces all software or hardware-related playback restrictions. There is a quick shift from plugin-based DRM to browser-based DRM, where DRM must be integrated into the browser via Media Source Extensions (MSE) and Encrypted Media Extensions (EME).
A DRM workflow includes encoding, packaging, license server, and playback. Before a video stream starts, the video content is encrypted and packaged, often using multiple DRM schemes for multi-device compatibility. On the other hand, when a viewer attempts to playback that video stream, the player requests a license key from a license server. Now, the server determines whether the viewer and the playback device are authorized, which issues a license response with a decryption key. The video player plays the video stream for the viewer using the decryption key.
Importance of DRM platforms for OTT & E-Learning producers
DRM platforms are important for OTT & E-Learning content providers because they help to protect the content that is being streamed. By using a DRM platform, OTT & E-Learning content providers can ensure that only authorized users are able to access the content and that the content is not copied or redistributed without permission. This helps to prevent piracy and helps to ensure that video providers can continue to offer high-quality content to their subscribers.
Different content is distributed over the OTT platforms, such as movies, TV series, anime, original content, etc. The distribution of these audiovisual contents is subject to different copyright and related rights. The majority of OTT content is not encrypted.
Similarly, e-learning platforms require their content to be strictly distributed among only the authorized consumer. This can be easily handled with a DRM encryption layer provided by DRM platforms.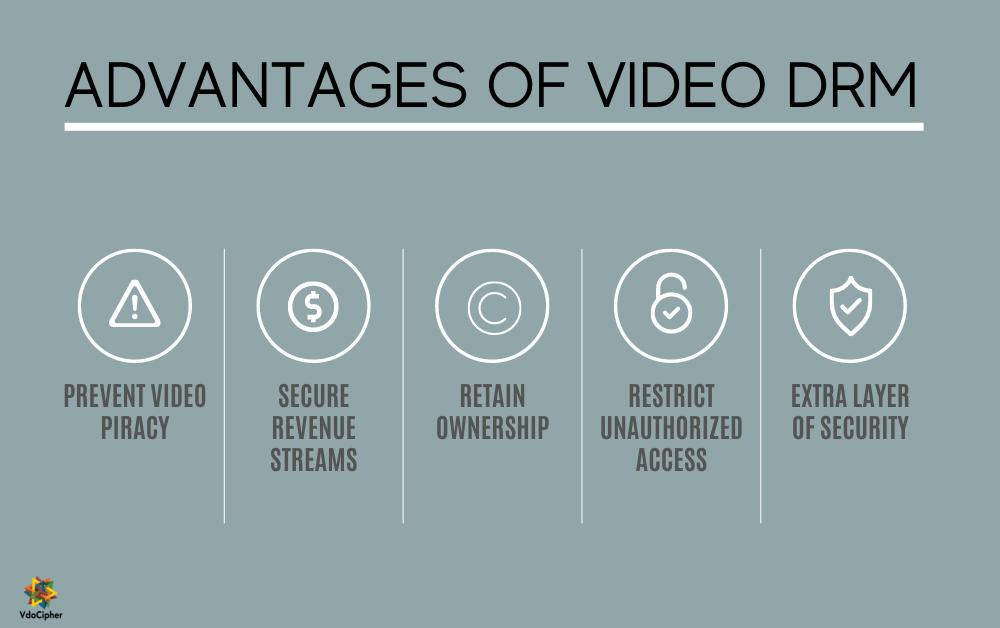 For audiovisual content, the big platforms that distribute and monetize this content are Netflix, Amazon, Apple, and Google. These platforms use or have developed their own DRM platforms and encryption systems to control and manage their content.
DRM Technologies
Widevine DRM
Google Widevine offers Hollywood-grade DRM technology with native support on a range of devices and browsers like Google Chrome Browser, Android, Chromecast, and more. Widevine delivers protected premium content at the highest possible quality to the most significant number of devices. It supports various encryption schemes and hardware security to restrict consumer access to distributed video content according to defined content owner's rules.
The Widevine DRM platform uses standards-based royalty-free solutions for encryption, adaptive streaming, transport, and player software. It also includes free, open-source content preparation tools and media playback, enabling openness and innovation at every level.
When a viewer sends a video stream request, the Widevine CDM receives the header request from the respective content provider. Next, the CDM utilizes the encryption method information to generate a license request to the Widevine DRM license server. The license server sends back the license containing the content keys. The CDM then uses these content keys for content decryption, following which the user watches the content.
Google Widevine Supported Encryption Schemes
Platform
cenc
cens
cbc1
cbcs

Android 4.4 – 6.x (including Android TV)

Y

–

–

–

Android 7.x and later (including Android TV)

Y

–

–

Y

Chromecast (Cast)

Y

–

Y

Y

Google Home

Y

–

–

–

Smart TV and Blu-ray players

Y

–

–

Y

Widevine iOS

Y

–

–

Y

Chrome browser (desktop) and ChromeOS

Y

–

–

Y

Chrome browser (mobile)

Y

–

–

Y

Mozilla Firefox

Y

–

–

Y

Opera

Y

–

–

Y

NexPlayer SDK

Y

–

–

Y
Apple FairPlay
Apple FairPlay is a digital rights management (DRM) technology developed by Apple Inc. It is built into the QuickTime multimedia software and used by the iPhone, iPod, iTunes, and Apple TV devices and applications. FairPlay allows iTunes and QuickTime to play protected AAC (Advanced Audio Coding) and MPEG-4 files downloaded from the iTunes Store and other sources.
Under FairPlay, AAC and MPEG-4 files are encrypted with a FairPlay-specific key. The key decrypts the file when these files play on an authorized device. It allows Apple to control how these files are used and prevent unauthorized copying. Fairplay involves setting up a Key Security Module (KSM) inside an existing key server infrastructure. Every time a content file is encrypted, a key is created and stored in a key database. FairPlay-protected content supports Safari on OS X, iPhones, iPads, and AppleTVs.
Online Learning Platform DRM
In the last two years, we have seen a huge shift toward online learning, whether courses, music, training, or sessions; everything is making a digital presence. Nearly 43% of the global Fortune 500 companies are already using online learning to train their employees. According to Harvard Business Review, higher education institutes will start implementing VR and AR learning tools in the future. With such a boom in online learning, high-definition video content has become the first component to deliver the best learning experience.
We have seen a rapid influx of course creators during the pandemic. Thinkific, for example, has reported an increase of 200% in the number of course creators on its platform. Creators are even building their own e-learning platforms or websites. It's true that creating an educational and informative video is a task, but often videos that are not free or have copyright attached to them are leaked and made available to the public for free. We all are pretty aware of video piracy. The video is illegally downloaded or shared on the web within seconds of video upload. It results in revenue loss for the creator or platform. The need to protect the videos and host them on a secure video hosting platform like VdoCipher is the foremost need.
DRM encumbered platform for Games and Movies
Similar to Online learning and social media platforms, the platforms serving playthrough videos and premium movie content are at high risk. Their content is unique and, if leaked, results in direct revenue loss. The licensed game plays, and big-budget movies thus need protection against illegal downloads and screen capture tactics. The only available solution for them is multi-DRM protection for their videos. Although DRM implementation is technically cumbersome, the presence of multi-DRM license partners of Google and Apple, like VdoCipher, makes it pretty easy. It makes the process of video delivery more smooth through CDN and advanced encoding. Also, managing the videos and player becomes as easy as clicking on uploading, player customization, and playback.
For Game Streaming platforms wanting to integrate the upload directly through the user, APIs and SDK support work like a charm. The user will have to take no extra steps for all the DRM encoding, multi-location storage, and delivery. Thus a DRM-encumbered solution like VdoCipher is necessary to deal with the cumbersome implementation of all these protection features.
Social Media DRM Platform Solution
When creating a social media platform, you would have already analyzed that videos are the greatest tools to gain reach. This is because of their engagement data compared to other digital assets like images and plain text. Among the videos, user-generated content performs the best. Although user-generated content comes under basic privacy policies of sharing with credit, it is not the case. If a user's content is covered under strict privacy policies of the platform it was submitted, then it is the platform's responsibility not to let it leak. This means that you need to prevent the video from illegal downloads and other screen capture mechanisms.
The best solution for tackling this problem is integrating Google Widevine and Apple Fairplay DRM encoding for your videos. Since DRM requires private licensing and technical integration, a DRM platform like VdoCipher comes as the most advanced and affordable choice. This mechanism will eventually create a fully protected social DRM platform as per your customized needs.
VdoCipher DRM Platform
VdoCipher offers secure video streaming solutions for media & education businesses to help serve premium content on their site and mobile app with Hollywood-grade security and functionalities. We are a first-party Widevine DRM License Partner with Google. Below are the major security features provided by VdoCipher to their customers.
Illegal Download Prevention and Screen Capture Blocking – This happens with the help of multi-DRM support. Being the License partner of Google and Apple, VdoCipher is capable of offering protection across all Android, Windows and Apple Devices and Browsers.
IP and Geo-based whitelisting and blacklisting with Widevine DRM – infinite customizability using JSON-based configuration. The CIDR configuration allows constraining specific ISP networks. The best part is nearly infinite nesting.
Quality constraints based on Device security Level – Our multi-platform DRM uses the maximum security features available on a device. For instance, Widevine DRM offers three security levels – L1, L2, and L3, with L1 devices having the highest security. You can specify device requirements as part of the DRM licensing.
Rental constraint for offline files – viewers are allowed to download an encrypted version of the video to their Android, iOS, or Chrome devices. By specifying a rental duration, it is possible to make the video expire at a certain time. Our Android SDK also allows managing downloads and playback of offline videos. Our Android SDK also allows managing downloads and playback of offline videos.
Session time restrictions – For sensitive content, our multi-DRM APIs allow configuring playback session duration during license generation.
Backend Licensing & Authentication – OTP-based backend authentication to secure videos from download plugins
DRM Encrypted Video Transfer – The entire video stream is encrypted using a non-public key with a hidden exchange mechanism via Google Widevine DRM & Apple Fairplay DRM for all platforms. For complete security, the content transfer is through one time URL instead of direct access to the video file. The video content is transferred in chunks for optimized streaming.
FAQs
How does DRM work?
DRM uses a variety of technologies to protect digital content, including watermarking, encryption, and authentication. When a user attempts to access protected content, the DRM system verifies the user's rights to access the content and then decrypts it.
What is OTP-based backend authentication?
OTP-based backend authentication is a system where users are authenticated using a one-time password (OTP) that is generated by an authentication server. This type of authentication is often used in conjunction with other forms of authentication, such as username and password or biometric authentication.
What is a Licensing Server?
The licensing server is the backend of the DRM setup. It creates, modifies, and revokes licenses of the content and users. License servers can be built in-house or be integrated with third parties.
What is a DRM License?
A DRM license is a set of encryption and usage rules created by content creators to prevent the unauthorized and illegal distribution of their digital work.
Supercharge Your Business with Videos
At VdoCipher we maintain the strongest content protection for videos. We also work extremely hard to deliver the best viewer experience. We'd love to hear from you, and help boost your video streaming business.
Free 30-day trial →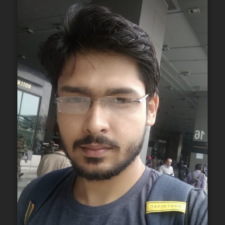 My expertise focuses on DRM encryption, CDN technologies, and streamlining marketing campaigns to drive engagement and growth. At VdoCipher, I've significantly enhanced digital experiences and contributed to in-depth technical discussions in the eLearning, Media, and Security sectors, showcasing a commitment to innovation and excellence in the digital landscape.