The Washington Post was acquired in 2013 by Amazon's Founder and Chief Executive Officer Jeff Bezos, at a time when the news industry had been seeing considerable decline in their revenues from print subscription. This trend is largely due to an increasing number of people getting their news from the internet. The key challenge for WaPo in the Jeff Bezos era ahead is to execute a content strategy that maximizes their digital presence. Part of their strategy is using video in content marketing efforts.

The Washington Post since 2013 has started to aims towards expanding readership and subscription to their digital content. This is expected to offset loss of revenues from declining print subscriptions and advertising revenues. At the moment they are experimenting with various content strategies. The target is to attract newer viewers from across the globe, while retaining the quality of their journalism that have seen their staff win 47 Pulitzer Prizes. A key aspect of surviving in the digital landscape is to maintain focus on video as a central tool for journalistic coverage. In this blog I explore how video is emerging as a key component of the Washington Post's content strategy.
Video in Content Marketing Strategy
Currently, Washington Post's mix of video content stands at 40% original content and 60% aggregated content. The company's near term target is to flip this statistic to 65% of their own original content to 35% sourced from other agencies.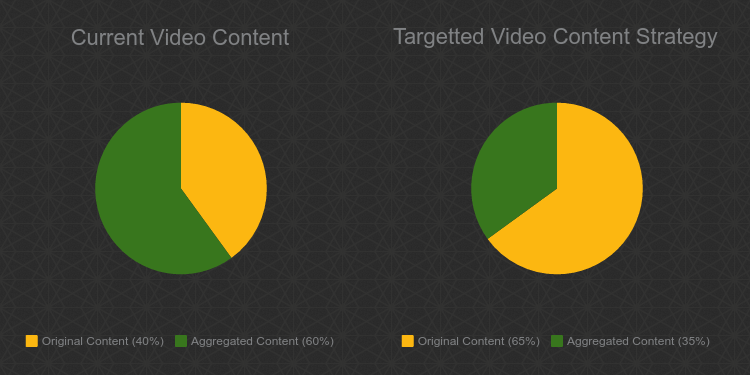 The company currently has 40 people on their video staff, of which 32 are regularly involved in shooting and producing content. To expand their video offering, the company posted 30 new jobs to their video department. The objective of their video strategy is two-fold:
To chalk out videos that are complementary to their content strategy
To create videos that gain prominence on social media channels.
To get a glimpse of how Washington Post is rolling out its video strategy, I checked out the page of their video section. The main video on the page was a video report of the Oroville dam spillway, which at the time was in the risk of a massive collapse. A visual report in such a scenario adds considerable more value to the message, unlike the case of press briefings for which value addition by video over text is much less important.
This current video strategy of Washington Post is to:
Complement News Story – Roll out video content that complements the news story, increasing site engagement of visitors
To gain new viewers – Video has the potential to engage newer viewers much more easily. Increasing the number of casual visitors directly leads to an increase in their potential subscription figures.
Emerge as a Video destination – WaPo's investment in video means that they no longer wish to be considered just a newspaper with a video section, but rather a video destination in their own right. Making video a central part of their content strategy requires that they leverage various forms of video delivery solutions – this includes social media and Over the Top video.
Leveraging different media – Facebook, YouTube and OTT
WaPo recognize that it is much easier to monetize videos that are on their own website. However, in order to attract new viewers they need to position themselves on social media, mainly Facebook, and video aggregator YouTube.
Facebook is emerging as an important player in the video segment. WaPo's strategy for promoting video for Content Marketing for Facebook and YouTube is different, because of the different nature of the two technology platforms. Facebook users are much more passive, and are on that site for diverse and an unspecified range of content. For this reason content on Facebook has to be designed to be inherently able to appeal to new users, and to be inherently able to become viral. Besides content on Facebook should make minimal requirements on the viewer's attention span. On the other hand users are on YouTube exclusively to watch video, which affords the company an opportunity to show longer videos that require greater attention span, and a greater engagement with their content. In the meantime, you can focus on other promotional strategies such as hiring an eCommerce PPC agency or using the help of a branding company.
Washington Post's Over The Top (OTT) strategy is to promote themselves as a video destination on OTT services such as Apple TV, Roku and Fire TV. For OTT content the newspaper has hired video personalities, who will be producing longer and more scripted videos with studio quality production values.
Long Term Strategy at Washington Post – Jeff Bezos era
Jeff Bezos has a brought a long-term planning outlook at Washington Post. The desired result is to make WaPo bigger and more profitable, at the same time. Before his acquisition the newspaper had remained profitable amid declining subscriptions and revenue only by decreasing the size of their newsroom. Bezos has given the company considerable leeway to experiment with different strategies in the hope of coming up finally with a winning strategy, to emerge as a key destination in the digital landscape.
Preliminary metrics look promising. The Post beat New York Times in unique visitors in October 2015 – their 66.9 million unique visitors beating the 65.8 million for The Times. They also beat the popular content aggregator Buzzfeed in February 2016 in number of page views – their 890.1 million page views beating both the Times(721.3 million) and Buzzfeed (884 million). To monetize their content the company is offering discounted subscriptions to Amazon Prime subscribers. Their digital subscription membership is also considerably cheaper as compared to The New York Times, reflecting a strategy to gain a lot of subscribers at lower per person subscription prices, with volume making up for lower per unit price. This is just one of the many experiments that the company is carrying out at the moment.
References:
Jan Ozer, The Washington Post is focused on video. Here's Why, Digital Content Next
Brian Stelter, Washington Post launches major expansion of video team, CNNMoney
Shan Wang, In Revamping its Video Strategy, The Washington Post steers clear of imitating TV, NiemanLab
Dan Kennedy, The Bezos Effect, Shorenstein Center on Media, Politics and Public Policy
Supercharge Your Business with Videos
At VdoCipher we maintain the strongest content protection for videos. We also work extremely hard to deliver the best viewer experience. We'd love to hear from you, and help boost your video streaming business.
Free 30-day trial →