Earlier, businesses and organizations archived data and files on storage area networks (SANs) internally built and maintained. However, with the increase in data storage, this model became expensive as it required additional servers and other infrastructures to meet the storage needs. In addition, computers, hard drives and other physical storage can only store a limited amount of data. Also, video resolutions going higher is proportionately making their size and storage bulky and demanding. There was not only a need for more storage but also the fastest availability through the nearest location. The solution to these needs is obviously Video Cloud Storage.
Organizations opting for cloud storage eliminate the need for investing in in-house storage infrastructures. Storing videos on the cloud provides the flexibility of scaling the storage capacity when the data volume changes. Organizations pay exactly for the capacity they use as a service, and there are no worries of any unanticipated increase in the data volume.
What is Video Cloud Storage or Online Video Storage
Video cloud storage services allow storing data and video files on a remote storage system. Securely stored, the data gets managed, backed up, and made accessible via public internet or dedicated private network connection. The cloud storage provider manages the servers and other storage infrastructures to ensure the data is always accessible. Generally, the users pay for the cloud data storage on a per-per-usage basis at a monthly rate. Therefore, cloud storage is a scalable and cost-effective alternative for storing data on a local or on-premise storage network.
Video Cloud storage service providers have large data centres located at multiple locations where the data is securely stored on massive computer servers. Users can remotely upload, store and retrieve the data whenever required. As the data gets stored on servers, it can get easily accessed via a web interface. The chain of servers ensures data availability. When one server is under maintenance or fails to connect, the data is replicated on other servers to facilitate accessibility.
Cloud storage supports multiple file formats and sizes, including documents, videos, music, photos, movies, important files and more. After the files get uploaded on the cloud, you can easily sync and access them over a tablet, smartphone or other devices on the go. All you need is an internet connection and simple login to upload and download the stored data files anywhere in the world.
The data and files stored on the cloud are secure with encryption keys and strong password combinations. Cloud storage services also give the feature to restore accidentally deleted files or folders. Your data is securely stored in an online location with the ease of upload and download for a nominal storage fee.
Types of Video Cloud Storage
Different businesses and individuals have varying data and file storage requirements. For instance, banks and retail companies need secure and private data processing and storage. On the other hand, e-learning platforms will need to store large video files of courses and tutorials. Thus, there are types of cloud storage catering to different storage requirements.
Public Cloud Storage: A cloud service provider offering services over the internet operate public cloud storage. The services are available remotely to anyone. The public storage can be either free or paid based on the storage, CPU usage, bandwidth consumed and more. The provider makes the services accessible through self-service portals, apps, smartphones or desktops. The shared cloud storage model offers flexibility, scalability, performance, security, storage cost reduction, universal accessibility and much more. Examples include Amazon Web Services, Google Cloud Platform, Microsoft Azure.
Private Cloud Storage: The cloud computing services setup resides within an organization's own network or data centre in private cloud storage. The cloud storage infrastructure and services are privately hosted, managed by internal resources and not accessible by outsiders. Private cloud storage is also known as enterprise clouds. Private cloud storage services are provided using a public cloud provider's infrastructure (virtual private cloud). The other types of private cloud storage are managed private cloud, hosted private cloud and on-premise private cloud.
Hybrid Cloud Storage: Hybrid cloud storage model manages data storage using both on-premise and public cloud resources. As public cloud storage cannot solve all the storage problems, the hybrid cloud model is evolving to combine the capabilities of both cloud architectures. Frequent changing workloads, data backup processes and disaster recovery planning are the most seen hybrid cloud scenarios. Hybrid cloud storage benefits businesses by offering high security, scalability, and cost-effectiveness as some resources move to the pay-per-usage model.
Advantages & Benefits of Video Cloud Storage
1. Accessibility
As the data gets backed up on the cloud, it becomes easily accessible from anywhere in the world. Storing videos on the cloud replaces the need of using physical storage devices as everything is online. All you need is a login credential and internet connection to access all your stored data and files. In addition, most of the video cloud providers store multiple versions of the data files, which significantly helps in disaster recovery. Backing up the resources on the cloud makes your data safe and easily accessible.
2. Cost-efficient
Opting for a cloud-hosted storage space reduces the expenses of buying and maintaining the internal storage resources. An organization itself does not need heavy inventory to store a high volume of video data files. Some cloud vendors offer flexible plans for a lifetime at a reasonable price, and at the same time, there is flexibility to scale the storage up and down.
3. Convenient file sharing
Cloud storage service platforms have a file-sharing feature to help share files with other users. The 'Share' option makes the files shareable with others, and you may invite others to view your data files. Mostly, the share option comes in a shareable link format that gets pasted anywhere you want. As per the granted permissions, the recipient can download or view it. There are also cloud storage services that offer cross-platform file sharing functionality.
4. Remote file synchronization
Files stored in a computer or cloud need frequent updates. Cloud files are remotely updated, and the file looks the same on every device accessing it. There is no need of copying data from one to another device. Instead, cloud storage providers give a cloud app to download called a 'sync client' to synchronize the files. The sync client on a device will instantly sync the files, removing any need for manual uploads or downloads.
5. Easily scalable
Cloud storage is highway flexible and scalable. In addition, most cloud providers offer a Pay-as-you-use model, which means you can easily increase the storage space when needed.
6. Security and File Encryption
Data safety is a primary concern for businesses when choosing a cloud storage partner. Cloud storages save the data across redundant servers, and even when a server collapses, the entire data gets safely managed by other servers. So the only case when the data is lost is when all the data centres of the servers collapse. This is nearly impossible as there are thousands of data centres. Most of the cloud services offer file encryption. The files are saved in an unreadable format and accessible only via the encryption key.
7. Disaster recovery
Cloud storage is a leading method to deal with the loss of data problem. Your data copies are stored on the cloud to ensure data safety in cases of system failure or cyberattacks. In case of data loss, cloud customers can easily retrieve the backup data from the cloud. Most cloud storage providers allow automated data backup and storage at different servers.
8. Makes remote working easy
The demand for cloud storage has increased many folds in recent years. With the world adopting remote or hybrid working models, cloud technology requirement comes in the first place. All the cloud files are accessible from anywhere, and you can pick up your work from where you left last time. Thus, it becomes manageable to work remotely on your files. Multiple users can collaborate on the same cloud file. The file owner has the right to grant access permissions to view or edit the files.
Methods to Upload Videos on Cloud Storage
Broadly, there are three ways to store videos on the cloud:
The videos are directly uploaded via UI or API and streamed on a specific cloud platform like YouTube. These videos are also re-usable on websites and other platforms supporting video embeds. Since mainly they are used for streaming on a specific cloud platform, they contain platform branding. When uploaded on another website, do accessibility testing to ensure your video can be seen without technical issues.
The videos get uploaded via UI or API to some storage data center like Amazon S3 or Google Cloud Storage. These video links are re-usable on websites and other platforms supporting video embeds. They do not contain any kind of branding and are fully customizable.
The videos are uploaded/imported via UI or API on feature specific video cloud storage providers like VdoCipher, Dropbox, Vimeo, OneDrive, etc. These features can be security from piracy, personal app access, custom video player and many more. Platforms like VdoCipher also allows you to import your videos from other websites like Google Drive, Vimeo, Dropbox, AWS S3 or even from a URL. These video links are re-usable on websites and other platforms supporting video embeds. They are customizable to contain your private branding too.
Best Video Cloud Storage Providers
VdoCipher – Most Secure Video Cloud Storage
Secure video hosting solution, Vdocipher offers AWS powered server, CDN and transcoding infrastructure across 6 continents. You can upload the data from anywhere, be it server, desktop, dropbox or drive. Vdocipher dashboard or API automates the whole video upload/import process. Vdocipher eases the process of securing premium videos from authorized access by DRM encryption. The free trial includes 5 GB bandwidth for one month with a limit of 4 videos. Based on your bandwidth consumption, storage plan pricing varies. The 'Starter' plan offers 50 GB storage at $129/year. There are even 'Enterprise' plans for higher storage and bandwidth requirement.
Amazon S3
Amazon Simple Storage Service is an object-based cloud storage service which means you can store any file type in S3. Its bucket acts as end storage of a virtual Infrastructure-as-a-Service (IaaS) solution housed in the AWS cloud. S3 automatically creates copies of all the uploaded objects and store them in at least three availability zones. It has functionalities like versioning of files, encryption, uploading, or downloading content with a console panel. S3 offers different storage options, namely, Glacier, Standard, intelligent tiering, one-zone IA. With pay-as-you-go pricing, the plans begin with $0.023 per GB for the First 50 TB / Month. New AWS customers receive 5 GB of S3 storage (Standard) and 15 GB of data transfer per month for one year.
Google Cloud Storage
Google Cloud Storage stores objects (files of any format) in Google Cloud. A bucket container stores the objects. All buckets relate to a project and projects group under an organization. For example, you might create a bucket of videos and a separate photos bucket. There are various ways to connect with Google Cloud Storage. The Google Cloud Console provides a visual interface to manage data on a browser while the 'gsutil' tool interacts through a terminal. The Cloud Storage client libraries manage data in various languages, ava, Node.js, PHP, Python, C++, C#. Through data encryption, authentication, bucket lock, object versioning and IAM, the data gets secured. Cloud storage pricing depends on the data storage, network usage and operations performed. New customers get $300 in free credit for 3 months.
Microsoft OneDrive
OneDrive is Microsoft's native cloud storage service having deep integration with Windows 10 and Microsoft 365. OneDrive has the rich photo and video editing tools seamlessly integrated with Microsoft Office. Having online storage accessible from the web, OneDrive maintains the original video quality and does not compress the videos while uploading. In addition, OneDrive offers automatic backup, real-time syncing, ransomware detection, image tagging and a personal vault to store the files securely. OneDrive Standalone charges $1.99 per month for 100 GB storage space. The basic free plan includes 5GB of storage. Also, other business plans for Microsoft 365 and OneDrive offer storage up to 6 TB.
Dropbox
Cloud storage and syncing service Dropbox offers a central hub for online file storage, syncing and sharing. Dropbox account is accessible with desktop apps on MAC and Windows, mobile apps, and web browsers. Dropbox comes with unique tools like Paper, Showcase, and HelloSign digital signature. Mainly useful functionality is 'Smart Sync', to choose which files you would like to sync on the hard drive. The unselected files remain on the cloud, thus saving the disk space. In addition, Dropbox offers security tools like two-factor authentication and 256-bit AES encryption. The free plan has 2 GB storage space, and pricing and the number of users increase with Professional, Standard and Advanced plans.
Azure Blob Storage
Microsoft's Azure Blob Storage stores unstructured data, including documents, videos, pictures, backups and more. Blob stands for Binary Large Object. The unstructured data does not need to follow any particular data model. Azure Blob Storage caters to general storage purposes like storing data for backup and video files for distributed access. A block is a single Blob unit. The files known as Blobs get stored in blob containers, having similarities to directories in a file system, linking to the storage account. There cannot be more than 50,000 blocks per Blob, with each block size between 64kb-100MB. Blob can split into 50,000 blocks to upload to Azure Blobs storage, thus easing bulk file uploading. The pricing depends on data volume stored per month, type of operations performed and selected data redundancy option.
Apple iCloud Drive
Apple's iCloud Drive works natively across Apple devices, Mac, iPhone, iPad and even Windows PC using an application. iCloud serves both storage and backup purpose, keeping all files and folders up-to-date. iCloud stores high fidelity images and videos and keeps the video quality intact. To all users, iCloud offers 5 GB of free storage. To get more storage and premium features, one can upgrade to iCloud+. Subscribers receive more storage for photos, backups and additional features. 50 GB storage costs $0.99, 299GB for $2.99 and 2TB for $9.99.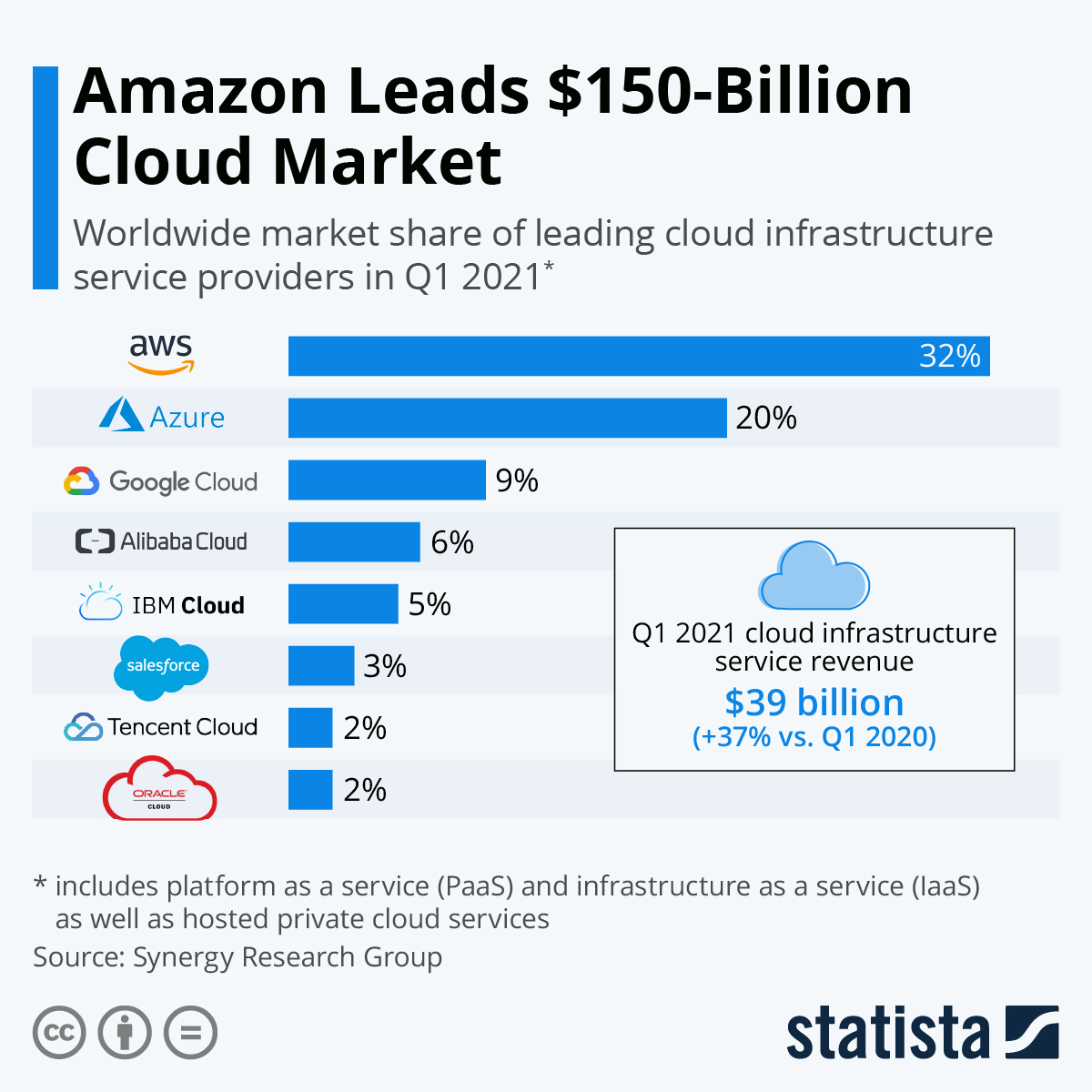 FAQs:
What is an S3 bucket?
One needs to create an S3 bucket in one of the AWS regions to upload data files. A bucket can contain any number of objects. An S3 bucket name is unique and cannot be used by another AWS account until the bucket gets deleted.
What are the three types of cloud data storage formats?
The three types of cloud data storage formats are file storage, object storage, and block storage.
File Storage: Files inside a folder store the data. Folders arrange into directories and subdirectories.
Object Storage: Data gets stored in discrete units called objects and given a unique identifier, key and optional metadata.
Block Storage: the data is broken into discrete pieces called objects and physically distributed across multiple environments.
What is the maximum size of the Google Cloud Storage Object?
5 Terabytes (TB).
What is the difference between multi-cloud and hybrid cloud storage?
A multi-cloud environment utilizes multiple cloud storage services. For example, one may host exchange servers on Microsoft Azure and web front-end on AWS. On the other hand, Hybrid cloud storage involves private cloud infrastructure in conjunction with public cloud services.
Supercharge Your Business with Videos
At VdoCipher we maintain the strongest content protection for videos. We also work extremely hard to deliver the best viewer experience. We'd love to hear from you, and help boost your video streaming business.
Free 30-day trial →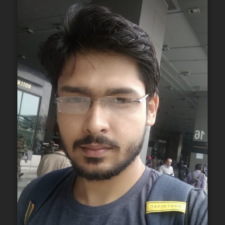 I love exploring the nexus between tech, marketing, culture, space, and politics by lying awake at night pondering over the myriad facets of life. In my spare time, I enjoy watching nature documentaries, sci-fi and drama series.