The number of online video platforms keeps rising every single day. Now that the whole world is forced to stay in their homes; people are consuming more content online than they were ever before. Be it entertainment or education, there are several video platforms catering to these needs.
The ones being successful the most are the ones focusing on their audience. Be it good content or even a good user experience. After all great content won't amount to anything if the user can't access the content seamlessly. This is why several video platforms opt for third-party solutions to take care of their video infrastructure. So that they can do what they are best at, creating and monetising content! Just because you don't have a dedicated tech team, doesn't mean that you should lag behind your bigger competitor.
But choosing the right online video platform that caters to your needs can be quite confusing. This is why in this blog I'd be exploring online video platforms in much detail.
I'll go on to explore what exactly an online video platform is and what problem it really solves.

What features should you look for in online video platforms?

And then lastly I'll go over all the major platforms you should look out for.

And what are the pros and cons of using that platform? 
So, let's start by answering a simple question!
What Is An Online Video Platform?
Online video platforms are basically a platform that allows you to upload and share your content online with your audience. It takes care of all the infrastructure that is required to stream your videos online. This infrastructure includes stuff like video hosting,  video player, Embedding in your website and apps,  and other features such as CDN for smooth content delivery, APIs for managing your videos  and in some cases video protection.
These platforms make your life easier, by allowing you to focus on content, while they work on the technical aspect of video playback. If you are a small to medium business, chances are that you wouldn't have a team dedicated to developing your own infrastructure. A lot of time and effort goes into building one from scratch, and even more, the effort is required to maintain one to work smoothly. 
Online video platforms enable you to easily manage your videos. You can upload several videos through the APIs. The platforms take care of transcoding your videos to all the relevant formats in accordance with the different browsers, also the different quality of videos, so that users get seamless access to the content regardless of their network. Also, with a customizable player, you can change it to look however you want. 
How using a free platform like youtube can be hurting your business?
Everybody knows about YouTube, this is the first go-to platform when it comes to consuming video content. A lot of YouTubers end up generating enough revenue from it. At times several businesses also use it for hosting your videos. 
But, If you're looking to generate revenue from your videos. It might be not the best platform for you. I'll cover this in detail:
Video Security is not that great
Videos hosted on YouTube aren't exactly secure. Even if you kept them private they can easily be downloaded by using a tool.
Youtube brand is always on the  Player
The HTML5 video player that YouTube provides isn't exactly customizable. You'd have to compromise your branding part with it. 
Ads and Suggestions Might Distract Users. 
Youtube videos tend to have ads, and this can be really distracting as a user. Especially when you've paid for premium content.
At the end of a video, the player often shows different suggestions for videos. Users often tend to click it. Next thing you know that your user has left your video/website altogether. 
Why would you need a professional online video platform?
Now, coming on to the real question, why would you need a professional video platform over a free one. In the previous section, I've already mentioned how using a platform like Youtube can hurt you. Here I'll further explain how private video hosting can solve the problems
There are several reasons, why opting for an online video platform, can boost user experience and restrict any unauthorized use of your videos. These are:
Much better DRM based video protection to secure your content

Improved Customization of video players and all the related features.

With user insights, you can track every user and see how they consume content.

You can choose a monetization model based on your requirements. Be it SVOD, TVOD, AVOD

Better Website/App engagement as your users won't be distracted by any ads or suggestions.

Can help you boost your revenue, by protecting piracy, using CTA to drive user actions.
Now that we've covered all the basics, let's move on to our main agenda. At present, there are several blogs that'll come up when you google 'online video platform'. 
"With so many blogs, pitching something different, it can get quite confusing what to choose. This is why I signed up to all these platforms, used them for about a week or so. I have explored all these platforms myself extensively, to figure out what their major features are. Also, what are the pros and cons of using these platforms? "
Top Online Video Platform Comparison based on Trials
Here are some of the best online video platforms available right now. Disclaimer – The analyses of all platforms are based on free trial, the available public documentation, and the feature list. 
VdoCipher

Wistia

Panopto

Brightcove

Vimeo

Dailymotion
VdoCipher
VdoCipher helps e-learning and media platforms to play videos on their website/app in the most secure and smooth manner. VdoCipher video platform has a focus on the protection of revenues against video piracy. A combination of Hollywood standard DRM encryption (Digital Rights Management), screen capture blocking in mobile apps, viewer-specific dynamic watermarking and domain restriction feature ensures that videos can't be downloaded or shared illegally from their video platform.
Platform owners can use VdoCipher on their own website or app by embedding VdoCipher hosted videos. The complete packaged offering includes Global CDN server hosting,  Smart video player, Analytics, Dashboard, and APIs to manage videos.
Uploading & Embedding
1. Upload from computer. Import from Drive/Dropbox/Server/FTP/Video URL/Vimeo.
2. Embed module showing various integration options. (Iframe, WordPress/Moodle Plugin, API, SDK). Docs & Tutorials included for each method
3. Folder & tags for bulk video management.
4. Change video thumbnail, add multi-lingual subtitles, check video formats & sizes.
5. Multi-user access to dashboard with restrictions.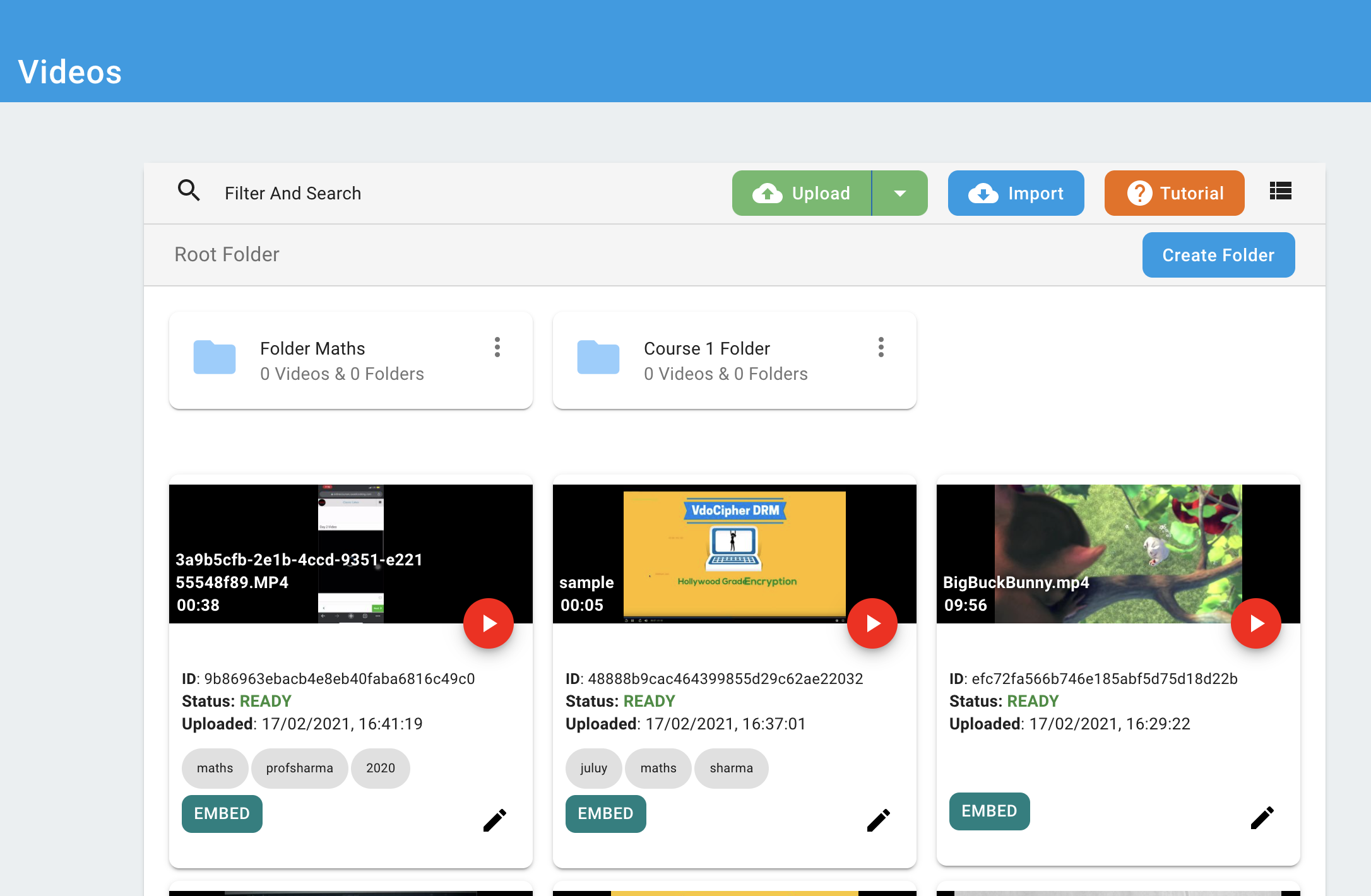 Video Security/Video DRM
This is the unique differentiator of VdoCipher.
1. They have Google Widevine DRM integration for desktop/laptops and android, and optional Fairplay DRM integration for paid accounts. These are same DRM encryption technologies that are used by large Video platforms like Netflix, Hotstar etc.
2. They have user-based dynamic watermark to discourage screen capture in website and option to totally block screen capture in mobile apps.
3. Other key security features include domain restriction, geo-restriction (based on country) and API authentication.
Video Player
1. Html5 adaptive multi-quality playback (switches quality as per internet speed of viewer, user can also choose). Responsive in size.
2. Speed change, Forward/rewind 15 sec, Multi-lingual subtitles.
3. Option to remove any controls from player (e.g no speed change).
4. Option to add buttons/forms/quizzes/CTAs with player APIs.  (but not directly via drag and drop on dashboard)
5. Offline player option for android app integration.
More on VdoCipher player

Video Analytics
VdoCipher provide basic video analytics comprising –
1. Bandwidth, Storage consumed on daily basis. Bandwidth/Storage per video data.
2. No. of views, watch % of any video or cumulative of all videos across any date range.
3. Popular browser/device/countries distribution.
Thus, the analytics provides all the main required functionalities but is not as detailed as someone like Wistia who specializes in Analytics features.
(Image from VdoCipher analytics dashboard for a sample client)
Wistia 

Wistia has a focus on video marketing. Their online video platform makes it easy to engage with their audience. It is a popular platform, widely used by brands to promote and host their marketing videos. 
You can use their platform to deliver high-quality video playback. Their player is pretty customizable. You can upload your logo, customize controls and change the overall look of your player to match your brand. On top of it you get access to their interactive video tool, which you can use to drive customer engagement, using CTA, quizzes etc.
Uploading and Embedding:
The process from signing up to uploading the video is pretty smooth and intuitive. All you need to do is click on the create button and it takes you to the project where you can easily upload the video. 
The embedding process is pretty simple too. It automatically generates an embed code, which you can just copy and paste easily on your page and your video should be good to go. In terms of options, you get to adjust the video size, you can even make it responsive if your users are on different devices. You can also choose the embed type, by default it is Javascript embed code but you can even choose iframe embed code as well.
You also get to embed your video in a different way, one is inline which is when a video plays in it's container. With popup, the video comes out. You can even generate email campaign links which you can add on email. Plus you can publish it to social and create a share link as well.

Video Privacy/Security:
In terms of the privacy setting, you can make the video private and choose to select which users to give access to and what amount of access you want to give. But Wistia doesn't have any encryption, dynamic authentication, and watermarking feature; making it prone to video download piracy. thus Wistia videos are easily downloadable.
Video Player:
You also get the option to customize your video player. You can change the appearance of the player. You can choose to make the player according to the theme. You also get basic features like adding a thumbnail, adding transcripts. Control how the video plays, as in you can choose if it autoplay or you want to put it in a loop. You can also add CTA in order to drive a customer action or even add annotation links.

Video Analytics
In terms of video analytics, it gives you data on what is the average engagement rate, total playtime, and also it gives you a heatmap for the video. Wistia is a good platform considering detailed analytics and is a recommended choice for marketers. 
Panopto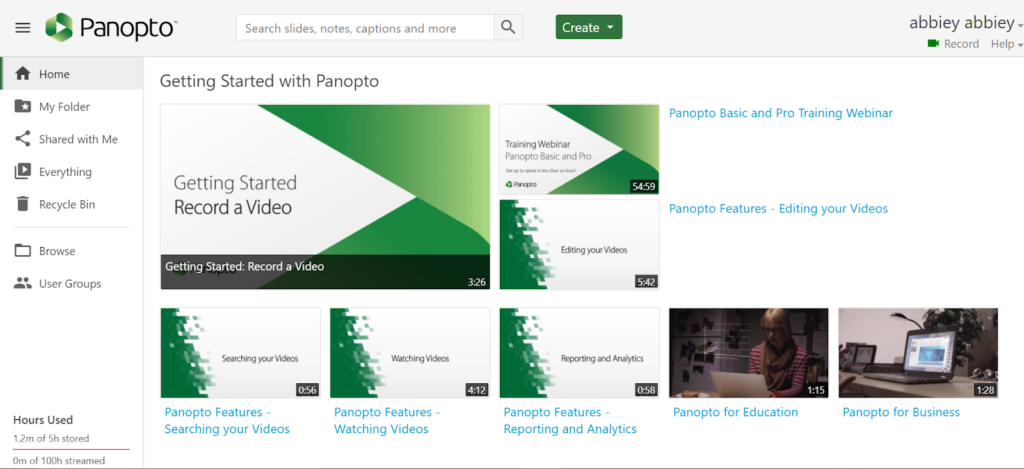 Panopto is an online video platform with a focus on elearning businesses and universities. Their platform is being widely used by businesses to share internal videos with their team to capture demos, training, and presentation. Universities use Panopto for capturing lectures and managing their videos. 
Video Uploading and Embedding: 
The effort to upload your first video was minimal. You can easily upload the video and create embed for videos. One downside in embedding videos was that it only gave the option of an iframe embed. The iframe is not widely supported in all browsers and is not exactly SEO-friendly. 
Video Player: 
I didn't find many options to customize the player. All you can do while embedding a video is to change the aspect ratio and change it's width.
Other features:
You can cut the video online on their platform in order to make some last-minute changes. A couple of cool features that you can add are adding slides and quizzes. Which can be pretty great for an online learning platform. As it'll give them more ways to interact with the audience and keep them engaged.

Analytics:
You also get access to analytics, where you can view data such as views and downloads and engagement with the user. Also, for a video you can see how many minutes of video has been delivered, percentage of video completed for every single viewer.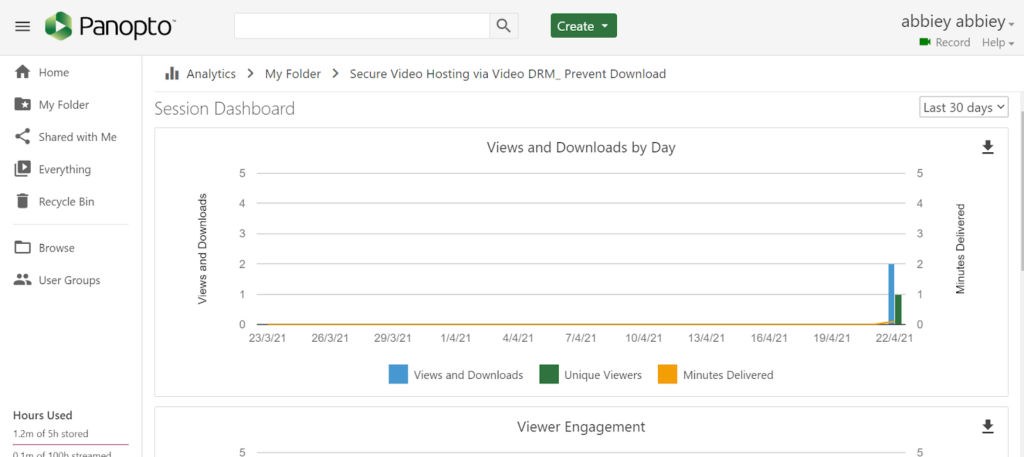 Security:
Security features were not clear during the trial, but I explored the documentation and website pages; I did not find option for DRM (Google Widevine DRM encryption and Apple Fairplay DRM encryption). 
Brightcove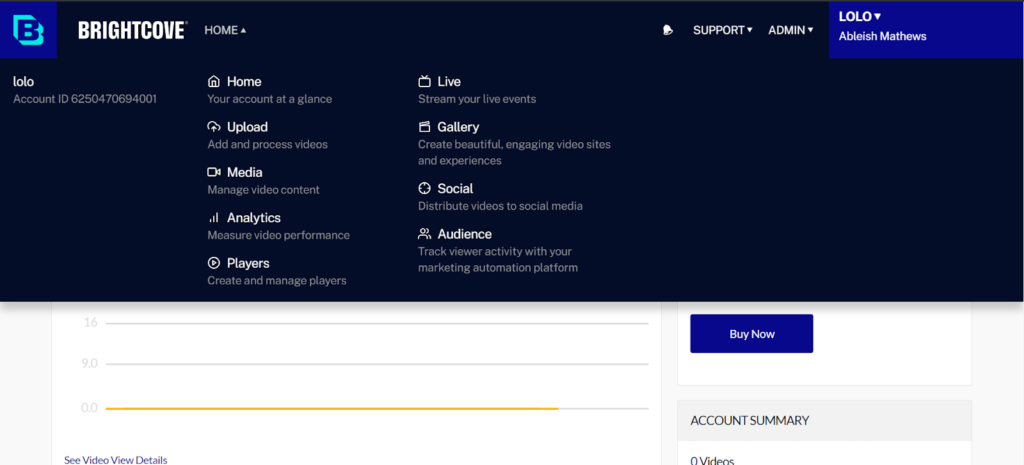 Brightcove is an online video platform with its major audience being large enterprises. Their video cloud allows them to create and monetize their user's experience. 
Video Uploading and Embedding:
While uploading your videos on the platform you get the option of choosing the number of renditions of video. Usually, every platform has to do this, as different browser engines support different video formats with the option to create 6-8 different renditions. 
For embedding the video, you get three options-publish videos to the web, email landing page, and social media. You can get the embed code both in the form of an iframe as well as javascript embed code.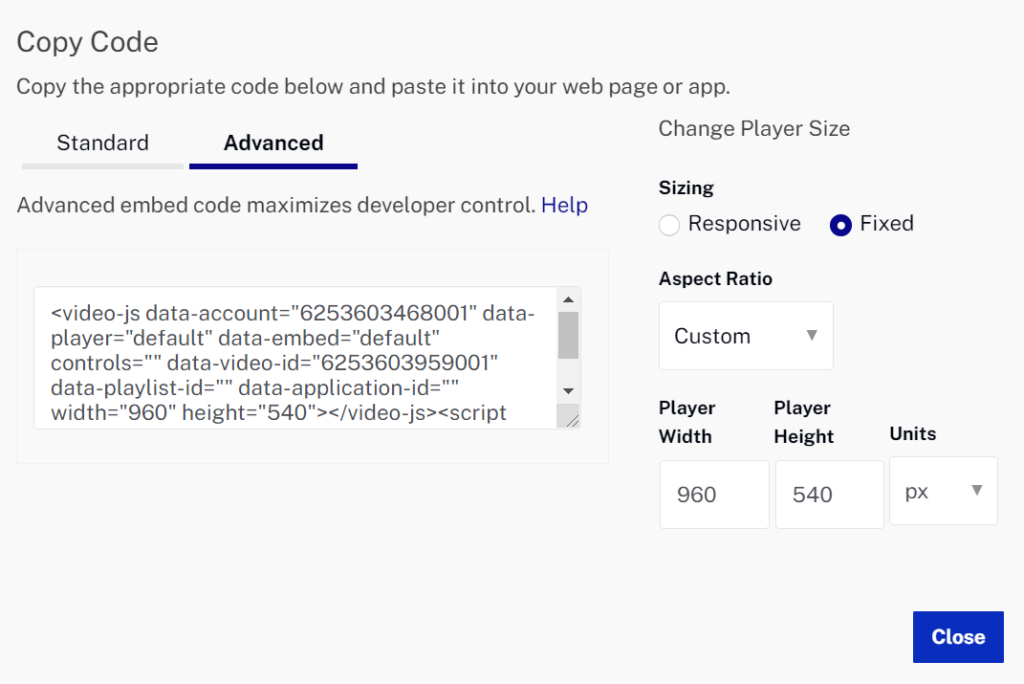 Video Player customization in the trial: 
In terms of online video player customization, you don't get many options. You can just play around with the aspect ratio and the width and height of the player. Brightcove also gives an option to create your own player.
Live Streaming:
You can stream live events using Brightcove.  Brightcove Live offers a simple, intuitive user interface to help optimize your live stream workflow with the ability to clip live streams to on-demand assets, publish clips to social channels, and use server-side ad insertion, static entry points, encoder flexibility.
Video Analytics: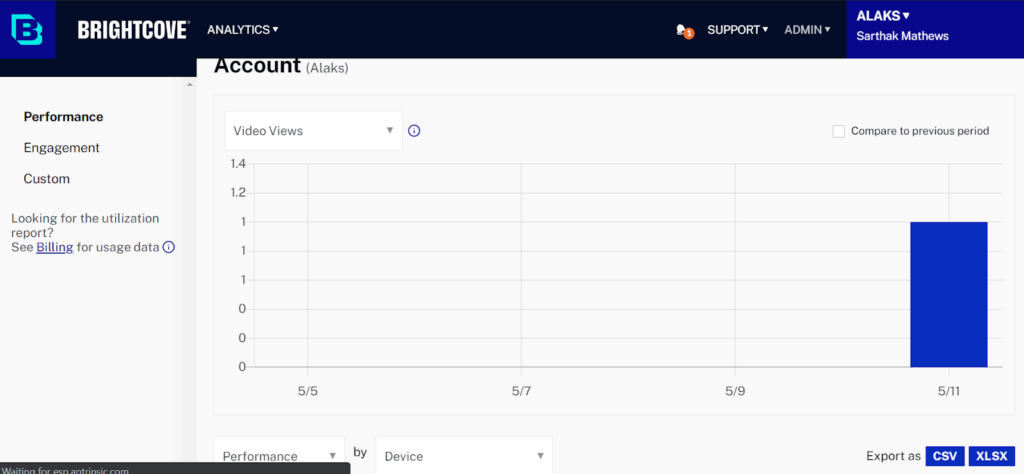 Brightcove also provides analytics. You can track who is viewing your content, what devices, browser and OS is your video being viewed. Also how long a video is being viewed and the source of users. 
You can analyze player loads, views, viewed minutes, percent of content viewed, new viewers, unique viewers, attention span, top domains, geography, traffic sources, search terms,
Security:
Brightcove offers DRM encryption via partners and is not a default part of the product. Also, it doesn't seem to provide the user-based watermarking feature. 
Vimeo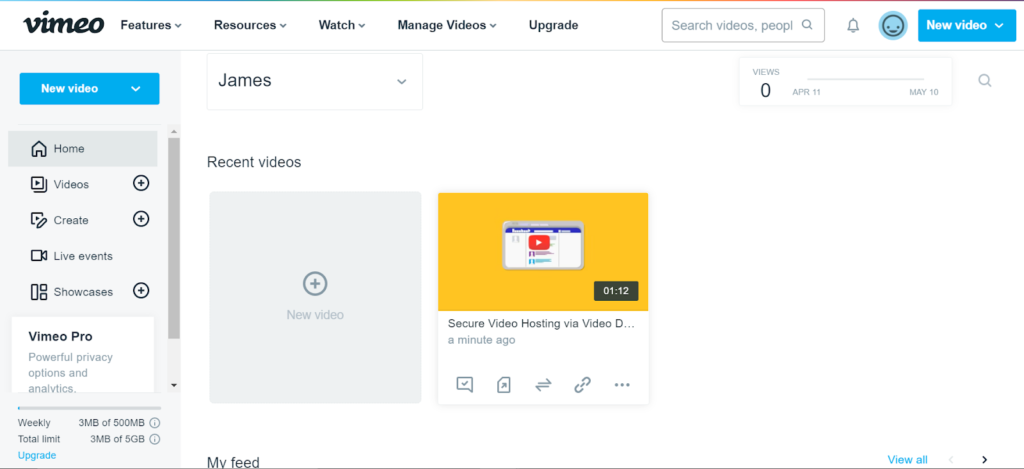 Vimeo is one of the most popular video hosting solutions with a focus on professionals. Vimeo is widely used by organizations for video marketing, sharing videos internally, and also to monetize video content.
Video Upload and Embedding:
Video uploading is very simple and the transcoding doesn't take too much time. For embedding you only get the iframe bases embed code, with two options in it being to whether make it responsive or fixed. 
Player customization: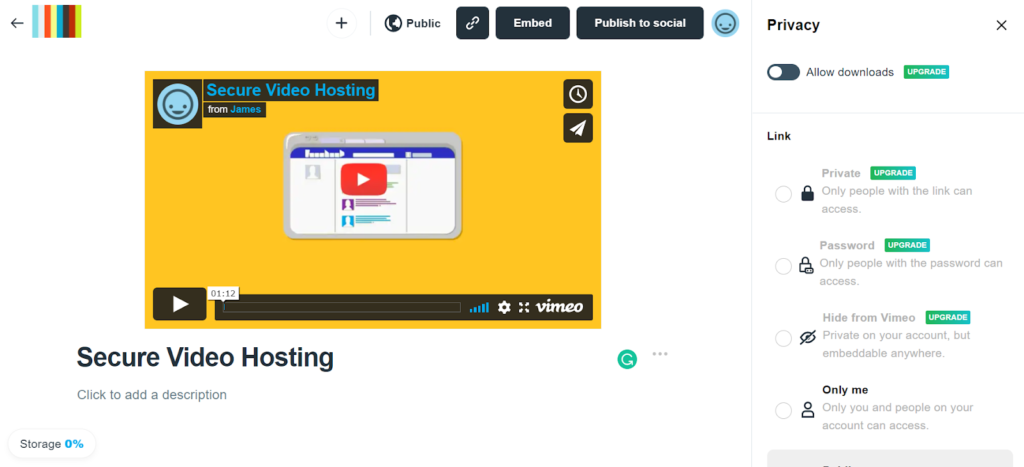 Vimeo allows you to customize your player only when you opt for Vimeo Plus. You can choose which controls you want to keep in the player. Also, you get the option to remove the Vimeo logo and instead use any custom logo of your choice. You can also change the thumbnail for every video and add options such as watch later, like and share to engage with your audience. 
Live Streaming:
You can also live streaming using Vimeo.You can easily set up events by customizing visuals, including logo design, audio in the backend to make sure you are all set.You also get the option to preview the screen, to test one last time before you go live. 
Analytics:
Vimeo gives you the ability to understand your audience better with their analytics feature. You can know how your videos are doing on Vimeo, social media, and anywhere they're embedded from one central dashboard. You can go beyond just view count by learning how people are watching your videos and when they're dropping off.
Dailymotion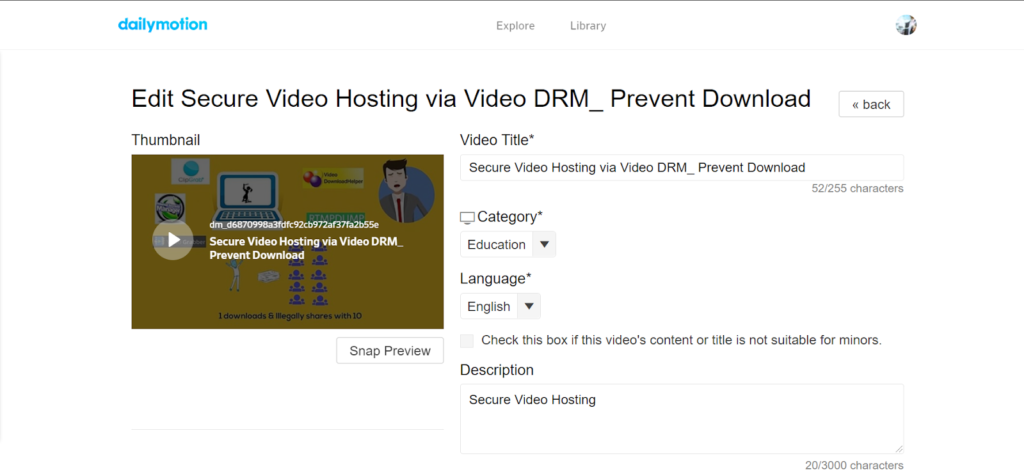 Dailymotion is the second-largest video platform in the world. Dailymotion offers free and paid accounts, as well as a partner program offering ad revenue and increased exposure.
Dailymotion limits daily video upload to 2 hours with a maximum of 96 video upload allowances for a day.
Video upload and Embedding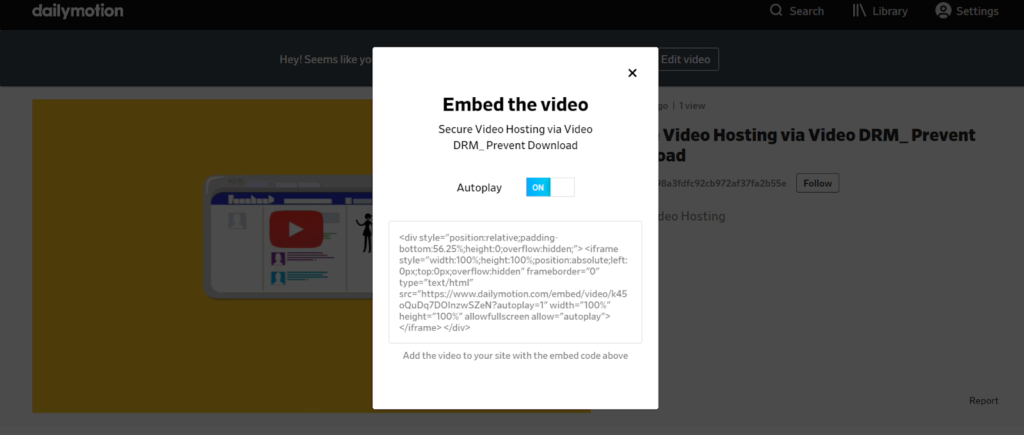 Uploading the video is kinda tricky, as the option to upload is not that intuitive and you have to kinda dig in the settings to find the option to upload the video. Video encoding doesn't seem to take much time as the video gets uploaded pretty fast. Also, when you've ultimately uploaded the video, you do get the option to generate an iframe embed code for your website. 
Lack Of Features
With Dailymotion, you don't get many features for your website. As the players are not customisable and doesn't allow any branding
Also, you don't get video analytics in order to keep a tab on your Users. 
You can only use this platform to host free content. But even then you can't drive any customer action, since there's a lack of CTA.
Security
Dailymotion does not have DRM encryption and user-based watermark available. 
Hope the comparison was helpful in understanding the basic difference in features and industries targetted by various video platforms. Let us know which of these platforms you have tried or will like to try !
Supercharge Your Business with Videos
At VdoCipher we maintain the strongest content protection for videos. We also work extremely hard to deliver the best viewer experience. We'd love to hear from you, and help boost your video streaming business.
Free 30-day trial →
Head of Digital Marketing at Vdocipher. I love the art of connecting the right product to their users. When i'm not doing that i love getting lost in books.