Traditionally, the consumption of video content was made available to the public in physical formats like disc rental and delivery services via mail. With technological advancements, streaming videos through online streaming or Video On-demand (VOD) has become possible. With online streaming availability, viewers get an interrupted viewing experience and individual viewership at the convenience of place, device, time, and content. With smartphone penetration and a boost in internet infrastructure, the VOD market has seen significant development.
According to a report by streaming media, the average viewing time on the VOD platform is 17.1 minutes for each session? In fact, by 2022, the video streaming market is expected to rise to $30.6 billion.
With video consumption rising, the demand for VOD platform providers has also increased. But making the right pick can seem overwhelming with so many options available.
So to make your job easier, I've compiled a list of the top VOD platform providers along with their key features. Before we dive into them, let's take a look at what video-on-demand really is.
What is Video on Demand or VOD?
In 1998, Kingston Communications became the first company in the UK to commercially launch a VOD service and integrate broadcast TV and Internet access via a single set-top box using IP delivery over ADSL.
Just like the name suggests, video on demand is a content distribution system that allows viewers to access video content according to their convenience. Video on Demand (VoD) is one of the most important applications for the internet of the future. It has become an interactive multimedia service that allows users to start watching the video of their choice any time and anywhere, especially after the rapid deployment of wireless networks and mobile devices. It proves beneficial and convenient for viewers who have busy schedules and live in different time zones.
You no longer have to stick to a schedule. You can watch any piece of content on your own time. As VOD content is delivered via the internet, viewers access a library of content readily available on various devices, including smart TVs, streaming players, computers, and mobile devices.
Some of the popular examples include Disney+, Hotstar, Netflix, Hulu, and so on. Video on demand caters to various industries, including entertainment, education, and business.
VOD is basically recorded videos streamed online via the video platform mentioned above. It is widely used by several OTT platforms or eLearning businesses to share their content with their users.
| | | | | | |
| --- | --- | --- | --- | --- | --- |
| Provider Name | Launch Year | Supported Regions | Content Focus | Subscription Model | |
| Netflix | 2007 | Global | Diverse | Monthly | Original Series |
| Amazon Prime Video | 2006 | Global | Diverse | Monthly/Annual | |
| Hulu | 2007 | USA, Japan | TV Shows | Monthly | Next-Day TV |
| Disney+ | 2019 | Global | Family | Monthly/Annual | Disney Content |
| HBO Max | 2020 | Limited Countries | Movies/TV | Monthly | HBO Originals |
| Apple TV+ | 2019 | Global | Originals | Monthly | |
| Peacock | 2020 | USA | Mixed | Free/Premium | |
What is a Video on Demand Hosting Platform?
A video platform that offers support for video hosting, delivery, monetization, and content management is known as a video-on-demand platform. They ensure that your content is being streamed seamlessly to your users and make your job much easier too.
VOD platforms allow companies to do what they do best, i.e. to create quality content. You no longer have to build your own streaming infrastructure, manage your videos, transcode them, and whatnot.
A good VOD platform allows you to manage your videos easily, keep a track of how your audience is interacting with your content. Also, it ensures that the right video quality is being served to the user, depending on their network. Ensuring that your users get a seamless experience while they are on your VOD Platform.
How does a VOD Platform work?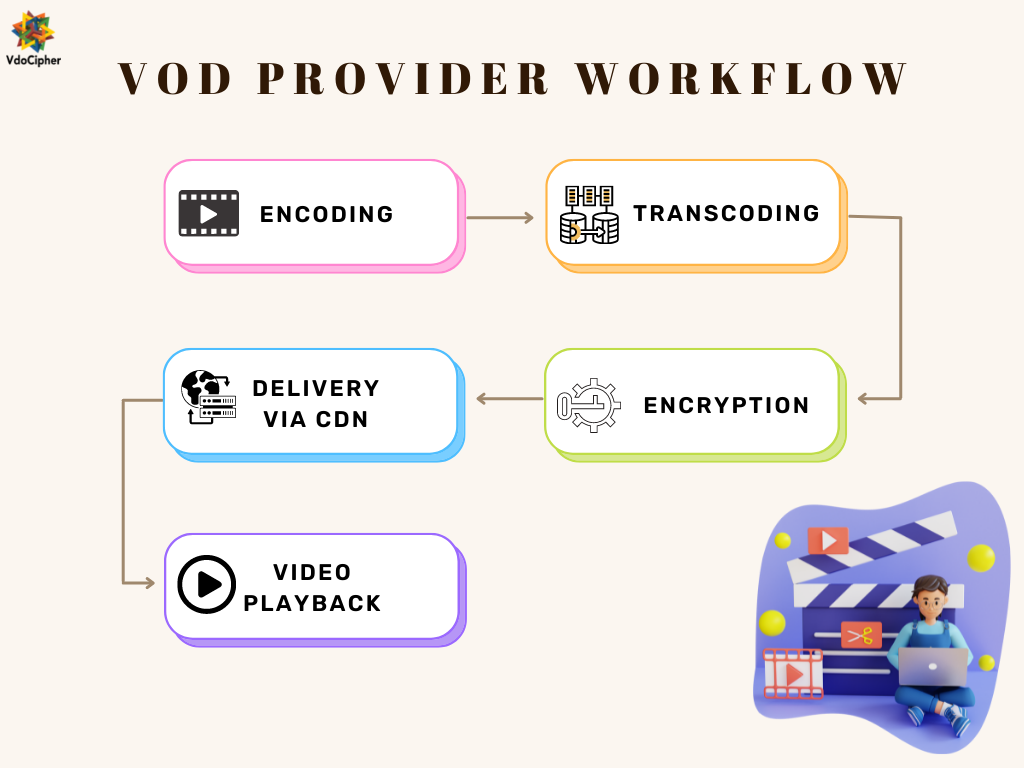 Video Upload – contains the library of uncompressed and raw videos.
Encoding – The raw video file is compressed and encoded to meet proper video format specifications for streaming.
Transcoder – the encoded video file is decompressed first, modified, and recompressed into multiple format streams to serve videos to a much wider audience. Transcoding ensures that the video is transcoded and optimized at multiple bitrates so that viewers on networks of any quality can easily view the videos.
Encryption – the video stream is encrypted to prevent unauthorized access and only decrypts via the decryption key at the player's end. Most popular encryption streaming protocols involve open key exchange mechanisms which make it prone to hacker attacks. DRM, on the other hand, has a secure key exchange, and no internet plugin or downloader can decrypt the video stream.
Served via CDN – content delivery networks (CDN) are geographically located servers using caching to store the file copies temporarily. Delivery via CDN improves page load time, reduces latency and buffering, and provides security from malicious attacks.
Video Playback – the video is streamed to the user for playback.
Features of a VOD Platform Provider?
With so many choices, finding the right provider for your VOD Platform can be confusing. 
You can always build your platform from scratch, but it is not always advisable. Building your own infrastructure can give you more control over the project. But it is not exactly cost and time-effective, as you'd have to spend much more time and money to manage your team and other resources. 
Here are some pointers to keep in mind while opting for a video on demand platform provider.
Security
Nowadays, you'd probably find pirated videos the same day, a new piece of content is downloaded. Pirates download videos using different tools and then share the videos with their peers. This can be pretty bad for a VOD platftom, as it takes up a certain amount of your users and revenues associated with them.
It is wise to opt for a solution that provides you DRM encryption that protects your videos from download and deters screen capture as well.
Transcoding and Encoding
While streaming your videos online, you'd have to create different versions of videos as different browsers support different formats. Also, you want to make sure you create different video quality so that your user can stream video seamlessly. Through video transcoding, you can convert your videos into different formats as well as quality.  
CDN-based Delivery
With the upswing in video traffic, the demand for CDNs has skyrocketed. Content delivery networks speed up the data delivery by serving content via geographically placed servers. These servers do not host the content but cache the information and create a copy. The content is delivered via the nearest CDN instead of the origin server whenever a user makes a playback request. It reduces bandwidth consumption and costs for the origin website or server. CDN-delivered videos have minimum buffering and latency and are readily available to the user even during the time of traffic spikes.
Adaptive Bitrate Streaming (ABR)
In times of low internet connectivity, video viewers face buffering and latency issues. Often the video quality is badly compromised. In adaptive bitrate streaming, the video files are chunked into segments with variable bitrates. Based on the current bandwidth of the video playback device, video at different bitrates is seamlessly delivered. Otherwise, the video may suffer buffering or take much more time to load and play because of the bandwidth change.
Video API
When you are dealing with a wide variety of videos, you can't do everything manually. This is where Video APIs come in, they help you to manage your videos, using them you can upload all your videos and embed them as well.
Geo-Restrictions
Before distributing videos, businesses may need to block or allow video content based on geographical regions or IPs. There might be several reasons to geo-block content, including privacy laws, copyright, target market & audience, or internal content usage. The provider should effectively come with the easy option of geo-blocking your content and multiple domain restrictions.
Video Analytics
Analytics gives you a clearer picture of how your users are engaging with your content. You can use these insights, you can further work on your content strategy and mitigate any bottlenecks your users might face while viewing content.
Usual Problems with VOD platform providers
Lack of Security – Even though many providers claim their video security on the basis of AES and other basic encryption, they eventually fail. It fails because its protection mechanism is static, and breaking it is a one-time effort. Being in security talks around the globe asks for a dynamic mechanism that can be corrected via online updates. Such a protection system is DRM which uses the best encryption combined with a dynamic key exchange mechanism. This protects your videos from illegal downloads and even from screen capture on major browsers.
No Watermarking – To act as a deterrent for screen capture, it is best to use a watermark containing some dynamic data like IP address. This also helps in tracing any copyright infringement violations.
Easy Integration – Big platforms like IBM provide a platform to scale but when you need to integrate with your LMS or CMS, they don't have those integrating APIs, SDKs and plugins. Thus, it is always good to look for platforms that have easy upload embed mechanisms with full API, SDK and plugin support.
Top VOD Platform Providers
Videos have become the backbone of eLearning and media businesses. But to deliver a good experience to your users, an organization needs the best VOD platform. 
Speaking of which, here is a list of top VOD platforms. You can compare the features and choose the one that suits your needs. To make things simpler I've further categorized this list into two parts. These are:
Providers that help VOD platforms in video hosting as well as the related video infrastructure. You can use these platforms in case you already have your website or app or want to choose WordPress or other popular website builders.
Providers with the option of building a complete video platform along with video hosting.
Top VOD Platform Providers In Video Hosting
1. VdoCipher
VdoCipher is the top video on demand platform if security is your first priority. Vdocipher ensures secure and smooth playback of your videos. With Hollywood-grade encryption, you won't have to worry about video download. On top of DRM, you also get access to security features, such as dynamic watermarking and screen capture block on iOS and Android devices.  At the time of writing the article, more than 2000 businesses across over 40 countries use VdoCipher. 
Key Features:
Encrypted DRM video streaming to prevent downloading of videos

Dynamic watermarking to discourage screen capture 

Versatile: Can be used for LMS, media, and e-learning

Customizable video player with forwarding, rewind, speed change, and subtitles

Amazon AWS for servers

Video APIs & CDN

Multi-device HTML5 video player and SDKs

Dashboard, analytics, and plugins
After going through the user review for VdoCipher here are some major reviews:
"Great support on top of an amazing product."

"The protection is excellent as well as the quality of rendering."

"Excellent platform to host your videos with best in class security"
2. IBM Cloud Video
IBM cloud video is an expansive video on demand platform loaded with useful features. The adaptive video player offers a great deal of personality. However, it might pose some problems with navigation as it has too many features. But if you are a large organization with experts in broadcasting, IBM cloud video is the way to go.
Key Features:
Multi bitrate streaming

Cloud encoding and live transcoding

Technical support available on the phone

Tools for ad integrations and subscriber management

DRM or AES encryption
Here are some of the major IBM Cloud Video User Review:
"Platform can support a large audience and also ease of accessing previous casts makes ustream appealing."

"The platform has been very useful for the past 9 years, and now that is part of IBM Cloud, it has the potential for exponential grow like never seen before!"

"You can get actual information of how many people are watching and from where. You monitor multiple channel/streams at the same time."
Top VOD Platform Providers With Video Hosting & Website Builder
3. Kaltura
Powered by sophisticated technology, Kaltura is a flexible and customizable VOD platform. It is one of the reputed names when it comes to serving educational institutions and massive enterprises. What makes Kaltura different is its customized approach to the videos.
Key Features:
Hassle-free uploading and organization of videos

Easy transcoding 

Seamless collaboration in the form of meetings and virtual classes

Wide variety of communication tools available for enhanced engagement and interactivity

Open-source access to full video API
Here are some of Kaltura's user reviews on G2 crowd:
"Kaltura has a lot of options to manage video; as a VoD solution you can manage assets in a easy way and get all the benefics of the platform."

"The Kaltura video platform provides a seamless integration with our Moodle environment, giving users the use of all the functionality that the player offers. The core tools allow take accessibility into account, with the captioning option being used on a large scale."

"When we're experiencing P1 or P2 issues the support team does not act with urgency to investigate and then to resolve if the issue is on their end."
4. Brightcove
Brightcove is a robust video on demand as well as video streaming platform that offers a complete package of useful features. With reputed brands as its customers, Brightcove has proven its credibility and effectiveness over the past few years. Its complete toolset simplifies content delivery across a wide range of devices and browsers. This makes Brightcove a great choice for beginners and pros alike.
Key Features:
24/7 customer support and troubleshooting for technical issues

Licensing and enhanced security of content

Improved performance with reports and analytics

Custom video portals
5. Wistia
If you are looking for a video on demand platform with marketing as the primary focus, Wistia offers some unique features. For example, 'heat maps' analytics can simplify marketing to a great extent and help with tracking. The major downside is that it doesn't offer monetization support or AES encryption. 
Key Features:
Powerful analytics

Systematic organization

The bulk upload and Dropbox upload

Includes full video API

2 hours of maximum video length
6. YouTube
YouTube is the most popular online video hosting platform that has shown exponential growth since its launch. Most startups with a budget crunch take advantage of the simplicity of YouTube as a VOD platform. Even though it is free, the biggest downside is that broadcasters have to allot a part of their content's ownership when they upload it to YouTube.
Key Features:
YouTube studio for managing and organizing content

Easy upload

Support for ads as a monetization model

Data API access

Adds padding to content with aspect ratios other than 16:9
7. Dailymotion
Dailymotion holds a lot of similarities to YouTube and is one of the most popular consumer-grade video on demand platforms. The biggest advantage it holds over YouTube is that there aren't many content restrictions. It's perfect for amateur broadcasters. Since Dailymotion is free to use, it's ideal for small businesses as well. However, the professional hosting tools it offers are pretty basic.
Key Features:
Works with various encoders

Monetization for Dailymotion partners

The minimum cash out amount is $100

Reporting API available for Dailymotion partners
Some Key Video On Demand Streaming Statistics
Get ready to immerse yourself in the world of Video-on-Demand! The projections for this exciting market segment are truly thrilling, with expected revenue reaching an astounding US$111.10bn in 2023. And the best part? The revenue is expected to grow at an annual rate of 8.77% between 2023 and 2027, resulting in a market volume of US$155.50bn by 2027.
Out of all the different segments within the Video-on-Demand market, the largest is Video Streaming (SVoD), which is predicted to reach a staggering US$95.35bn in 2023. But where is all this revenue coming from? In terms of global revenue, the United States will take the crown, generating an impressive US$43,390.00m in 2023.
But revenue isn't the only exciting thing about the Video-on-Demand segment. The number of users is expected to hit a whopping 1,924.4m by 2027, making it clear that this market is not just a passing trend. User penetration is set to hit 21.0% in 2023, and it's expected to grow even more, reaching 24.2% by 2027. Also, there is increasing demand of Premium Video on Demand (PVOD) platforms. So, get ready to dive into the exciting world of Video-on-Demand and be part of its incredible growth story!
Summing It Up
It's hard to ignore the massive shift this world has made post-pandemic. From virtual classrooms to those unending yet important zoom meetings, people have been glued to their screens. Not to mention, watching entertainment videos to combat boredom has become the norm.
It's no secret that videos are on the rage right now. This boom is expected to rise further in the coming years. This makes it all the more important to select the top VOD platform. The best way to do this is to list out use cases and requirements and compare the features of the above-mentioned platforms. It's needless to say that security has to be one of the top priorities.
FAQs
What are the benefits of using a VOD platform?
The benefits include watching videos on your own schedule (including HD & 4K), pausing and resuming videos, and even the option to watch videos offline. There is control over how the video content is distributed and consumed via the platform.
What are the advantages of hosting my videos on a Video on Demand Hosting Platform?
Firstly, a VOD hosting platform like VdoCipher allows hosting your own video content on your website without needing a powerful server or a strong internet connection. Additionally, it can help save your costs on bandwidth usage and hosting. Finally and most importantly, your videos are secured and protected from online video piracy and unauthorized access or downloads.
Supercharge Your Business with Videos
At VdoCipher we maintain the strongest content protection for videos. We also work extremely hard to deliver the best viewer experience. We'd love to hear from you, and help boost your video streaming business.
Free 30-day trial →
Head of Digital Marketing at Vdocipher. I love the art of connecting the right product to their users. When i'm not doing that i love getting lost in books.