Whole of internet is filled with people looking and asking for popular video downloaders , plugins &  tools  to grab and pirate videos from sites like youtube, vimeo, netflix, dailymotion, and many more education and media sites. Any normal video hosted is generally easily downloaded by these tools.  If you are a content owner looking to prevent piracy from these downloaders , try out VdoCipher. It is a sure shot way to save your self from all theses nuisances. We are giving below here a review of all the video downloaders and some of their key points.
List of 10 Common Video Downloaders
It is a plugin on firefox and technically the most advanced one. We have seen it to be able to download most of the content on web (HLS, HTML5, MP4 streaming) . A uniqueness about this downloader is the frequency with which it is updated to keep hacking into any slight changes in common video streaming systems. Seems, a large community is behind this plugin trying best possible means to grab streaming video content.

Another popular software to be installed on computer. Uniqueness is its beautiful UI to manage , pause, continue & categorize downloads. Also, it seems to provide the highest speed for downloads.

A downloader (installable version) to download videos streamed through RTMP protocol, other wise not an easy to download protocol.

 KeepViD

A site which asks for the video url and detects and downloads video file on its own.

Savevid

Similar to Keepvid

 ssyoutube

A site specially made to download youtube videos.

 Audials

A software with high end technology. Like download helper, the detection of any video streaming technology and is grabbing is quite easy and advanced here. It can crack through some moderate level hacks implemented.

 9. 10. VIDEO DOWNLOAD CAPTURE , CLIPGRAB, VIDEO GRABBER

The last 3 are again a set of commonly found video downloaders & software, which can download videos from many common sites.
How to Prevent website videos from being downloaded ?
All the above mentioned tools are based on detecting the video url, and fetching it from server to download content. What if, there is no url to the video file, even more if the content being streamed is not a video but an encrypted file ? We do exactly the same at VdoCipher and help increase revenues for our e-learning and media customers by preventing video piracy.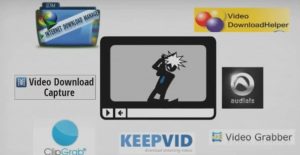 Common downloaders, VdoCipher stops them all
Check out a free 5 GB full version free trial at www.vdocipher.com
Supercharge Your Business with Videos
At VdoCipher we maintain the strongest content protection for videos. We also work extremely hard to deliver the best viewer experience. We'd love to hear from you, and help boost your video streaming business.
Free 30-day trial →