A picture speaks a thousand words.  A video speaks a thousand words & conveys million emotions
How you can be an attractive platform for education videos while maximizing your profits ?
Marketing tips for education videos
To host course videos on your site, for purpose of online course or as part of flipped classroom, you need to start with a secure video service. There can be various payment models. Commonly used pricing strategies are discussed now.
Full access pass – You can create a subscription system for potential buyers. As an example, taking a certain amount for full access for 3 days while taking a higher value for full month subscription. You will need to make sure that your minimum price package is not so high , that it prevents user from trying your videos.
Pay per course– Most common model adopted in selling video courses is pricing each course according to its value and length. Each course should ideally contain a free demo video. Giving a considerably better deal in buying a bunch of courses together will attract users to try a course which otherwise may not be one of your hot selling courses.
How to chose and what numbers to assign for prices ?
First model discussed is generally used by sites who have large number of visitors and are now giving a very good value for money to increasingly multiply its subscribers. Allowing full access at a low cost can be an issue of profit or loss for a new seller. A profitability analysis should be done once you start selling your courses. How much time a single user is watching a certain video ? What is the average bandwidth that a course subscribers consume? Should you put limitations on the number of plays to restrict usage by multiple persons with same login and password? What is your average income per video?
Poster image and meta tags are the other key things to help market and promote your courses. Try to use your brand logo as a poster image or any image that conveys the crux of the video. Colors of the thumbnail or poster image need to be in tune with color schemes of your website. The thumbnail should not mess up with the page aesthetics.  Figure out the words that users would search for when looking for the content of your tutorial. Use these words as keyword and description for your tags. You should create a video sitemap to tell Google what your video is about. This will drive higher traffic to your sites.
Selling Course videos: Security and viewer experience are the keys
Piracy is the first word that comes to a mind of creator while selling. For the viewer, it is Quality. Optimizing security and quality at the same time has been a challenging problem for large number of video techies.
Security against video piracy
Using encrypted streaming is the best means to secure video courses online. Some tutorials with very high value and demand may be thought to be captured through a camera on a laptop. No technology can prevent this. Only thing that can prevent the distribution of such pirated videos is dynamic watermark. A dynamic watermark means that a video player is able to generate a water-mark for each user on the basis of his IP or any other detail which you have for the subscriber. Dynamic water mark on video can ensure that even if someone uses a camera to record videos and you get a copy of that, you can identify the source from which it is leaked. This also creates hesitancy in the minds of recorder while distributing the content.
Video streaming quality
While setting a high security, one should keep in mind not to deteriorate the user experience. Forcing the subscriber to install plugins or software, setting passwords for each video takes the fun out of online learning experience. RTMP streaming which intends to provide moderate security is a pain for the viewer and his pocket. It does not allow any buffering, thus giving a poor streaming experience to users with slow internet connection. Also, no buffer means that every time you seek back or forth , the data for the video already viewed is lost leading you to pay more for your data charges. Thus, buffer retention is a key factor in smoothness of streaming for people with slow internet connections. The advantage it poses both to the host and the viewer is that, it minimizes bandwidth usage leading to maximum monetization.
Viewers hate streaming with large loading times. A top notch CDN helps to deliver videos at high quality.  Most of the top CDNs today have edge locations all over the world. So, if the video hosting service is doing just the right things , then loading time is generally not an issue. To ensure smooth playback for all devices and internet speeds, adaptive bitrate streaming is really a good boost.
Money spent on self-paced e-learning courses across the globe in 2011 was $35.6 billion, $56.2 billion in 2013 and it is expected to double by 2015. Time will never be just right to brace yourself with technologies and prove your worth in this billion dollar game.
A DIY lighting setup for video recording , check out this article. In subsequent blog posts, I will discuss more about various aspects of video hosting: the techniques, art and necessities of creation, distribution & monetization.
FAQs:
How can one make money as a teacher?
Teach online courses, ad-supported Video on Demand (AVOD), subscription model, pay-per-view, affiliate marketing and more.
What makes a good education video?
Visually stimulated, Interactive UI, appropriate audio & video, table of content & other transcripts in the description, focus on key information & more.
Supercharge Your Business with Videos
At VdoCipher we maintain the strongest content protection for videos. We also work extremely hard to deliver the best viewer experience. We'd love to hear from you, and help boost your video streaming business.
Free 30-day trial →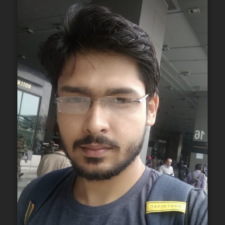 My expertise focuses on DRM encryption, CDN technologies, and streamlining marketing campaigns to drive engagement and growth. At VdoCipher, I've significantly enhanced digital experiences and contributed to in-depth technical discussions in the eLearning, Media, and Security sectors, showcasing a commitment to innovation and excellence in the digital landscape.